Rivals100 Update: New No. 1, five-star movement
RELATED: Class of 2017 Rivals 100 | Rival Views - should Martell be No. 1?
The latest Rivals100 Presented by Under Armour for the class of 2017 has been released, and there have been many huge changes. We have five new five-star prospects and three players that lost that coveted fifth star. Additionally, there are numerous moves inside the Rival100 that position many players quite well for a run up the rankings with a strong senior season and all-star performance. But perhaps most importantly, we have a new No. 1 prospect.
California native Najee Harris, who's the best running back prospect I've seen since Leonard Fournette and in the discussion with former high school greats like Adrian Peterson, Marshawn Lynch, Bryce Brown, Jonathan Stewart and others, leapfrogs former No. 1 Marvin Wilson, a defensive tackle out of Texas. Washington offensive lineman Foster Sarell, a new five-star, jumps to No. 3, while Texas linebacker Baron Browning also jumps into the top five at No. 4. Clemson quarterback commitment Hunter Johnson slides one spot to No. 5.
Having a running back at No. 1 for the first time since 2009 when Brown finished atop the rankings is impressive given the position being slightly de-valued at the NFL level. Plus, more and more college teams are shying away from relying on one workhorse in the backfield. However, with Todd Gurley and Melvin Gordon earning first-round selections two years ago and Ezekiel Elliott being drafted in the top five this past April, it's clear that the NFL is still looking for elite runners to build around. Couple that with stars like Fournette, Dalvin Cook, Derrick Henry and Christian McCaffrey dominating headlines last year, the running back is making a comeback despite the pass-happy world of college and NFL football.
However, Harris' promotion from No. 2 to No. 1 speaks much more to his rare and freakish ability at the position than the re-emergence of the workhorse back the last few years. Wilson, an elite talent, had a great summer winning the Defensive Line MVP Award at both the Rivals100 Five-Star Challenge and at The Opening. Still, Harris, an Alabama commitment, was still the unanimous choice for No. 1 overall. That speaks to his elite skill set.
Here's a look from our team of analysts at the new five-stars, the three that lost that fifth star and a few of the prospects making a jump of 25 or more spots within or into the Rivals100.
NEW FIVE-STARS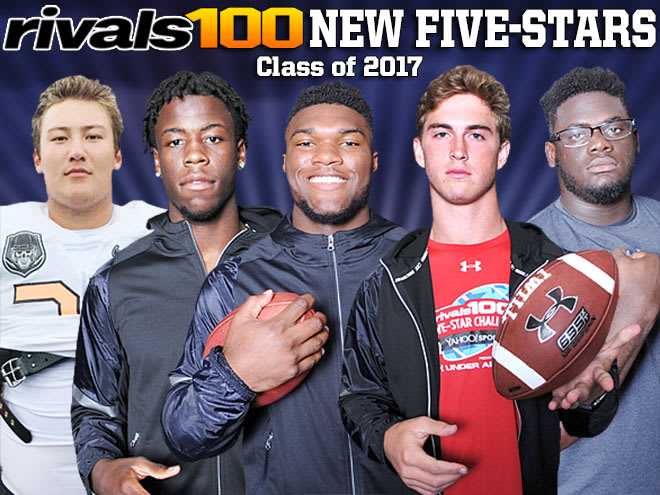 "Sarell has dominated decent competition in Washington for years, and the massive offensive tackle really proved he's the best of the bunch this summer at The Opening when he handled every kind of defensive lineman at the event. The 6-foot-6, 310-pound offensive tackle has the size to swallow up any defender who comes straight at him and the footwork and strength to overpower rushers to the outside. Even in one-on-one situations where the defender tried to cross over to the inside, Sarell moved his feet incredibly well and muscled his way to the win. Washington, Stanford and Notre Dame are the three frontrunners in his recruitment." – Adam Gorney, Rivals.com National Recruiting Analyst
"Akers is as consistent a player as there is in this class. He's impressive at every stop and in every setting. Add in the fact that he boasts a college-ready body and the kind of burst that makes him nearly impossible to stone at the line of scrimmage, and you get an elite back that brings a number of different dimensions to any offense. Akers is considering Florida State, Tennessee, Alabama, Ole Miss and LSU." – Rivals.com Southeast Recruiting Analyst Rob Cassidy
"We've always been very high on Mills, so it's not surprising to see him finally get over the hump for five-star status. In games, Mills is always composed and in control, and this offseason he had a chance to show his pure arm talent in a camp setting. Once he arrives at Stanford, he could be the next major star at the position for the Cardinal. Mills recently suffered a fluke knee injury that will cause him to miss most of his senior season, but shouldn't impact his potential." – Rivals.com Southeast Recruiting Analyst Woody Wommack
"Leatherwood's initial punch is downright violent and it often times stuns his opponent. He doesn't rely on it too heavily, though, as he also finishes blocks as well as anyone in America. The new five-star and Alabama commitment is still learning the finer points of the position, which makes his upside off the charts." – Cassidy
"Jeudy, an Alabama commitment, is a well-rounded target who brings tremendous acceleration and strong hands to the table. He gets separation from even elite defensive backs relatively easily and always manages to stand out from star-studded camp fields. He's just as dangerous in games, as he's proven to be a deep threat as well as a receiver that isn't afraid to go over the middle." – Cassidy
LOST FIFTH STAR
"Moses is a tremendous athlete with one of the best frames in America. He hasn't progressed as much as expected as a linebacker, however. He sometimes blends into the periphery when he shares the stage with other top-level prospects. While Moses is an impressive athlete that will likely shine on the college level, questions about him in coverage remain." – Cassidy
"Robinson still has all the tools to be a five-star receiver. He's a little inconsistent against top-flight defensive backs and needs to develop into a sharper route runner. There's no knocking his talent, but he'll need to take a step forward as a senior if he hopes to re-earn his fifth star. Robinson is a wildcard of sorts, as his good days are great and his bad days are significantly less impressive. Robinson's recruitment is fluid and seems to change monthly. Florida and Clemson have both been seen as likely landing spots for the Florida-based receiver, but neither seems to be heavily involved at this time. It's unclear which school leads the pack now." – Cassidy
"There are few players in this class as physically gifted as Ashley, and when he is 100 percent he can be a counted on as a potential franchise left tackle. However, the Auburn commit's numerous injuries over the past couple years have concerned the entire analyst team. In order for Ashley to be an impact player he has to stay on the field. It doesn't look like he will miss a regular season game this year after sustaining another injury in his first preseason game, but this is something we will be watching closely." – Rivals.com Mid-Atlantic Recruiting Analyst Adam Friedman
BIG MOVERS
Movement: + 72 spots
Analyst's take: "There aren't many linebackers with Phillips' size that can move like he does, and that's why schools like Alabama, LSU, Oregon, Notre Dame and Oklahoma are vying for his services. Phillips took home linebacker MVP honors at the Rivals100 Five-Star Challenge and followed it up with a summer of impressive camp showings." – Wommack
Movement: + 29 spots
Analyst's take: "Samuels, a Florida State commitment, continues to develop as a true cover corner and is adding size to his already-impressive frame. He's become more physical, and his length serves him well in coverage." – Cassidy
Movement: + 36 spots
Analyst's take: "Donaldson seems to get more comfortable with his massive body as the weeks pass. He was impressive against top-flight competition at the Rivals100 Five State Challenge. Donaldson is committed to Miami but is also considering Florida State." – Cassidy
Movement: + 28 spots
Analyst's take: "Dobbins showed this summer for as strong as he is as a runner coming out of the backfield, he's a capable playmaker when catching the ball in space as well. Dobbins continues to show more and more that he is a complete player and a top offensive weapon. He is committed to Ohio State." – Rivals.com Texas Recruiting Analyst Nick Krueger
Movement: + 26 spots
Analyst's take: "The Georgia commit has been a mainstay in the Rivals100, and while he's undersized for his position, there's no doubting his production at every major event he's ever attended. His ceiling may not be as high as others at the position, but he will likely play early and often at the next level." – Wommack
Movement: From outside the Rivals250 to No. 73
Analyst's take: "Ray has an incredible frame and unmistakable quickness for a player of his size. He'll only gets more impressive as he adds weight. Alabama is the favorite to land Ray." – Cassidy
Movement: + 27 spots
Analyst's take: "Gray has always been in and around the Rivals100 and now that he's shifted his focus to playing safety full-time, he's seen his game grow. He's a pure athlete who has the type of gifts you just can't coach and is still developing as a defensive back. Gray is committed to Tennessee." – Wommack
Movement: + 115 spots
Analyst's take: "Kmet was largely absent from the off-season camp and combine scene, but he did work out at Notre Dame's Irish Invasion Camp, which was unusual as most of his fellow Fighting Irish commits just watched from the sideline. That performance showed us Kmet has made strides in both his physique and athleticism. He is uniquely athletic for the position, particularly compared to the other tight ends in this class." – Rivals.com Midwest Recruiting Analyst Josh Helmholdt
Movement: From outside the Rivals250 to No. 91
Analyst's take: "Smith had a solid showing at The Opening in July and is clearly still adjusting to playing against high quality competition. But his physical skills and raw talent make him an intriguing prospect. Smith is considering Notre Dame, Tennessee, Alabama and others." – Wommack
Movement: + 52 spots
Analyst's take: "Black has hovered around the bottom of the Rivals100 since he was first rated back in March of 2015. Black's length, consistent hands, and crisp route running led to impressive performances at elite camps and propelled him back into the Rivals100. Notre Dame, Michigan, Alabama, Auburn, and Stanford are still heavily involved in his recruitment." – Friedman
Movement: + 57 spots
Analyst's take: "Ehlinger represented himself well at appearances in the Elite 11 and Opening competitions over the summer. He was on the same team as Davis Mills at the latter event and didn't play quite as much because of a shoulder ailment, but still finished a third of his drives with touchdowns in the 7-on-7 competition. Ehlinger has long been committed to Texas." – Krueger