Rivals100 receiver spurns in-state powers, chooses Penn State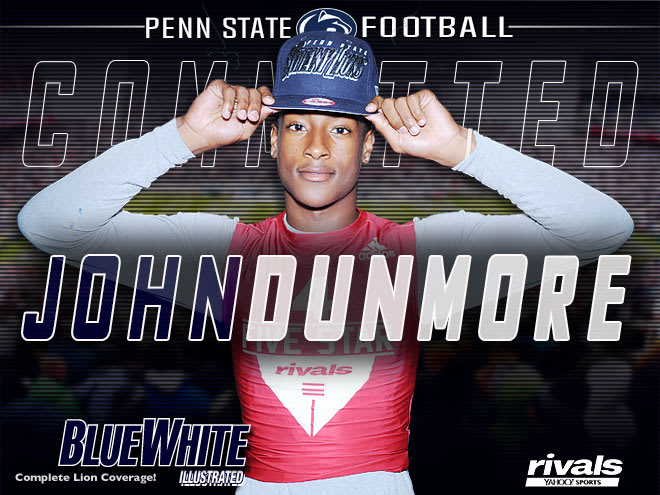 THE SITUATION
In what has to be considered at least a mild upset, four-star wide receiver John Dunmore chose Penn State over fellow finalists Florida State and Auburn on Wednesday and did so, as many prospects do, with a tweet.
Dunmore's pledge makes him the 11th member of the Nittany Lions' 2019 class. The Florida-based prospect was previously the highest ranked uncommitted wide receiver in America, making his commitment a vital one for James Franklin's program. Dunmore is Penn State's seventh commit rated four-stars are higher.
HOW IT HELPS PENN STATE
Any way you slice it, this is a massive win for the Nittany Lions. Pulling a top-flight prospect out of South Florida is difficult and made that much trickier when each of the state's three major programs are in pursuit. Alas, James Franklin and company seem to have pulled it off.
Dunmore, a former Florida commit that was long considered a Florida State lean, was wowed by his recent official visit to the Penn State campus, and what happened on said trip certainly helped seal the deal. The majority of the credit, however, goes to Nittany Lions assistant Ja'Juan Seider, who built a relationship with the Florida-based star while landing Dunmore's commitment as an assistant at Florida under the previous regime.
In Dunmore, Penn State gets one of the most battle-tested receivers in America. A veteran of the elite camp circuit, Dunmore has shined against top-level competition and his recent transfer to Hollywood (Fla.) Chaminade-Madonna High School could help give Penn State a boost a school that has been absolutely loaded with Power Five talent over the last few years.
HOW IT HURTS THE OTHERS
Florida State is obviously the main loser here, as the Seminoles were all but certain they would land Dunmore a few weeks ago. Things can turn on a dime in recruiting, however, and FSU has now seen that up close in this cycle.
The Seminoles will likely continue to recruit Dunmore but having the highest rated wide receiver in the country pass on your program for a school 500 miles further away from his home still stings. Florida is state's 2019 class isn't in dire straits by any means. The big picture remains encouraging, but this was a winnable battle the coaching staff fumbled away down the stretch.