Rivals100 QB names top five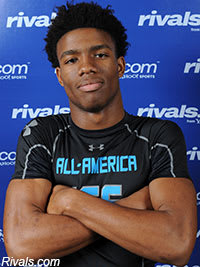 Rivals100 quarterback
Kelly Bryant
was on campus at Florida on Saturday for the Gators spring game and came away so impressed that he was almost ready to name UF his top school.
"I wouldn't say Florida is my leader because I'm really interested in all the school in my top five, but Florida does stand out right now," The Piedmont (S.C.) Wren product said. "They really did make a good impression today."
Bryant said the Gators were vaulted up after a great all-around experience Saturday.
"It was a great visit from the first moment we got there," Bryant said. "What really stood out was the campus and everything was right there next to each other. You have the dorms, the campus and the classrooms and it's just great."
As far as the football side, Bryant said watching the school's new offense and then talking with head coach Will Muschamp and offensive coordinator Kurt Roper lead him to believe that he would be an excellent fit.
"I got to sit down and talk with Coach Roper and Coach Muschamp and I really got a feel for how they operate," he said. "Coach Muschamp is a good guy with a real competitive sprit and he wants to win and he said they want to turn things around after last season. He said in the new offense they have they could see me playing in it and succeeding. I liked the way it looked, they're up-tempo, they run the read-option and they get the ball to guys in space which is what I like to do."
Bryant said he didn't go in-depth with coaches about where he stands on their board, but was assured that the school will be by to see him soon.
"We didn't get into numbers at the position but they said they would love to have me down there," Bryant said. "Coach Roper said he's going to come by and see me this spring so we can talk some more."
Bryant also provided thoughts on the other schools on his list:
Clemson:
"I went down there for their last junior day and Coach Morris and Coach Swinney really laid it out for me. They were honest about how they're looking at and how I fit in to their plans. They told me that they were going to take two quarterbacks and them being honest means a lot. Someone who is going to be straight up with me is something I like and someone I could see myself playing for."
N.C. State:
"They were the first school to offer me as a quarterback so I'm still highly interested in them. I have a good relationship with the staff and I talk to them just about every day. I just like it up there. I'll hopefully be up thereat again next month or during the summer."
Virginia: "They just recently offered and I want to get up there and see the campus before I make a decision. I like the coaches a lot and I'm trying to build relationships. They came in later than some of the others so I don't want to leave them out without getting a better look first."
Virginia Tech:
"They came down to see me a few months ago and said they made the trip down to South Carolina just to see me. That meant a lot. They have kept recruiting me since and we've been talking so I'm still interested. They're another school that I want to see and learn more about."
Bryant said he's planning on deciding sometime after his spring workouts, putting his decision date around late May.