Rivals100 QB Cade Klubnik to Clemson: 'The long wait is over'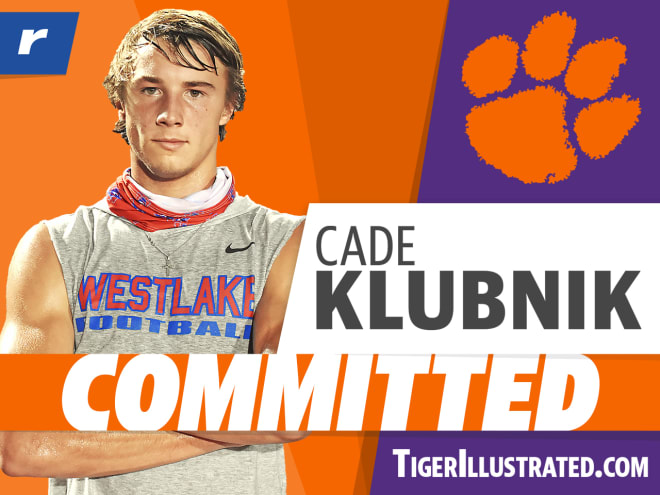 THE SITUATION
The quarterback dominoes continue to fall into place early on for the Class of 2022 and Cade Klubnik's turn has arrived.
Klubnik, the nation's No. 4-ranked pro-style quarterback, declared for Clemson on Tuesday. The decision comes just four days removed from landing an offer from Coach Dabo Swinney and the Tigers on top of several months of increased communication and courtship from the Clemson coaches.
Klubnik, the No. 8-ranked player in Texas, is coming off back-to-back Class 6A state championships for Austin (Texas) Westlake High School. He's currently tabbed as the No. 40 ranked player in the country.
Clemson edged out Texas, Florida and North Carolina for Klubnik.
"I've been really loving how the relationship with them has been," Klubnik said to Rivals last month. "We've built a lot of good relationships within the program and a ton of guys over there. It's never faded, and in fact, has gotten stronger and stronger and it's getting better and better every week. I'm excited to see what comes next. They've been able to see a lot of me on the field and off the field on the sidelines (from the school's team broadcasts). They like me and I'm liking that. They talked a lot about liking me as a person on and off the field."
Clemson offered Klubnik on Friday within minutes of fellow Rivals100 quarterback Ty Simpon declaring for Alabama. Last month, Rivals100 quarterback Malik Murphy out of California committed to Texas.
Amid the quarterback dominoes falling, the Tigers stayed true to Klubnik.
The 6-foot-3, 185-pounder is the fourth commitment to date for Clemson, which owned the nation's No. 20-ranked recruiting haul entering the day on Rivals.
With Klubnik off the board, the nation's six top pro-style quarterbacks are committed. Only two inside the top-10 remain uncommitted -- AJ Duffy and Tanney Bailey. Gavin Wimsatt, Kaden Martin, MJ Morris and Jacurri Brown highlight the uncommitted dual-threats still on the board.
IN HIS OWN WORDS
"To be honest, the relationship never skipped a beat. We built a really good relationship, one of the best I had out of anybody over the past year, and they definitely just stood out over anybody by being great people, people I get along with and people I could see myself with over there."
"The long wait is over ... for a while, it felt like when I didn't even have offers they were recruiting me harder than anyone else. They told me they were slow in the process and they said that since Day 1 and that they wanted to sit me down and hang out and get to know me for a day, but that's unfortunately something we haven't been able to do."
"Through that, when they finally (offered), I knew this is where I wanted to go. I've been talking to Dabo (Swinney) for about a month or two now a decent amount and the last week, we've talked a ton -- I don't even know how many times. How could you not want to go play for that guy? He's such a fun guy and makes football fun. He's also a good coach and a mastermind."
"I live in the most competitive family in the world. The culture here at Westlake, the culture to go to state and win and you've had a losing season at 10-2 and you go to the playoffs. When you're 10-2 and don't win state, you had a bad year. I can't imagine going somewhere where a winning record is a good season; if you're not going for the whole thing, you know ... I want to challenge myself and play in a great conference like the ACC and battle great teams and set up a sot for great games. Clemson's consistency of success, it's expected ... it's expected for them to do as well as they do every year and that means more pressure and that means more hard work to prove you are as good as people expect. That gets me pumped."
RIVALS REACTION
Klubnik boasts a championship pedigree as the quarterback of Austin Westlake, which has captured consecutive Class 6A state championships at the two highest classifications in Texas high school football.
As a sophomore, then-sophomore Klubnik stepped in as Westlake's starter, completing 53-of-69 attempts (77-percent) for 680 yards with an 8:1 touchdown to interception ratio. He also added 271 yards and four touchdowns rushing en route to a 6A Division II crown.
As the full-time starter in 2020, Klubnik pieced together a spectacular season-long campaign. He completed 68-percent of his throws (239-of-353) for 3,495 yards while maintaining that spectacular touchdown to interception ratio. Klubnik tossed 35 touchdowns compared to three interceptions and added another 583 yards and 15 touchdowns on the ground.
Again, Klubnik anchored Austin Westlake to a Class 6A Division I title. In the championship game, Klubik -- dealing with a shoulder injury -- dialed up an 18-of-20 performance for 220 yards and a touchdown to go along with 97 yards and two rushing scores. He finished as the MVP with a convincing effort on Texas high school football's grandest stage.
Klubnik's sensational junior campaign earned him District 26-6A Offensive MVP honors along with being tabbed as a MaxPreps Junior All-American.
The nation's No. 40 overall player is a football standout with a fantastic athletic background as well. He clocked a 51.52 400-meter time last year and also competed in the triple-jumo (41-8) and long-jump (19-10). While he's a polished passer with the ability to attack downfield, Klubnik's athleticism is evident in how he navigates within the pocket and can make big plays with his legs off-schedule.
Klubnik shows excellent footwork within the pocket and mobility to easily maneuver within the pocket or move outside of it and get throws off with ease. He's especially accurate and can rifle passes into tight windows and deal from the pocket and doesn't lose much when delivering on the run.
Klubnik throws with outstanding timing and anticipation. At 6-foot-3 and 185 pounds, he can stand tall and deal from the pocket, is fully capable of making throws outside the numbers and vertically and is an elite decision-maker mad evident by his 43:4 touchdown to interception mark in his last 422 pass attempts.