Rivals100 OL Chris Morris knows which schools will get officials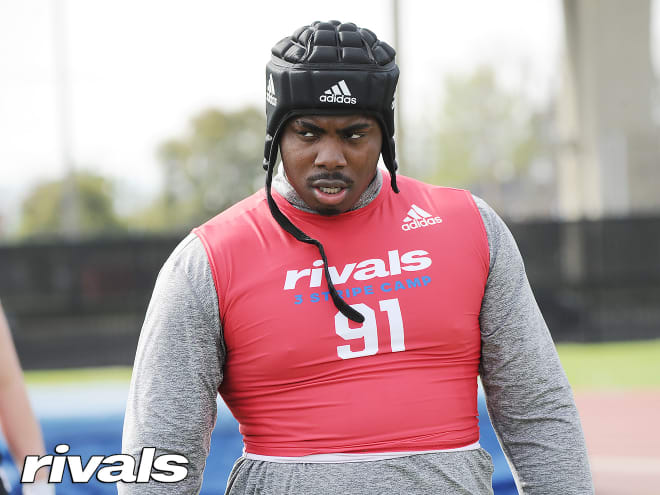 THE LATEST
Class of 2020 Tennessee offensive lineman Chris Morris has been a fixture on the national recruiting scene since his freshman year, but after taking countless recruiting visits during his high school career, he's finally ready to start narrowing things down. Morris recently told Rivals.com that he has five programs slated for official visits and he's working to iron out his schedule. Morris talks about the schools that made the cut and why he is high on each in the conversation below.
IN HIS WORDS
Official visits: "Right now it's Arkansas, Alabama, Texas A&M, Tennessee and Georgia."
Arkansas: "The coaches at Arkansas -- those are my guys -- Coach Morris, Coach Fry, S.J. Tuohy. Our relationship, it's built like a brotherly relationship, not just a coach and a player. They're in the mix, too. I'm thinking about getting back down there soon. Not for an official but for an unofficial. I want to see what's new, what's changed. See how the team has toughened up and see how they've improved."
Alabama: "I went there last month for a visit. Me and Coach Flood, we've been rocking ever since he got there. I can deal with him, he's a good coach. I like that. They have a lot of guys leaving and they think I can come in and have a chance to play. They like me at guard and a lot of coaches think that's my best position to get to the NFL. I can play guard. I'm confident in my ability. I've tried it at camps before so if that's where they want me that's fine."
Tennessee: "I spent a lot of time with Coach Pruitt in his office, we just hung out and ate and stuff like that. Overall, it was pretty fun. This visit was all about them telling me about what I can do there as a player. Basically, they're telling me about how I can succeed later in life and how I need to start preparing now instead of waiting so I'll be ready when the opportunity presents itself. They have stressed it to me that I need to be ready to play every position. They want me as a right tackle, but they want me to be able to play every position. Left tackle is what I'm used to playing but I've played every other position besides right tackle so I will have to learn and adjust if that's what I want to do. I'm going to go back for an official visit, probably this summer. I'm trying to get them out of the way. I'm ready."
Texas A&M: "Everything is going really well with them. Jimbo, he's a hot rod, he's like a little fireball just like me. Him and me are fireballs together and he gives me hell when I see him. I'm going to get back down there soon, too. After Arkansas. If you've ever noticed, my number of visits are always multiple in one trip. That's what I'm trying to do. They are going to get an official visit. They have a new offensive line coach, Coach Henson. That's my guy. We have really hit it off. Out of all the offensive line coaches, relationship wise, he's the best."
Georgia: "I'm rocking with Georgia a lot right now. We text every day and we talk a lot about how I can fit in there. They want me at guard. They like to have quick, athletic guards and that's the type of guy I am. I can understand why they want me there. They have had guys from Tennessee go there and have success. I've talked to Cade Mays and Clay Webb about what they like about it. They told me it's a grind but that's what you need to get better. They have a lot of guys going to the NFL and they said next year they will have a few offensive linemen that get picked."
You must be a member to read the full article. Subscribe now for instant access to all premium content.
Members-only forums

Predict prospect commits with FanFutureCast

Exclusive highlights and interviews

Exclusive coverage of Rivals Camp Series

Breaking recruiting news