Rivals100 OL Aaryn Parks commits to Oklahoma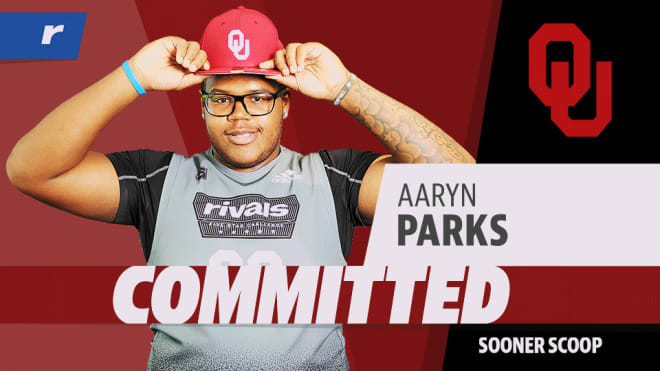 FORT WASHINGTON, Md. -- Rivals100 offensive lineman Aaryn Parks ended an eventful recruitment by announcing his commitment to Oklahoma live on Rivals.com on Thursday (see video below).

Parks started getting recruited as a sophomore and his offer sheet quickly expanded thanks to teams like Florida, Maryland, Michigan, Virginia Tech, and others. After a number of visits to Penn State, the Fort Washington (Md.) National Christian Academy star announced an early commitment to the Nittany Lions in late April but that didn't stop other schools from pushing for him to visit.
Before getting back on the road and visiting Pittsburgh, Alabama, and Oklahoma, Parks announced his recommitment from Penn State. Visiting and working out at Alabama was big for Parks as it eventually led to an offer earlier this month and Pittsburgh did a great job making him feel part of the family, showing him how he could contribute early in his career, but the official visit to Oklahoma sealed the deal. Parks told Sooners coach Lincoln Riley he was committing to Oklahoma on Sept. 5.
Why it's big for Oklahoma
The Sooners are loading up on offensive linemen again in this 2020 class. Parks is the fifth four-star offensive lineman and second lineman from the Washington D.C. area to commit to Oklahoma after Rivals250 prospect Anton Harrison.

This is further evidence that Oklahoma has no problem recruiting on a national level. Parks' relationship with offensive line coach Bill Bedenbaugh was the driving force behind not only his commitment to the Sooners but also his decommitment from Penn State. The way the two spoke about schemes and the way Parks would be used really hit home with the Rivals100 offensive lineman. Coach Bedenbaugh's track record with developing offensive linemen and getting them drafted also played a major role in Parks' commitment.
Parks brings a lot of scheme versatility because he can play tackle, guard, and center. At 6-foot-5 and just over 300-pounds, Parks has the size to play on the outside and use his length to battle fast and long defensive ends but he also has the strength to battle some of the bigger interior defensive lineman. Much like South Carolina sophomore Dylan Wonnum, Parks is a good run blocker that drives his feet and gets to the second level to make key blocks to spring running backs for big gains. He's also shown his quickness by getting out in front of screen passes and leading the way for his playmakers.
Why it hurts Alabama, UNC, Pitt and Penn State
North Carolina invested a lot of time and energy into recruiting Parks with this current coaching staff under Mack Brown and under the previous coach Larry Fedora. Parks is very close with his grandmother and she will soon be moving down to the Chapel Hill area. That should have been a major factor for North Carolina along with the added benefit of potential early playing time, but the Tar Heels missed out.
Alabama already has three offensive linemen in their 2020 class, but none of them are as highly rated as Parks. The Tide came on a little late for Parks, but landing his commitment would have gone a long way to solidifying this new haul of offensive linemen. Alabama has already made one of his teammates, 2021 Rivals100 defensive end Monkell Goodwine, a priority and having Parks already on the roster when it comes time for Goodwine to sign would have been huge for Alabama.
Pittsburgh was kind of a long shot for Parks, but the Panthers did get him on campus for an official visit. He really did enjoy his time with the coaching staff and with the players but it wasn't enough of a draw to get him to commit there.
Penn State did a great job getting Parks to commit early. He felt really close with James Franklin, Tyler Bowen, many of the current players, and the recruiting class, but Parks felt there wasn't much of a plan for him once he arrived on campus as a freshman. That and the fact that he wanted to visit a few more schools led to his decommitment. Landing a quality and versatile offensive lineman like Parks would have been huge for Penn State as it has struggled with depth on the offensive line in the past.