Rivals100 LB Teradja Mitchell is a Buckeye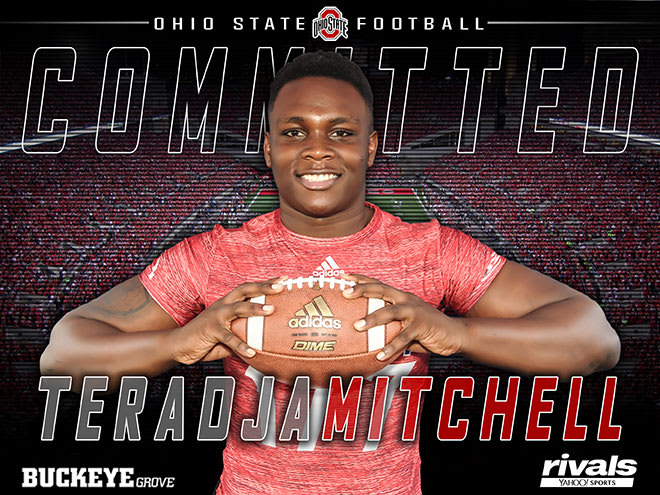 Ohio State is the hottest team in the recruiting world right now and the Buckeyes really flexed their muscles by landing a commitment Friday night from Rivals100 linebacker Teradja Mitchell. The Virginia Beach (Va.) Bishop Sullivan star chose the Buckeyes over Florida State.
IN HIS OWN WORDS
"It was a hard decision," Mitchell said. "It came down to life after football. I felt like I made a 40-year decision instead of a four-year decision by picking Ohio State. I feel like you can't beat their programs for life after football.

"I have a great relationship with the coaches at both schools but with coach Davis at Ohio State and his 26 years of experience in the NFL is something you can't beat. That was another big factor that played into it. I felt like I would get developed best with that coaching staff. Coach Meyer was one of the only head coaches I constantly heard from throughout the whole process. It was almost everyday.
"Right now they're in need of linebackers and I did my research. There are three players there that might declare for the draft this year. They're looking for me to come in and compete for a starting spot at the MIKE 'backer spot.
"I'm 110-percent committed to Ohio State. I'm shutting it down. I'm trying to be an early enrollee but right now I'm not."
RIVALS' REACTION
From early on in his recruitment Mitchell was a virtual lock for Florida State. He knows more people and has closer relationships with the players on the team and the ones that are heading there but there is a reason Urban Meyer is considered the best recruiting head coach in the country. Ohio State steadily gained momentum throughout Mitchell's recruitment with multiple visits to campus and providing clear paths to success on and off the field. Mitchell's abilities and fit in Ohio State's defense should provide stability to the Buckeye's linebacker corps for the next few years.