Rivals100 DL Tyler Friday breaks down his top five + two fringe teams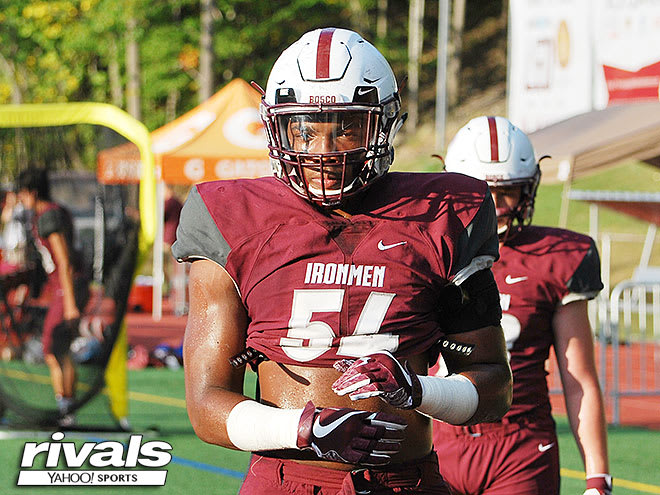 Rivals100 defensive lineman Tyler Friday's recruitment is still moving fairly slowly even though Signing Day is less than three months away. The Ramsey (N.J.) Don Bosco Prep star has taken a step in the right direction by releasing a top five of Miami, Michigan, Ohio State, Penn State, and UCLA. Friday explained his interest in these five schools and two additional schools as he heads into the first round of his playoff schedule this weekend.
IN HIS OWN WORDS…
"At the moment, I don't have any visits scheduled," Friday said. "I'm looking at taking a lot of visits in December and January. Everything really depends on my playoff schedule.
"I'm not going to graduate early so I'll be signing in February," he said. "I'll probably commit on Signing Day or maybe a few days before. Right now the three coaches I'm closest with are coach Johnson at Ohio State, coach Harbaugh at Michigan, and coach Franklin at Penn State."
Miami- "I've seen how they've gotten better and better every year," Friday said. "I see a coaching staff that I can trust as well. They are great guys over there. I also see the development and the progress the players make there. They just want me to trust their process and allow them to show me what they can do."
Michigan- "Right now I'm just loving Michigan," he said. "I talk to a lot of their players and they have nothing but great things to say. That's something I take into consideration. I just think coach Mattison, coach Partridge, and coach Brown are masterminds. They talk about all the different ways they'll use me in their different schemes."
Ohio State- "I love the Buckeyes," said Friday. "They've been doing amazing this year and their defensive line is really something I look at. They have a great coach in coach Johnson. He's a guy that just loves technique and I've talked to other coaches around the country and they say coach Johnson is the best. I just see a great opportunity. I feel like they could put me in the right position to do great things. I trust their coaches enough to get me to the next level."
Penn State- "Penn State is making a lot of noise this year," he said. "They've put a lot of people on notice. That's something I really take into consideration, especially coach Spencer over there on the defensive line. I feel like he has a really good plan and the way he coaches his players to be relentless is something I admire. I've seen a lot of Penn State and I have confidence that they'll bounce back. That's not something that worries me."
UCLA- "I just think UCLA has a great plan for me," Friday said. "I talk to them every now and then and when we do talk the coaches are always saying what they see me as. They have a really great plan for me and I'm excited about it. It's something I'm very interested in."
On two fringe teams still in the hunt- "I wasn't able to make it Alabama last weekend because we had a game the previous day so it was tough to arrange the trip," he said. "There is a chance I make it down there at some point. I've been talking to them pretty often since I put out my top five. It's something I'll definitely keep my eye on.
"Winning games is big for trying to get recruits to pay more attention to a school and I see Rutgers is improving," said Friday. "They have a lot of things going for them. I'm pretty sure the coaches and I came to an understanding when I released my top five but I'm still keeping them in consideration."
RIVALS' REACTION...
Friday has kept a low profile for most of the recruiting process but things will really start to work themselves out as he starts taking his official visits. Michigan is in the best position at this point but Ohio State and Penn State are set up to make a run at Friday as we head down the stretch. It will be interesting to see if Alabama can move up into Friday's top group given their ability to recruit elite defensive linemen. Look for Friday to start locking in official visits as soon as his season ends.