Rivals100 DB Leon O'Neal makes move back to Texas A&M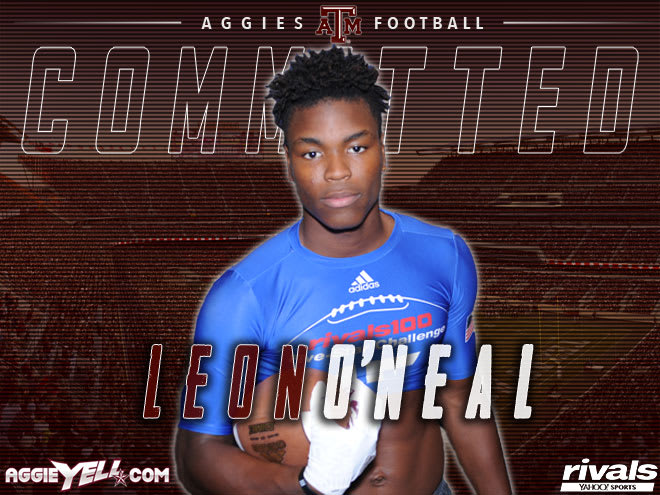 Leon O'Neal's recruitment was nothing if not eventful, and with National Signing Day looming, it came full-circle on Monday.
After a weekend full of recruiting momentum for Texas A&M, the Rivals100 safety added to the fervor with his decision to re-commit to the Aggies. O'Neal had de-committed from A&M shortly after new head coach Jimbo Fisher was hired, and immediately became the focus of major recruiting efforts by Clemson, Georgia and Oklahoma.
For the new staff to rebuild the connection O'Neal under such circumstances was certainly impressive, but its efforts were helped by the fact that his heart was never truly anywhere other than College Station.
"It was something that if you got a vision, you gotta take that vision ," he said. "This is our state, this is also about my name, who I am - I come from this area and this team needs us more than ever."
O'Neal was in attendance this past weekend as the Aggies hosted a number of high profile recruits, which led to commitments from 2019 Rivals250 wide receiver Kam Brown and talented cornerback Bobby Wolfe. O'Neal said that while he was out there, he rediscovered the feeling that he had for the program when he first committed and couldn't wait until Signing Day to make things official again.
"When you put the pads on, start taking pictures, you can feel it.," he said. "You know Erick Young is really good friends with Bobby too, and you don't know what he is going to do. I'm not that pushy kind of guy, if you want to wait, then wait. If you want to come here, then come here. I know the reason I'm here."
With O'Neal back in the fold, Fisher and company look to be doing a nice job of closing strong in 2018. A&M might even be on the verge of landing a gut-punch to conference rival Alabama - where O'Neal was asked to take an official visit this past weekend - as the Aggies seem to be making up ground with former commit Bobby Brown and Vernon Jackson, who has long been linked to A&M throughout his recruitment.
Of course, regardless of what happens with Brown and Jackson, O'Neal had a message for Crimson Tide head coach Nick Saban just the same.
"I didn't take that visit; I told him 'I want to beat you,'" he said. "It wasn't arrogant, but Texas A&M only lost by eight last season with all the stuff that was going on - he's not unbeatable. There is an opportunity to beat them and I want to do it at Texas A&M because once you do, it's over. Why not A&M?"
As outspoken a personality as O'Neal has been known to be, having him back included in the class only stands to help the Aggies as they continue to try and close on those top targets. Plus, five-star wide receiver Jaylen Waddle also appears to be seriously considering A&M. He and O'Neal were 7v7 teammates and close friends.
"I'm chomping at the bit," he said. "I wouldn't try and put them in a bad situation. I am going to say my spiel - they know who is here, they know they can make the jump with me … you want to go where you can be a baller, and if your head's right on your shoulders, you'll see they need you and you can do big things."
Following his decision to re-open his recruitment, one of the things that O'Neal was concerned with was the uncertainty of who would join Fisher as defensive assistants. Now that the staff has been filled out, and he's had the chance to hear about what future holds for the Aggies secondary, he said that he's confident that he'll have the opportunity to make the sort of impact that he's always imagined.
"They gave me all the answers," he said. "The résumé is there: You can't argue Mike Elko's ability as the defensive coordinator and DB's coach to put guys in position to make plays. You can feel fake - but you don't get that with them. They go above and beyond to make you feel comfortable.
The ride has been a bit of a wild one for O'Neal, but now that there's no doubt where he'll suit up next season, he's ready to get to work. His teammates better be ready, too, because he plans on hitting the ground running.
"Maybe some players that were on this team before didn't give all they had," he said. "But my job is to make sure that doesn't happen when I'm there and be a future leader. When I get there, that's my deal; I don't care how old you are, we're going to work and I love that. I love competition."