{{ timeAgo('2020-07-20 08:23:10 -0500') }}
football
Edit
QB Arch Manning talks football, family and recruiting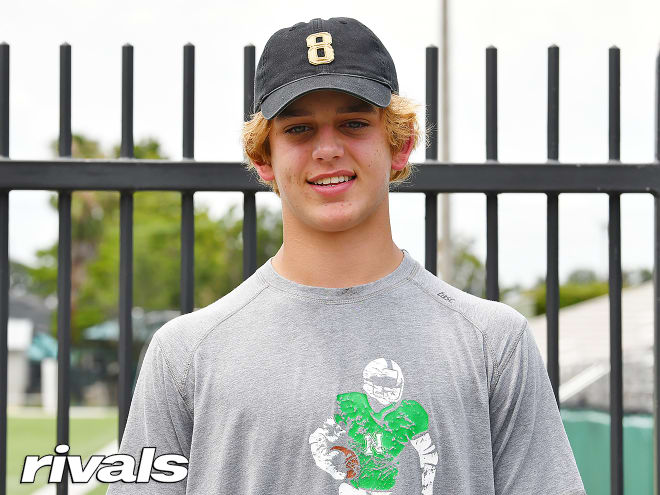 NEW ORLEANS -- Arch Manning is trying to do the impossible -- stay out of the spotlight.
Yes, he knows his family is football royalty, quarterback royalty, New Orleans royalty and SEC royalty. The 2023 quarterback already made waves by throwing for 34 touchdowns as a freshman at Isidore Newman last fall. That's the same school where his father Cooper and uncles Peyton and Eli became Friday night legends and have banners hoisted from the clubhouse reminding all those in Michael Lupin Field of their accolades.
Arch has naturally been a topic of interest both locally and nationally. Expectations are inevitably enormous, but it hardly makes a difference to the rising sophomore, who has maintained a selfless demeanor as attention from the community, the media, college coaches and recruiting diehards mounts. Arch deflects the attention with his confidence and whimsical personality and keeps the focus on his teammates first and foremost.
"Obviously, I have a big last name, but I keep it more about the team,' Manning told Rivals this week. "Winning the team over was my biggest goal to getting the starting job. It was about the seniors; it was their last year and they were all really nice to me because I knew all of them. That made it more comfortable and more laid-back. That's why we had some success last year."
Arch is the third generation of a famous football family and is continuing that legacy with his own elite abilities. His recruitment has yet to take off, purposefully, but is expected to be one of the most highly competitive processes in recent memory. Yet he remains unfazed.
He could be the biggest name in high school sports if he wanted to be. But that's not what the Mannings want. It's not what Arch wants either.
"I just don't like to have the attention on myself," Manning said. "I want to focus on my team. I just like being a regular high school kid. I'm just one of the guys on the team."
Such has been the focal point of Manning's offseason, which has included of throwing, weight and speed training, bulking up his frame and expanded leadership responsibilities as he enters his second season as Newman's starter behind center.
The Mannings did not speak with Sports Illustrated for a February magazine piece on Arch. He didn't speak with any media outlets before, during or immediately after his breakout freshman campaign.
Arch is not on social media and the family has not yet green-lighted colleges from beginning to recruit him, though staffs throughout the SEC and beyond are actively bracing for the opportunity to pursue The Next Manning.
"There's a lot that goes into (recruiting)," Manning said. "For a quarterback, it's all about the best fit. We're not going into it much yet. I want to enjoy my high school experience and that's what I'm doing right now. Wherever I go, I know they'll support me. Who knows ... they might not have college football this year, so anything can happen."
Manning edged out then-senior Beau Adams for the starting gig last spring and threw for 2,438 yards while completing better than 65 percent of his passes and leading Newman to the LHSAA Division III quarterfinals last fall.
The demands of Manning haven't been changed in Year Two, only adjusted. He won over the team and a locker room full of upperclassmen in 2019 and has since adopted more of a leadership role as this offseason got underway. Even with the Co-Vid-19 pandemic and the subsequent limitations, Manning has remained in constant communication with his head coach Nelson Stewart, his quarterbacks coach David Morris and all of his offensive teammates throughout virtual and limited in-person team activities. That includes promising 2022 wide receiver AJ Johnson and 2023 wide receiver Makai Donaldson.
Manning has grown about three inches and tacked on another 25 pounds and checks in 6-foot-3 and 190 pounds leading up to his sophomore year. He's emphasized getting stronger and building up his frame, while also continuing to improve his speed.
"I liked my ability to escape the pocket and I was pretty accurate last year," he began. "This year, I'm working on arm strength and getting bigger and I want to run more. This year, we have more weapons. I want to spread the ball out more and not just focus on (graduated senior and Dartmouth signee) Jarmone (Sutherland) ... Our offense can be explosive and hopefully, even with Corona, people can come in and watch."
Naturally, the goal is continue to grow as an offense in 2020. For Manning, the key to success stems from strong leadership.
Arch looked no further than studying his Uncle Peyton, who attended one of his games last fall. That field-general mentality is another area that Manning is looking to improve ahead of his sophomore year.
"It's definitely a lot easier now," Manning said. "I like being more in-demand. Now, you can go get your guys and throw more. What I picked up a lot from Peyton is how to be a field general. I picked up more of that role this year as a sophomore and I like it a lot. You can tell Peyton is like that from being with him and going to lunch, the way he goes about business and his personality. I look up to that and I like how he goes about it."
Being a Manning comes with pressure, but also its perks. Lunches with Uncle Peyton satisfy Arch's thirst for football. His grandfather Archie, of Ole Miss and Saints fame, has helped orchestrate weight and speed training while also encouraging him through daily "fun" and "simple" text messages. Of course, Cooper shares fatherly advice before and after Friday night games and keeps the focus off of football until it's time to work. So far, Archie and Cooper have yet to miss an opportunity to watch the next Manning quarterback play live.
Arch has also squeezed in three trips to Mobile, Ala., to work alongside Morris, a friend of the family who has worked out and coached Eli, and has been tutoring the third generation of Manning quarterbacks for several years. Another constant Uptown is the emphasis on preparation.
"This whole offseason I've had Zoom (calls) with Coach Stew. We went up to Mobile and worked out with David Morris three times. The offseason gets you ready for the season, to feel comfortable during the season and to not regret anything."
In addition to pro tips from multiple retired NFL signal-callers over lunch, Arch also inherited some of the best parts of his grandfather's and uncle's game.
Archie Manning amassed more than 2,000 yards rushing and found the end zone 18 times by way of his legs during his time with the New Orleans Saints. Peyton Manning has a legendary reputation for his film study and preparation leading into game day. His ability to audible on the fly and command an offense put "The Sheriff" in the conversation as the NFL's best quarterback for nearly two decades.
Arch flashed as a freshman with the advanced ability to move well within and outside the pocket, extend plays with legs and call his own number in the right situation. That resulted in 87 yards and four touchdowns. After a debut varsity season that opened with a rigorous quarterback competition and ended in being named the MaxPreps Freshman of the Year, Manning is taking a magnified role in the offseason prep.
"I'm most like my grandfather in the way I play," he said. "I think he knows (that). He can scramble around and stretch the field. I like the way that he played. From Peyton's perspective, I like how he controls the field and it was his system. I like how I can connect with Coach Stew and how we go about everything, from film to Zoom calls to play-calling."
While Manning charges forward into his second year at the helm of Newman, the recruiting part of the equation remains a cloud of mystery.
Colleges from all around the country watched Arch throw during spring practices last year. That summer, he led Newman's 7-on-7 squad to a championship in Baton Rouge during LSU's annual 7-on-7 camp. Both Arch's grandfather and father were in attendance, shadowed by the full lot of LSU's offensive coaches, including offensive coordinator Steve Ensminger; area recruiter Mickey Joseph; passing game coordinator Joe Brady, who's now calling plays for the Carolina Panthers; and of course, head coach Ed Orgeron.
When it comes to the Mannings, Ole Miss and Tennessee have to be mentioned. Archie and Eli both played for the Rebels, and Cooper signed with Ole Miss before stepping away from the sport. Peyton remains the Vols' all-time leading passer. The common thread between those two SEC schools is David Cutcliffe, the head coach of Duke who worked with both brothers during their college days.
Entering his sophomore year, Arch isn't sweating recruiting. There isn't a need to. That chapter of this story has yet to be written, but is expected to be one of the most intense recruitments in recent memory.
Until then, Manning's focus resides on anything from his running backs' ability to pass protect or deciding between Bayou Hot Wings and Smoothie King. This fall, he's looking forward to being a Saints fan on a full-time basis now that neither of his uncles are suiting up on Sundays.
"Sundays are just about relaxing," he says. "We watch football and eat a lot, just like most families."