Rivals Roundtable: Addressing 2024, 2025 prospects after Rivals150 updates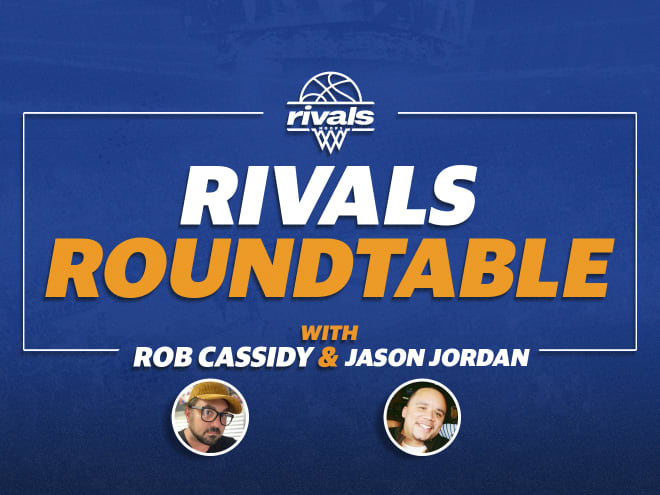 1. Which player's recruitment do you view as most intriguing? 
"I'm becoming intrigued by what could be in store when it comes to Karter Knox, who once seemed like a Kentucky lock due in part to his brother, Kevin Knox, who went from touted recruit to lottery pick in Lexington years ago. Now, with things getting weirder at UK and Louisville, Florida State and others getting more serious about recruiting the five-star I could foresee an eventful recruitment with a twist ending. John Calipari's future as Kentucky's head coach is more in doubt than it's ever been, and there's no telling what the year ahead may hold. All I know is that Knox's recruitment will be watched closely." - Cassidy
"I'm still intrigued by Dylan Harper's recruitment. Like most big-time prospects, Harper's situation has had ebbs and flows throughout, but as we've reported over the last month the smart money is on him landing at either Rutgers, Duke or Indiana. Depending on the day and who you ask, you'll get different perspectives on where he'll ultimately suit up, but as long as there's time left on the recruiting clock you'd be hard pressed to count out any of his contenders. Harper recently told Rivals that he'd decide either before or during his high school season, so expect the plot to thicken over the next few months." - Jordan
*****
2. Which player do you see as a smart bet to continue to improve his ranking? 
"Kansas State commit David Castillo missed some time with an unspecified foot injury this season, and he saw a few prospects jump him because of missed time. Before the injury, however, Castillo was showing signs of taking another step forward. I think the Oklahoma-based combo guard could be poised for a big senior season at nationally ranked Sunrise Christian. Castillo will have the big stage on which to make waves, as a national schedule will provide him a proving ground. I could envision a situation in which he jumps up from his current slot at No. 41." – Cassidy
"Definitely Billy Richmond. He's already up 72 spots to No. 37 overall in the latest rankings update, but I feel like it's just the tip of the iceberg for the 6-foot-6 wing. He's already shown his capabilities by producing big time in the Nike EYBL this spring (18 points, 6.1 rebounds and 2.4 assists a game) for the NJ Scholars, but it's bigger than numbers with Richmond. He's just got "it." With his size, his abilities as a ball-handler and playmaker and the crafty manner in which he can get to the rim and use his elite athleticism to finish strong he should continue to climb." - Jordan
*****
3. Which uncommitted prospect do you view as a must-get for a particular school? 
"At this point, Duke needs to land Cooper Flagg and not let him wiggle away to a professional option. The Blue Devils feel like the only team that has been seriously involved for some time and the fan base could use some good news after the first season of the Jon Scheyer era yielded mixed results. The program can't be perceived as losing the massive recruiting momentum it has built over the past couple of years, as things can spiral on the recruiting front in a hurry if perception of a new coach among truly top-flight prospects changes. Landing Flagg, a surefire one-and-done prospect, feels more important than ever for Scheyer, who needs to continue to assert himself as a dominant recruiter among the changing landscape of the sport." - Cassidy
"I've felt for some time that Derik Queen is a must-get for Maryland. The Terrapins have long been considered a strong player in Queen's recruitment, and after his dominant spring he's become even more important for Kevin Willard. Queen jumped 11 spots to No. 19 in the Rivals150, which makes landing him in College Park not only big from a production standpoint, perhaps even more importantly, it's big from a perception standpoint." - Jordan