Rivals Recap: Underclassmen Challenge
ATLANTA – The Rivals250 Underclassman Challenge Presented by Under Armour took place on Sunday afternoon. It attracted players from both coasts and most places in between. The high level of competition made things interesting form the jump, but a number of prospects managed to stand out from the rest of the loaded pack.
Below are just a handful of players that made an impression of some sort during the event.
RELATED: Underclassmen Challenge MVP's | Vines, tweets, more from R250 Challenge| Rivals Camp Series index page

I WAS IMPRESSED BY...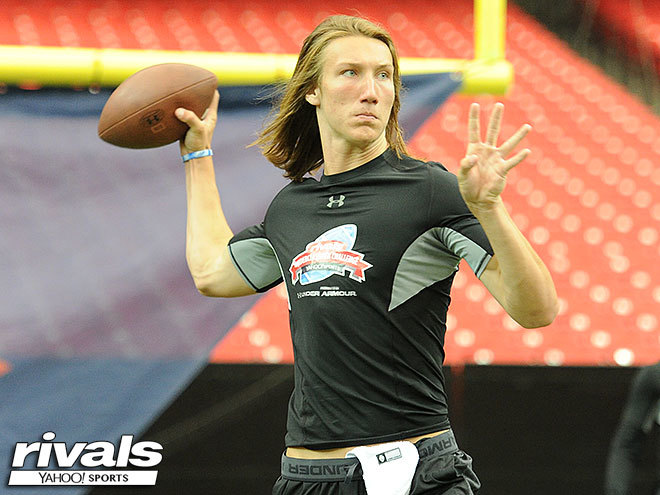 Trevor Lawrence has the next-big-thing reputation for good reason. The five-star prospect turned in another impressive performance on Saturday and was the camp coaches' favorite prospect. Lawrence, who won the day's quarterback MVP honor, has solid mechanics that create effortless arm strength. His accuracy on deep passes down the sideline is what set him apart from the pack on Sunday.
Greg Emerson's offer list is long and distinguished as things stand now. Judging by his performance on Sunday, it's not done growing. Emerson has long arms and an incredibly strong upper body. Still, he earned the defensive line MVP award by showing a unique combination of size and agility that allowed him to win reps with a number of different pass rush moves.
The brother of Florida State running back Dalvin Cook, James Cook's bloodlines create certain expectations. He continues to measure up, however, and Sunday was no different. James Cook earned the camp's running back MVP award, as his burst made him a matchup nightmare for linebackers during one-on-one drills.
Linebacker Alan Tisdale backed up his long, athletic frame with a solid effort in drills and some of the day's most impressive one-on-one reps. Tisdale ran with much smaller running backs for most of the afternoon and showed an ability to cover deeper down field that he'll be asked to in actual football games. He has a lean, long frame and will become a more complete prospect as he adds more size. The MVP award he took home on Sunday could serve as a launching pad for his recruitment.
LSU commit Devonta Jason showed incredible acceleration en route to picking up the day's wide receiver MVP. Jason has solid height, but his change of pace is what makes him a big-time prospect. Jason cuts sharply and was often open on intermediate routes. He also is capable of running by defensive backs, as he showed on deep routes during one-on-one drills.
I WAS SURPRISED BY...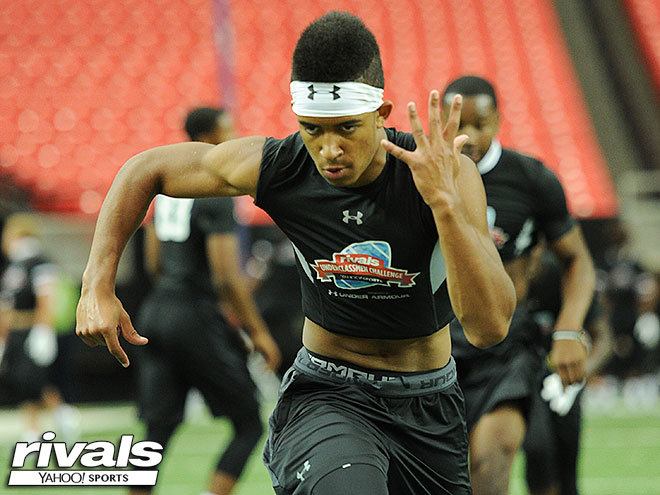 Devin Haney's long arms and ability to recover after giving up a step or two helped earn him MVP honors. Haney has some room to add weight, but he is already a versatile defensive back that can cover downfield as well as get physical at the line. There's no question that Haney will get bigger and add more offers, as he has the stature and agility of a high-level college prospect.
Larry Hodges was one of the top wide receivers at the event. His size has always been apparent, but the fact that he created routine separation from college-bound defensive backs showed he's more than a long target with good hands. Hodges, a 2019 prospect, has improved his explosiveness in the last year and has a chance to be a national-level prospect by the time he graduates high school.
A class of 2019 prospect, Louis Paul Smith was one of the day's most pleasant surprises. He's added muscle and trimmed bad weight in recent months and seems to have gotten more agile. Smith won most of his one-on-one reps. And while he held on an occasion or two, he also showed off impressive footwork for a prospect of his size. Smith has the frame and the fundamental foundation to develop into something impressive down the road.