Rivals Recap: Charles shines at Varsity Preps camp
RAYMOND, Miss. -- Offensive linemen Saahdiq Charles and Lavante Epson showed why they are headed to the SEC in front of a talented group of prospects at Varsity Preps elite camp on Sunday. Here's a breakdown of what jumped out of a group of talented athletes primarily from Mississippi.
I WAS IMPRESSED WITH ...
LSU commit Saahdiq Charles was far and away the most impressive prospect on either the offensive or defensive line, winning rep after rep in impressive fashion. Charles is still very raw as an offensive lineman, but his ability to move at his size is what really blows you away. Once he has a chance to get to college and learn the fundamentals to go with his impressive physical skill set, he could be a dominating force.
I WAS SURPRISED BY ...
Lavante Epson, a recent Ole Miss pledge, was battling Charles for the top offensive lineman honor for most of the day and he put on quite a showing himself during one-on-ones. He's a true guard and he plays with an edge, something he showed off while sending defender after defender to the turf. Ole Miss has done an excellent job identifying in-state talent and Epson appears like a nice grab.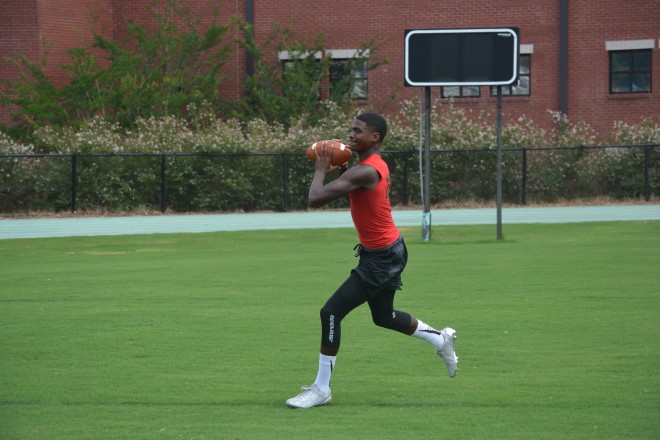 Class of 2018 quarterback Justin Rogers, who holds four SEC offers, looked the part of a future four-star with his showing. He's a tall, lean prospect with a pretty good arm and he's very good at throwing on the move. Rogers will need to continue to add bulk to his frame as well as work on his footwork in the pocket, but he has a very high ceiling at this point in his development.
A few current Hinds players were at the event to observe, including highly regarded LSU wide receiver commit Stephen Guidry. The JUCO prospect, who has already flipped from South Carolina to LSU once during this cycle, said he is 100 percent locked in with the Tigers. Guidry, who recently released a "Top Five" via Twitter, said it was a "mistake" and has no plans to visit other schools.
Rivals100 wide receiver Devonta Smith stole the show and was in a league of his own when it came time for one-on-ones, going against and easily beating pretty much anyone that lined up against him. Smith is clearly a special talent and while he's rather soft spoken off the field, his game speaks volumes on it. Smith is set to visit Florida State this week.
Class of 2018 running back Javeon Howard earned running back MVP honors and clearly looks like a future Power Five player. His height is a bit of a concern to some schools, but Memphis recently offered and he turned heads at Alabama's camp last week. It shouldn't take long for schools to identify Howard as a player to check in on in the coming months.
Three-star wide receiver Brandon Smith took home wide receiver MVP honors and said he's headed to Iowa for a visit next week. Physically, Smith looks the part of a Power Five wide receiver and he was very impressive during both drills and one-on-ones. Iowa the biggest program pushing for Smith and it wouldn't be surprising for the school pull a diamond in the rough out of Mississippi.