Rivals Rankings Week: Updated Rivals100 sees four new five-stars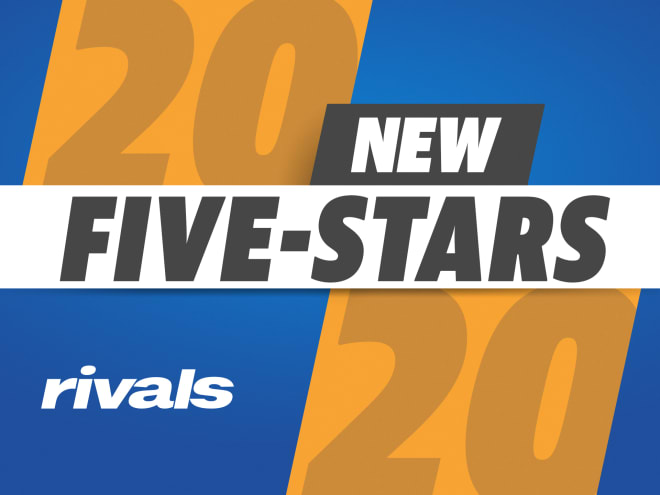 The final Rivals100 for the class of 2020 has dropped as we say goodbye to a very loaded class. Was a new No. 1 named? Who added a fifth star and who lost one? We have your answers right here.
No. 1 stays the same as defensive tackle Bryan Bresee hangs onto the title of best prospect in the 2020 class after a heated battle. Bresee, who will play for Clemson, did nothing to lose the top spot as he played injured at the All-American Bowl and was dominant all week and in the game. He held off the two top quarterbacks in the class in what also became a heated battle.

California quarterback Bryce Young leapfrogged fellow Golden State signal caller D.J. Uiagalelei in one of the best quarterback battles we've see in recent memory. Young and Uiagalelei went head to head during the season and in San Antonio at the All-American Bowl, and both have excellent careers ahead of them. Young is more college-ready now and will compete for the starting job right away at Alabama while Uiagalelei is more physically impressive and will be the heir apparent to Trevor Lawrence at Clemson. It will be interesting to see how their careers play out and if they meet again for a national title.
Myles Murphy, a Georgia defensive end who is also headed to Clemson, checks in at No. 4 overall and is followed by Georgia offensive line commitment Broderick Jones. Jones, who was dominated at Under Armour, is the top offensive tackle in the class and hasn't signed yet. He is committed to Georgia but still considering Auburn and Arkansas.
Two cornerbacks, Elias Ricks and Kelee Ringo, start off the second half of the top 10. As good as the quarterback battle was, the battle for the top corner spot was equally intriguing. Ricks, who is headed to LSU, stayed on top due to his natural instincts and ball skills while Ringo, headed to Georgia, has elite speed and also has excellent size. These two should dominate the SEC for a few years.
Two Oregon commitments, both linebackers as well — Justin Flowe and Noah Sewell — check in at No. 8 and No. 10 respectively. Flowe is a violent tackling machine while Sewell is a massive linebacker who is athletic enough to play some running back in college as well. Tight end Arik Gilbert, who is headed to LSU, checks in at No. 9 between them.
There are a total of 34 five stars in the class of 2020 and it is a very balanced and talented group overall.
NEW FIVE-STARS
There are four new five stars added to the 2020 class led by Alabama signee William Anderson. Our analysts break them down.
"Anderson has been ranked around the top 150 in the country for months, but when we saw his senior tape in December combined with his performance in San Antonio at All-American Bowl week, we saw one of the premiere pass rushers in the country. The Alabama signee has a great get-off, he can bend around the edge and he closes on the quarterback very well. He has a non-stop motor, he uses his hands, he plays hard and he has the versatility to play with his hand down or standing up. It is scary to think what he can develop into at Alabama." — Chad Simmons, Rivals.com Southeast Recruiting Analyst
"A Florida commit, Dexter answered most lingering questions with a tremendous showing during Under Armour All-America Game workouts, where he showed a variety of pass-rush moves to go along with his trademark power. He was a bit quiet in the game, where he was double teamed on occasion, but Dexter's remarkable size and dexterity are a rare combination for a defensive tackle." — Rob Cassidy, Rivals.com Florida Recruiting Analyst
"Jones has been on the cusp of a fifth star since getting a closer look at the long, physical cornerback at the Rivals100 Five-Star Challenge. He's so smooth in coverage and during the season, made a ton of strides attacking the ball and forcing turnovers while also locking down top receivers. Jones added his fifth star after continuing to show he's a lockdown corner at the Under Armour All-America Game, proving he's capable of doing his best against elite competition." — Sam Spiegelman, Rivals.com Mid South Recruiting Analyst
"Bailey has been in this discussion for the past year. He has always been a strong passer that put up big numbers, but his off-season training really took his game to the next level. The Tennessee signee really improved his mobility. He became able to extend the play outside the pocket and continued to throw dimes on the move and down the field. He led his team to a state title, he has always been a natural leader on the field and his improvement this season has moved into that five-star category.

"Bailey checked a lot of boxes before, and although the is not a real threat to run the ball, he is an elite passer with better mobility, and he is one who will immediately challenge for the starting quarterback position in Knoxville." — Chad Simmons, Rivals.com Southeast Recruiting Analyst