Rivals Rankings Week: Class of 2021 Rivals100 released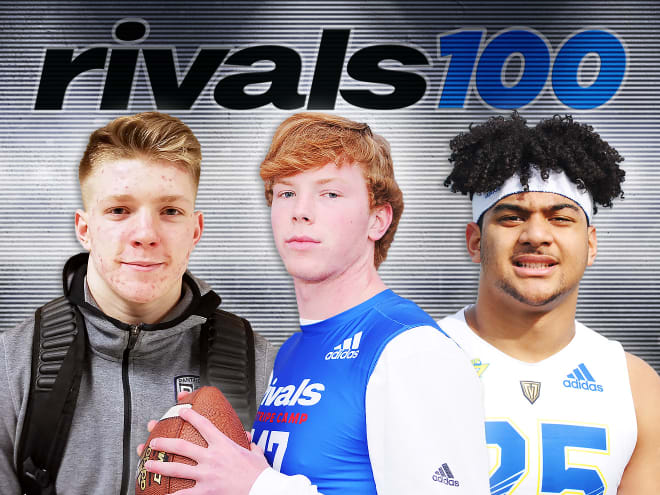 Rivals Rankings Week:
Tuesday: 2021 Rivals100 revealed | Mind of Mike

Wednesday: 2021 Offensive position rankings
Thursday: 2021 Defensive position rankings revealed
The first Rivals100 for the class of 2021 has been released and the first No. 1 in the class is Georgia quarterback Brock Vandagriff. However, there was much debate about the top spot, some late shifting and plenty of discussion about the first set of five stars.
Vandagriff, who appears to be down to Georgia, Florida and Oklahoma, is a big and talented pro-style quarterback and became the clear No. 1 when former Miami commitment Donell Harris, an ulta-talented defensive end, re-classified to the 2020 class just days before our final decision. Harris would have been a top two player in the 2021 class and was pushing for No. 1, but now he will be compared to prospects in the 2020 class and ranked over the summer. It's a bit surprising that Harris is re-classifying as he needs to add weight and strength, but he's one of the most athletic pass rushers we've seen in the last few classes and could be an elite hybrid. This is the first time since I've been covering recruiting that a prospect so highly regarded re-classified so close to a rankings release, but I'm sure it won't be the last time.

Vandagriff has everything you want in an elite quarterback – size, a good frame, excellent feel in the pocket, arm strength and elite accuracy. He can fit into a pro-style offense or a spread with ease and should have a great college career and beyond.
Following Vandagriff we have three elite defensive ends – J.T. Tuimoloau from Washington, Jack Sawyer from Ohio and Korey Foreman from California. Each brings something different to the table as Tuimoloau is an elite jumbo athlete who is raw but can get after the passer in many ways. Sawyer is a refined, athletic rush end with excellent technique and who plays with an edge and Foreman is a relentless pass rusher with the ability to counter well and never stops pursuing the passer. It's early , but all three should be elite at the next level and beyond if they continue to develop.
Running back Camar Wheaton, a blazer from Texas, cornerback Corey Collier from Florida and offensive tackle Savion Byrd from Texas round out the five stars in this release. Wheaton has elite speed and runs with power and wiggle while Collier has great size, excellent instincts and the length to be special. Byrd is still filling out his frame but is so athletic and so advanced as a pass protector his ceiling is beyond high.
Wide receiver Emeka Egbuka is the highest rated non-five star and checks in at No. 8 followed by quarterback Kyle McCord from Pennsylvania and offensive tackle Tommy Brockermeyer from Texas to round out the top 10. Our regional analysts break down the five stars below.

"For a rising junior, Vandagriff is a very advanced quarterback. His father, Greg Vandagriff, is his head coach, and it is easy to see that the 2021 quarterback has been around the game all his life. Vandagriff is one of the best pure passers in the country regardless of class. He is an athlete who could have been recruited to play baseball, but he is a pass-first guy. He has a great frame, a live arm, he can throw with touch, his deep ball is a strength and he has a clean, compact delivery. He is advanced physically and mentally at quarterback.

"His recruitment has been fairly low-key for a national recruit. He recently released a top six, but for some time it has looked like a fight between Florida, Georgia and Oklahoma. He has visited all three schools at least twice in the last couple months. He's said he will make a decision when he feels ready, so don't look for a lot of fanfare leading up to his announcement, when that time comes." – Chad Simmons, Rivals.com Southeast Recruiting Analyst
"For someone his size, it is incredible how smoothly and easily Tuimoloau moves. He has the athletic prowess to be a devastating edge rusher and if he continues to grow there's no doubt he could move inside and be a fantastic gap-shooting defensive tackle that are now so coveted. When Tuimoloau moves over and plays offense, he is a natural tight end as well with great hands. It's not normal for players his size to move so well.

"Washington is considered the frontrunner but I wouldn't count out Oregon and other Pac-12 schools along with national powers because his recruitment is just starting." – Adam Gorney, Rivals.com National Analyst
"This early in a class, there are players who show possible five-star potential, but few who are actually playing to that level. Sawyer, an Ohio State commit was one of the most feared defenders in the state of Ohio last fall as a sophomore, and he possesses athleticism that helped earn him second team all-state honors in basketball. Sawyer has that sky-high potential, but also provides low risk because he has already shown the ability to be dominant on the football field." – Josh Helmholdt, Rivals.com Midwest Recruiting Analyst
"Last season, Foreman played the other defensive end spot across from USC signee Drake Jackson and he was dominant all season long. Foreman is big and fast, he has a relentless motor that just never stops and he loves being in attack mode. He can get to the edge against almost any offensive tackle nationally and if he's stopped, Foreman has the athletic ability to spin back inside to get in the backfield. USC is probably the early leader but many other top programs are in the mix." – Gorney

"Wheaton is a three-down, home-run threat every time he touches the rock. At 6-foot and 185 pounds, he's got an ideal frame that allows him to run downhill with elite speed and ability to cut and change direction. He has track speed (10.62 seconds in the 100-meter) and can run hard in between the tackles and outside to the boundaries. He's explosive and can't be arm tackled in the open field.

"Wheaton likes Alabama, Texas, Oklahoma, TCU, Georgia, LSU and others early in the process." – Sam Spiegelman, Rivals.com Texas and Louisiana Analyst
"Collier has been on the recruiting radar for two years already and continues to develop into one of the most elite players in the country. His athleticism sets him apart, as he could easily play wide receiver if he wasn't one of the most talented defensive backs in the country. He boasts a rare blend of length and speed and has spent the last year proving he can cover FBS-bound wideouts on the camp circuit and on Friday nights." – Rob Cassidy, Rivals.com Florida Analyst
"In what is shaping up to be a loaded crop of offensive tackles in Texas for the 2021 class, Byrd made a strong case to be the best. At 6-foot-5 and 270 pounds, he has an athletic build to be a standout left tackle. He's got quick feet and natural strength. He's a one-man wrecking crew that's mobile enough to pull in the run game and toss aside pass-rushers. He's exceptionally quick off the ball and thrives in pass pro for the state's most mobile quarterback Ja'Quinden Jackson.

"Texas, Oklahoma, Alabama and others stand out early." – Spiegelman