Rivals QB Week: Five two-stars who reached the NFL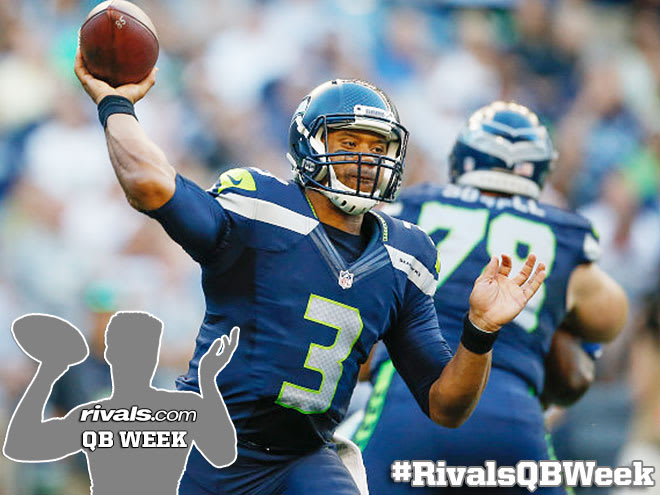 Ooops. That's what I say a lot when we miss on a kid and he makes us look foolish in the eyes of fans after becoming a star with a low Rivals.com rating. And the quarterback position is no different as fans love to point out the ones we missed. So here's a look at the top five biggest misses (two stars or unranked) prospects in our recruiting database in Rivals history based on success in college and now in the NFL.
Okay, this is a no-brainer at the top, right? Well you could make a case for Alex Smith (below) since he was a No. 1 overall pick but with Wilson already having won a Super Bowl (should have been two) and becoming one of the most dynamic players in the NFL already, he's the guy we get called out the most on. Wilson was ranked as a two-star back in 2007 a time where short quarterbacks were not coveted and pretty much avoided. But NC State saw something we didn't and the rest is history.

Smith was essentially Reggie Bush's teammate back in 2002 when Bush was a dynamic junior bursting on the scene. Smith started his last two seasons, put up solid numbers and was a winner with good size but no one wanted him but Utah. A guy named Urban Meyer helped his career along, he went No. 1 in the NFL Draft and is still a starter at the highest level but we honestly didn't see much from him back in 2002. We are obviously kicking ourselves, as are a ton of PAC12 schools who passed as well.

There is a clear drop off from the top two down to the next group but Nassib did have a proflic career at Syracuse and is a current NFL backup so that's obviously better than his two-star ranking back in 2008. He didn't put up major numbers in high school and wasn't scouted that heavily, so hats off to Syracuse for finding him. The Nassib family must think we hate him because his brother, former Penn State star walk on Carl Nassib, wasn't even in our database and is also in the NFL.

Tolzien, a two-star quarterback out of Illinois back in 2006, chose Wisconsin due to a late offer from head coach Bret Bielema, but was headed to Kentucky or the MAC otherwise. He had solid size, although he needed to fill out. He was a solid decision-maker and game manager. He had a solid career at Wisconsin, again being considered more of a game manager than anything else, and went undrafted in 2011. He's been a backup to Aaron Rodgers and now heads into the season as Andrew Luck's backup. Not too shabby.

Perhaps the most famous backup quarterback in the NFL right now, Garoppolo will start the first four games for the New England Patriots as Tom Brady serves his suspension. A linebacker until late in his high school career, he was new to the position and only got FCS looks for the most part. Hard to blame us on this one as a converted linebacker not getting looks from FBS schools turned into a second rounder and the backup to the best quarterback in NFL history. Who could see that coming?