Rivals Crossover Series: Top 10 football-hoops talents of Rivals era
Who are the top dual-sport athletes during the Rivals.com era? To kick off this week's Crossover Series national football analyst Mike Farrell and national basketball analyst Eric Bossi take a look at the football/basketball prospects of the Rivals era who were the most highly decorated in both sports or found success at the next level in their second sport.
CLASS OF 2021 RANKINGS: Rivals250 | Position | Team | State
CLASS OF 2022: Top 100
MORE: Rivals Transfer Tracker
*****
1. LeBron James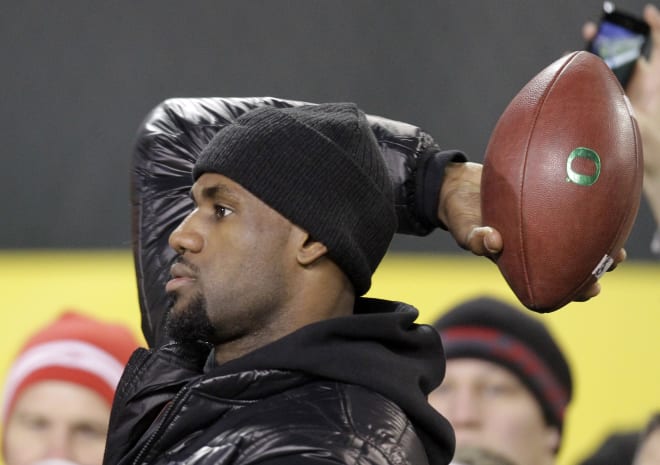 Bossi's take: LeBron James is going to go down as the most decorated athlete of the Rivals.com era and one of the game's all-time greats because of what he's done on the basketball court. But it's quite likely that he could have also experienced incredible success in the NFL.
Before taking off his senior year to concentrate on hoops and healing a broken wrist, James was a two-time all-state player and racked up more than 1,200 yards receiving and 16 touchdowns as a junior.
Alabama, Miami, Notre Dame, Ohio State and many others were interested, and Urban Meyer once commented that James could have been a first-round pick or possibly even a Hall of Famer in the NFL.
Well, 16 All-Star Games, four MVP awards and three NBA titles since making the decision to focus on round ball, it's tough to argue with his choice.
*****
2. Terrelle Pryor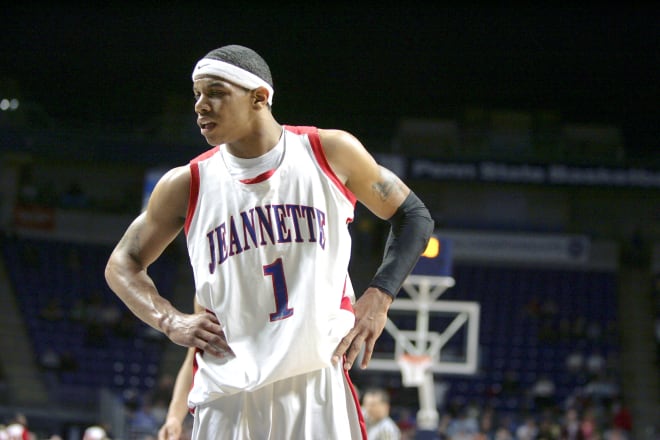 Farrell's take: Pryor, a No. 1 prospect in football and top 40 in hoops, received his first offer from Pitt as a basketball player. But when he decided to focus on football he became one of the most heavily recruited players in Rivals history. As a tall, big and physical quarterback he toyed with the competition on the gridiron and drew comparisons to Vince Young.
He could have easily been a wide receiver or tight end as well, as we saw at the NFL level. I'm still convinced he would have led Ohio State to a national title if he didn't lose his last year of eligibility. He's been up and down – mostly down – in the NFL, but his talents are unquestioned.
*****
3. Jimmy Graham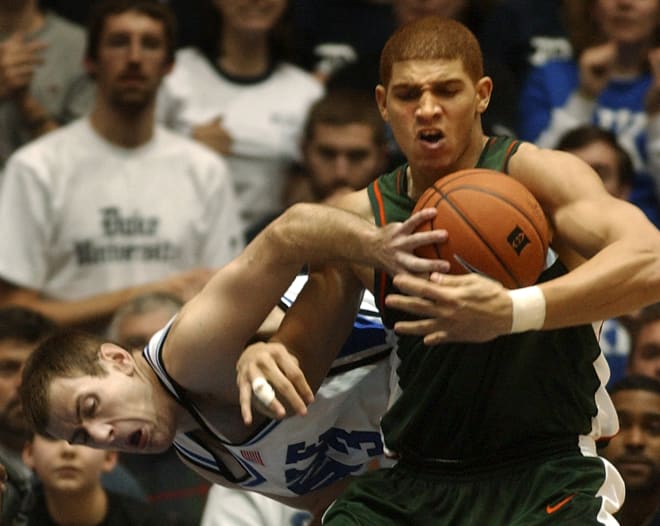 Bossi's take: A bit of an outlier on this list, Graham never even played high school football and is an incredible story. Though he was a four-star prospect in basketball, Graham wasn't a nationally coveted hoops prospect. The native of North Carolina overcame a tough upbringing and landed at Miami, where he saw decent minutes but never put up particularly big numbers while starting in 40 of 120 appearances for the Hurricanes.
After his hoops eligibility was exhausted, Graham stayed at Miami to give football a try as a graduate student. His one year was enough to get him taken in the third round of the 2010 NFL Draft by the New Orleans Saints. Thanks to his incredible combination of size, athleticism and agility, Graham has had a spectacular career that has seen him amass 7,883 yards, 74 touchdowns and five Pro Bowl nods.
*****
4. Nate Robinson 
Bossi's take: When most think of Robinson, they think of his freakish leaping ability and how he overcome his sub-6-foot stature to become a first-round pick in 2005 NBA Draft. After that, he would win three dunk contests and average 11 points per game over the course of a successful 11-season career.
What many don't realize is that Robinson actually signed a football scholarship with Washington – where his father Jacque Robinson was a star running back during the 80's – after his high school career at Seattle (Wash.) Rainier Beach.
After starting as a freshman, he made the switch to hoops and never looked back, even though he later claimed that a Husky booster offered him $100,000 to go back to the gridiron.
*****
5. Martellus Bennett
Farrell's take: Bennett, a top 50 player in hoops who entered the NBA Draft out of high school, was a freak athlete who could have been a star in hoops, but decided to focus on football. As a rare five-star tight end he was a no-brainer talent who could be as good as he wanted to be. He was tall, athletic and could jump out of the building, and he had a successful college and NFL career. There's no doubt in my mind he made the right decision to focus on football.
*****
6. Gary Harris
Bossi's take: Now an established NBA veteran who has started more than 300 games during his NBA career, most don't realize that Harris was also a big-time wide receiver. During his high school career, Harris racked up more than 2,100 receiving yards and scored 32 touchdowns while football and basketball coaches watched him perform under the Friday night lights.
He was good enough that Indiana, Iowa, Kentucky, Notre Dame and Purdue were among those to offer him scholarships for football. Ultimately, though, the five-star basketball prospect chose to attend Michigan State to play for Tom Izzo. He earned All-Big Ten honors as a sophomore before being selected No. 19 overall by the Chicago Bulls in the 2014 NBA Draft.
*****
7. Glen 'Big Baby' Davis
Farrell's take: Few people knew that Davis was a freaky-good football player, but he was a massive running back and elite defensive end in high school before choosing hoops. For a player of his size to be so nimble on his feet as a tailback is rare, and he would have had colleges swarming on him if he chose football. When Nick Saban was at LSU he wanted Davis for football badly, but it looks like he made the right choice after eight seasons in the NBA.
*****
8. Jacoby Brissett
Farrell's take: Brissett, top 100 in hoops and an eventual NFL starter at QB, was a tough eval because we didn't get to see him as much as we'd like since he was focused on hoops. He was a smooth athlete at quarterback with a live arm and I loved his potential fit at Florida.
His college career didn't go as expected, but he's shown his amazing talent by becoming a starter in the NFL. I felt Brissett would have been a five-star talent had he focused on football.
*****
9.     Greg Paulus
Farrell's take: Paulus didn't have as much success as many expected but he was a dominant two-sport player in high school as a point guard and quarterback. In HS, he was a five-star basketball player and an Army All-American football player.
Had he followed football he might have been an excellent undersized quarterback at a time when college football and the NFL began to embrace smaller signal-callers. His career may not have ended in the pros, but he still played two sports in college – four years as a point guard for Duke and one year as a starting QB for Syracuse.
*****
10. Jalen Suggs
Bossi's take: The only player on the list who hasn't yet played in college, Suggs' high school career in Minnesota is the type of which legends are made. He began playing varsity basketball in the seventh grade and was a full-time starter averaging over 17 points per game as an eighth-grader. A five-star prospect in basketball ever since the beginning of his sophomore year, Suggs led his program to state titles during his freshman, sophomore and junior seasons. Along the way, he played for USA Basketball and was selected to the Jordan Brand Classic, McDonald's All-American Game and Nike Hoop Summit while being named Minnesota's Mr. Basketball.
His efforts as a dual-threat quarterback were no less noteworthy. He won a state title as a junior and was named Mr. Football in 2020 after leading his team to a runner-up finish. Before signing to play basketball at Gonzaga, Suggs was a high-end four-star football prospect with offers from Georgia, Iowa, Iowa State, Minnesota, Nebraska and Ohio State.