Rivals.coms new recruiting database released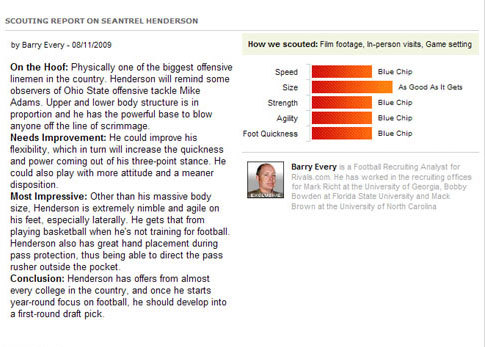 Rivals.com is a pioneer in the recruiting industry, and Tuesday's release of an improved prospect database blazes a new trail that never has been traveled before.
The most noticeable changes come on the player bio pages. Users now will have the ability to see all of a recruit's offers instead of his profile being limited to eight schools. At the top of a prospect's page, five school logos will appear and the logos will rotate and update every 15 minutes depending on a prospect's status and interest level. If a player is committed to a specific school, only that school logo will be displayed.
Another new tool is the ability to search within a certain geographic location. Want to find the top recruits within 25 miles of Austin, Texas? You now can do that using the advanced search.
The improved database also gives users the ability to see recruits on a map and perform searches with the option to see results on a map interface. Powered by Yahoo! Maps, users have the ability to map out all the five-star prospects, all the prospects in the Rivals100 and all the prospects a given school has offered.
Another exciting feature is scouting reports from Rivals.com recruiting analysts. The first release will focus on players in the Rivals100 and Rivals250, with evaluations rolling out throughout the season.
Users will be able to immediately see how the evaluation was made, and key factors such as speed, size, strength and agility are measured for every prospect. There also is one position-specific attribute: quarterbacks will be measured with velocity, running backs with elusiveness, receivers/tight ends with ball skills, offensive linemen with foot quickness, defensive linemen/linebackers with lateral pursuit and defensive backs with ball skills.
Additional sections break down how the player looks on the hoof, what he needs to improve on, what's most impressive about him and a conclusion on how he will make an impact on the next level.
Some of the other new features on the bio pages: Users now have the ability to give a star rating in addition to the star rating given by the recruiting analysts, there is an improved photo-gallery interface that allows larger photos and better slide-show ability and the ability to do a search without having to navigate to a new page.
Outside of the bio pages, there were advances made throughout the system, especially to the advanced search tool. Users now will be able to search by key words, such as name, position and school. This allows myriad possibilities, including seeing every recruit a certain high school has produced.