Rivals.com's all-time four-star team
This week, Rivals.com is releasing its all-time teams based on star rankings, continuing today with the four-stars. There will be 11 on offense and 11 on defense based by position and whether they're currently in the NFL. At the end of the week, Rivals.com National Recruiting Director Mike Farrell will further break down each team and determine which star-ranked team is the best of them all.
MORE IN THIS SERIES: Rivals.com's all-time five-star team
OFFENSE
There have been a lot of outstanding four-star quarterbacks, but Andrew Luck tops the list. After taking his team to the Super Bowl last season, Jared Goff is also climbing the charts and his future in the league is as bright as any other quarterback.
Running back is an absolutely loaded position at four-star and it's amazing some of these players did not achieve five-star status. There are clearly some major misses in the rankings process in this group.
Making the first team are two Big Ten alums in Penn State's Saquon Barkley and Ohio State's Ezekiel Elliott. But Christian McCaffrey, Todd Gurley, Melvin Gordon, LeSean McCoy, Devonta Freeman and Derrick Henry were all worthy of consideration.
At receiver, there is an embarrassment of riches as well with DeAndre Hopkins, Michael Thomas and Odell Beckham Jr., leading the way. Hunter Henry edges out Vernon Davis and others at tight end. That's a pretty lethal receiving corps right there.
Along the offensive line, Notre Dame contributes three of the five spots as Zack Martin, Taylor Lewan, Ronnie Stanley, Donovan Smith and Mike McGlinchey lead the way. Taylor Decker and Jake Matthews are two others that were definitely up for discussion.
DEFENSE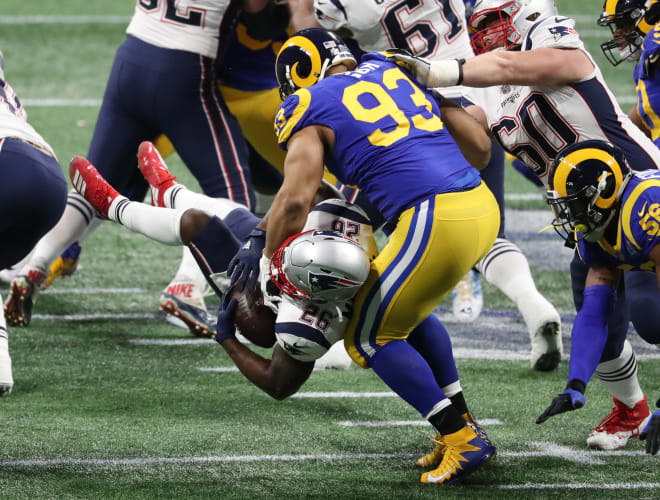 The amount of four-star defensive linemen who have emerged as elite players in the NFL is mind-boggling and another incredibly deep group. Making the cut for the starting four are Von Miller, Fletcher Cox, Ndamukong Suh and Joey Bosa, an almost can't-miss group.
Linebacker is not really all that deep but it's seriously productive with C.J. Mosley, Anthony Barr and Lavonte David leading the way. That meant keeping Zach Brown, Don'ta Hightower, Telvin Smith and others off the list.
Defensive back was also a position where quality beat out quantity. At running back, wide receiver and across the defensive line there was a plethora of players who could have made the first team. At defensive back, only a select few were seriously considered.
Making the cut were Earl Thomas, Harrison Smith, Jamal Adams and Marshon Lattimore. Stephon Gilmore was right there as well but only four could be selected.
FARRELL'S TAKE
This is a very strong team but I'm surprised there wasn't as much depth at certain positions as I expected. However, there are very few weaknesses overall and the offensive backfield is arguably stronger than the five-stars from Monday. The receiving group is deep and strong while the offensive line is solid.
On defense, there is a very strong defensive back corps while the linebackers are solid but not spectacular. However the defensive line is loaded and hard to beat.
Can this team beat the five-star team? I'll answer that at the end of the week but we have the three-stars and two-stars and below to review first over the next couple of days.
Who's the best four-star player on this team? Hit me up @rivalsmike on Twitter and let me know.
ROSTER
OFFENSE

QB - Andrew Luck (2008)

RB - Saquon Barkley (2015), Ezekiel Elliott (2013)

WR - DeAndre Hopkins (2010), Michael Thomas (2012), Odell Beckham Jr. (2011)

TE - Hunter Henry (2013)

OL - Zack Martin (2009), Taylor Lewan (2009), Ronnie Stanley (2012), Donovan Smith (2011), Mike McGlinchey (2013)

DEFENSE
DL - Von Miller (2007), Fletcher Cox (2009), Ndamukong Suh (2005), Joey Bosa (2013)

LB - C.J. Mosley (2010), Anthony Barr (2010), Lavonte David (2010)

DB - Earl Thomas (2007), Harrison Smith (2007), Jamal Adams (2014), Marshon Lattimore (2014)