Rivals.com All-Bowl Team: Offense
QUARTERBACK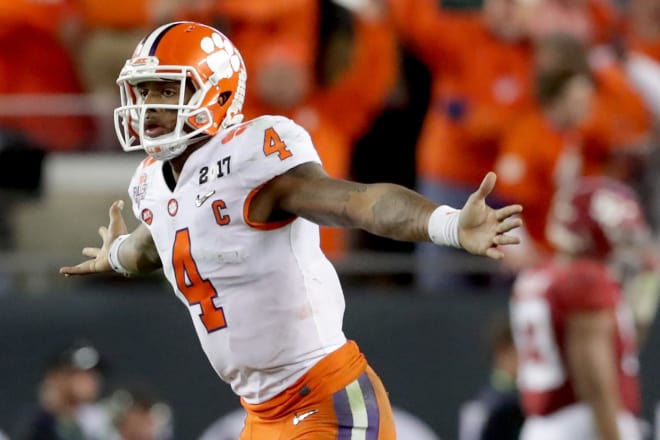 The skinny: Watson had no drama in his recruiting process as he committed to Clemson on Signing Day in 2012, a full year before he actually signed his own papers. After leading the Tigers to the National Championship Game and winning the Davey O'Brien Award last season, expectations for 2016 were through the roof. While he didn't reach some of the statistical heights that he did last season, Watson excelled when it really mattered most. He led Clemson to a victory against Alabama in the College Football Playoff National Championship, completing 36 of 56 passes for 420 yards and three touchdowns, plus rushed for another touchdown.

Honorable mention: USC's Sam Darnold, USF's Quinton Flowers, Tennessee's Joshua Dobbs, La. Tech's Ryan Higgins, Tulsa's Dane Evans, Miami's Brad Kaaya
Farrell's take: Watson was a five-star prospect and clear home run as far as his ranking was concerned. Darnold was a four-star who dropped after a poor performance at the U.S. Army All-American Bowl, which was clearly an off week. Kaaya was also a heavily-recruited four-star prospect, while Flowers, Dobbs, Higgins and Evans were all three-stars.
RUNNING BACK
The skinny: Barkley was originally committed to Rutgers, but re-opened his process as additional offers began to pile up. Penn State almost immediately became the favorite as the Nittany Lions made Barkley a recruiting priority, which eventually led to his commitment. Through his first two collegiate seasons, Barkley has proven himself as one of the nation's best. He impressed in Penn State's loss to USC in the Rose Bowl, racking up 194 yards and two touchdowns on the ground and 55 yards and a third touchdown through the air.

Honorable mention: WKU's Anthony Wales, Alabama's Bo Scarbrough, Northwestern's Justin Jackson, Florida State's Dalvin Cook, Utah's Joe Williams
Farrell's take: Barkely was a four-star but has played like a five-star. We clearly missed some of his potential as he's been amazing so far. Scarbrough and Cook are former five-stars and obviously were big names during the recruiting process. We had Wales as a mid-level three-star, which is pretty good for a kid who ended up at Western Kentucky, while Jackson was a Rivals250 prospect back in 2014. Williams is the surprise on this list; he was ranked as a three-star out of prep school and then a two-star out of JUCO.
WIDE RECEIVER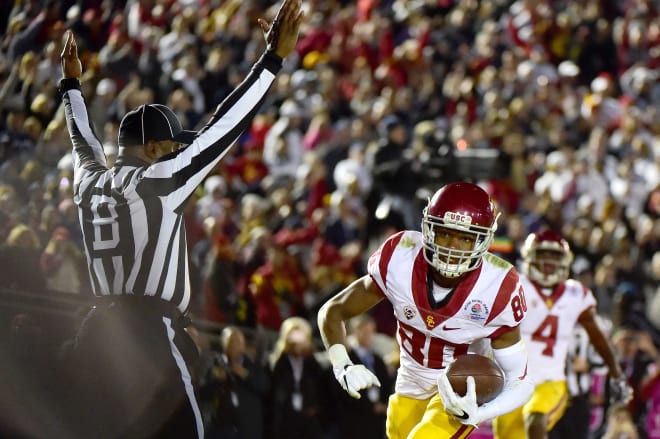 The skinny: Burnett originally committed to Washington State, but an offer from USC, his dream school, on Signing Day pushed him to flip to the Trojans. While JuJu Smith-Schuster received most of the attention at wide receiver this season for the Trojans, Burnett quietly reeled in 56 receptions for 622 yards and seven touchdowns. He followed that up with an all-world performance in the Rose Bowl with 13 receptions, 164 yards and three touchdowns.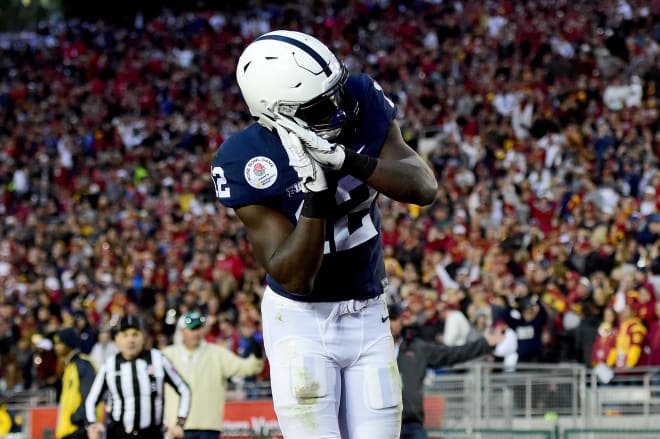 The skinny: Godwin had narrowed his focus to Penn State, Ohio State, Virginia Tech and Rutgers when he made his commitment to the Nittany Lions in late April. Despite the coaching change in Happy Valley later that year, he remained firm with his word. Godwin finished off a very successful Penn State career with a memorable performance in the Rose Bowl, finishing with nine receptions for 187 yards and two touchdowns. He has since declared for the upcoming NFL Draft.
Honorable mentions: Clemson's Mike Williams, Baylor's KD Cannon, South Carolina's Deebo Samuel, La. Tech's Trent Taylor, USM's Allenzae Staggers, Texas A&M's Josh Reynolds
Farrell's take: Burnett was a late blueshirt offer from USC, so he almost wasn't a part of the Trojans' class at all. Godwin, meanwhile, was ranked well within our Rivals250. Cannon was very close to receiving a fifth star but fell just short, while everyone else on the list except for Staggers was a three-star. Staggers was a two-star and not on many radars at all.
TIGHT END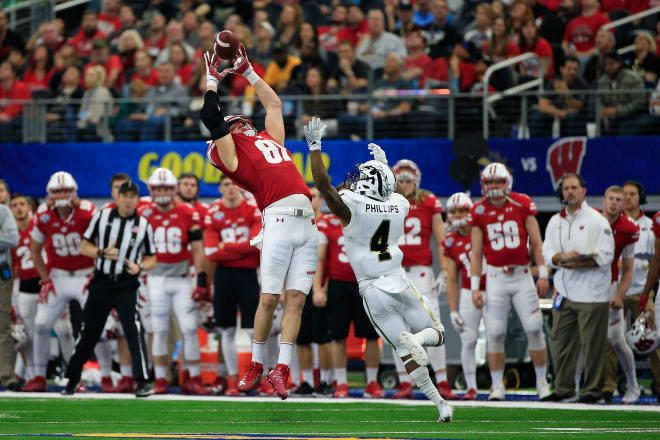 The skinny: Fumagalli, a former walk-on, emerged as a full-time starter for Wisconsin in 2016. He became one of the Badgers' most reliable offense weapons, with 47 receptions for 580 yards and two touchdowns. In the Cotton Bowl against Western Michigan, Fumagalli led the way for Wisconsin with six receptions for 83 yards and one touchdown.

Honorable mentions: Alabama's O.J. Howard, Clemson's Jordan Leggett
Farrell's take: Fumagalli was a three-star walk-on at Wisconsin, a program that is becoming known for churning out amazing non-scholarship prospects. Howard was a five-star and the most athletic tight end I've ever scouted. Leggett, one of the most dominant tight ends in college football when he wants to be, was a three-star and a bit of a miss based on how he's panned out.
OFFENSIVE LINE
The skinny: Ramczyk's road to Madison took a very interesting route. When then-Wisconsin offensive coordinator Paul Chryst took the Pitt job, Ramczyk was offered a scholarship by the Panthers but he chose not to take it. He signed at Winona State, but did not enroll and instead attended Mid-State Technical College. Ramczyk then went to Wisconsin-Stevens Point where he played for two seasons before transferring to Wisconsin. In his first season with the Badgers, he quickly adjusted to the Big Ten and became one of the top linemen in the conference and country. He continued that against Western Michigan in the Cotton, as he helped pave the way for 184 rushing yards and 362 total yards for the Badgers.
The skinny: Braun committed to Georgia Tech in late August over schools such as Duke, Auburn and Ohio State. His brother, Trey Braun, signed with the Yellow Jackets in 2011, which definitely became a factor for the younger Braun. This season, Braun was one of the more successful true freshmen in the country. He finished off his fantastic debut campaign with another dominating performance against Kentucky, when he helped the Yellow Jackets roll to 266 yards on the ground during their victory in the TaxSlayer Bowl.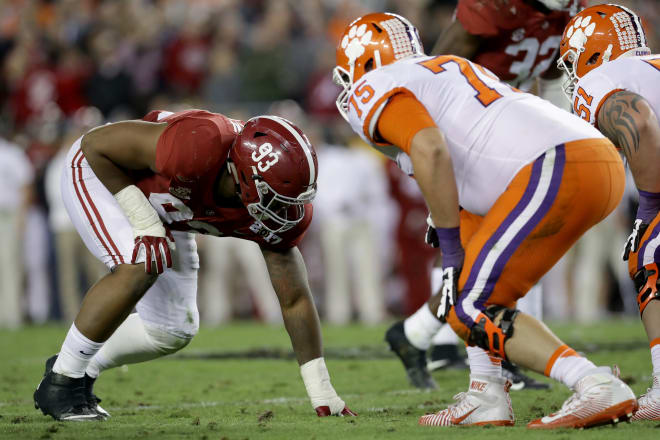 The skinny: Hyatt had little drama during his recruiting process. After taking a return visit to Clemson in late March, Hyatt committed to the Tigers over Ohio State, Georgia and a host of other schools. At Clemson, Hyatt has started at tackle for the Tigers since he stepped foot on campus. He excelled against Alabama in the College Football Playoff National Championship, neutralizing Johnathan Allen, who has been one of the top defensive linemen in the country this season.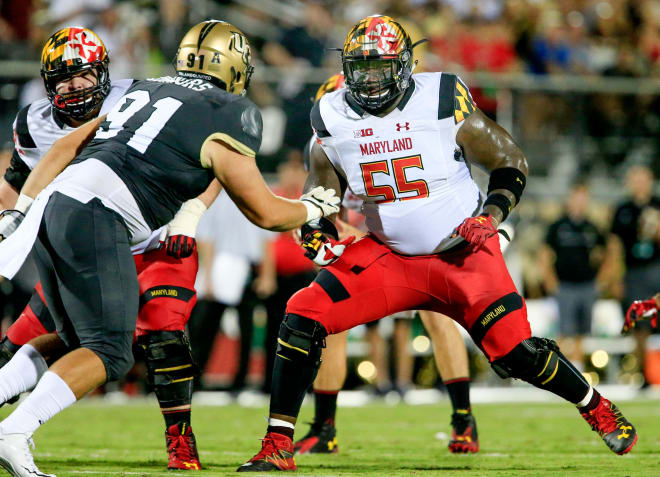 The skinny: Gray committed to Maryland over offers from many of the top programs in the country in June 2012. However, academic issues led him to Fork Union Military Academy for a season. This detour did not challenge his commitment to the Terps, as he again signed with Maryland. Gray redshirted in 2014 and then saw only minimal action in 2015 after returning from a torn labrum. Gray mainly saw time as a back-up this fall, but an injury to Michael Dunn gave him the start at left tackle for the Quick Lane Bowl. There he gave Terp fans something to be excited about, as he impressed with both his run and pass blocking, which bodes well for his 2017 season.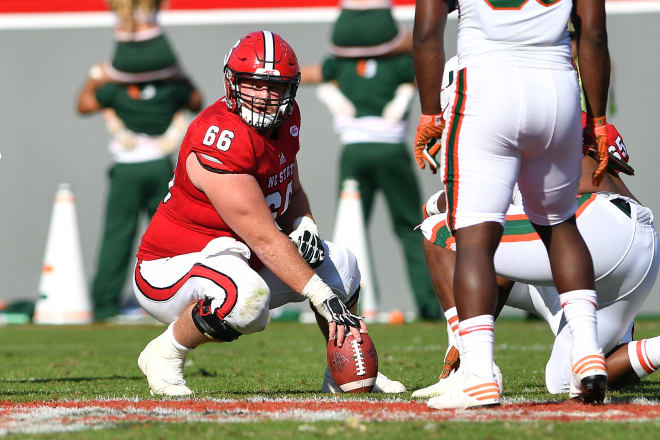 The skinny: Scelfo signed with South Alabama, where he played for three seasons after redshirting in 2012. After a 2015 season when he was named first-team All-Sun Belt, he took his talents to North Carolina State as a graduate transfer. Scelfo immediately fit in with the NC State offense during his one season in Raleigh and helped anchor the team's offensive line. He finished off his collegiate career by helping the Wolfpack to a 41-17 victory over Vanderbilt in the Independence Bowl, where he helped pave the way to 376 yards of total offense.
Honorable mention: Clemson's Jay Guillermo, Mississippi State's Jamaal Clayborn, Penn State's Brian Gaia, TCU's Lucas Niang, Washington State's Riley Sorenson, Kentucky's Jervontius Stallings, Alabama's Ross Pierschbacher
Farrell's take: Ramczyk's recruitment and journey to Wisconsin is an amazing story. The rest of the first team is a mix bag from a one-time five-star in Hyatt -- he dropped to a four-star at the end of the rankings cycle which doesn't look great now -- to a three-star transfer in Scelfo, a high three-star in Braun and a heavily recruited four-star in Gray. The honorable mentions are loaded with three-stars except for Clayborn (2) and Pierschbacher (4).