Rivals' Biggest Busts: Top five No. 1 prospects who busted out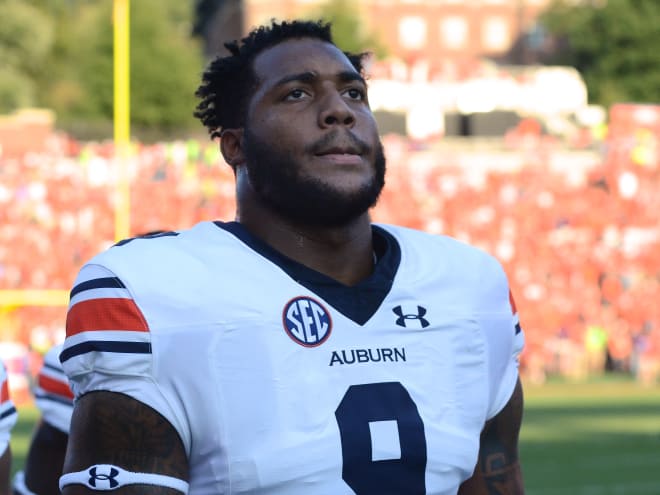 Mark Pszonak contributed to this report.
With former No. 1 overall recruit Byron Cowart leaving the Auburn program for who knows where, we can likely chalk him up as the biggest bust at the No. 1 spot in Rivals.com history. But who are the others? Here are the top five.
NO. 1 - BYRON COWART, AUBURN
The skinny: Signing Day for both Auburn and Florida fans in 2015 was a difficult one as they were all left in limbo after Cowart chose the Tigers on national TV but then didn't fax in his letter until hours later. Being the No. 1 recruit in the class of 2015, expectations were obviously exceedingly high for Cowart, but his play on the field during his first two seasons were far from memorable. While he came into 2017 with only 12 career tackles, expectations were still high that this would be the season that he would flourish. However, after only three tackles through two games, Cowart has decided to transfer out of Auburn without ever having started a game.
Who was No. 2? QB Josh Rosen
Farrell's take: We actually had Cowart as No. 1 through much of the process, then flipped to Rosen as No. 1 after his great senior season and then flipped back to Cowart after he dominated the Under Armour week and Rosen was a no-show. Not a great choice. However, a competitor of ours had Cowart No. 1 as well and the lowest he was ranked was No. 8 by anyone. He was a physically well-built kid, very powerful and with a great work ethic, so I assumed he would blossom and work out some of the rawness in college. That never happened. He was also very eccentric and perhaps didn't have the mental stability needed to handle the pressure. Whatever the case, he has been a huge disappointment.
NO. 2 - BRYCE BROWN, TENNESSEE
The skinny: Brown's recruiting process was a circus, full of NCAA investigations, recruiting websites, threats of playing in the CFL and questionable family advisors. He initially committed to Miami, but then re-opened his process and finally committed to Tennessee over a month after Signing Day. After head coach Lane Kiffin left Knoxville, Brown transferred to Kansas State, where more problems followed. He left the program after appearing in only two games, but was still drafted in the seventh round in 2012 by Philadelphia. He had a few shining moments with the Eagles, and later played in Buffalo and Seattle. He last saw action with the Seahawks during the 2015 season, but his career in college was almost non-existent.
Who was No. 2? WR Rueben Randle
Farrell's take: Brown, like Cowart, jumped to No. 1 in our final ranking. He had an amazing US Army week and caught at least a couple touchdown passes in the game itself, showing us that he wasn't only a big, fast, physical back, but also a three-down guy. We were never set on Randle, who played quarterback much of his high school career, and Brown demanded the recognition after he finished so strong. And the fact that he had success in the NFL despite zero college career speaks to his ability.

3. RONALD POWELL, FLORIDA
The skinny: Powell's recruiting process came down to Florida and USC. With Urban Meyer leaving Florida (and of course returning), he surprised some people by still committing to the Gators. In Gainesville, Powell's career was hindered with two tears of the ACL. Despite playing in just 35 games and totaling 11 sacks, he was selected in the fifth round of the 2014 draft by New Orleans. Powell's only game action came in 2014. He spent the 2015 season on injured reserve with the Saints before having brief stints with Chicago and Seattle in 2016 and 2017. He is currently a free agent.
Who was No. 2? OT Seantrel Henderson
Farrell's take: Powell was a freaky athlete and again finished so strong he overtook Henderson in the end with his US Army week. Why? Powell showed he could play defensive end, linebacker or tight end and was one of the best jumbo athletes I've ever seen. The injuries really took a toll on him and I'd love to see what he could have done had he stayed healthy. I remember him at the Top Gun event in Deland, Fla., in 105-degree weather showing his motor and wearing guys out. He was just a freak.

4. DA'SHAWN HAND, ALABAMA
The skinny: Michigan was considered the leader for a good portion of Hand's recruiting process, while Alabama and Florida continued to play catch-up. The Crimson Tide finally surpassed the Wolverines after his official visit to Tuscaloosa in late October, which resulted in his commitment in November. Fighting for playing time on the always deep Alabama defensive line, Hand only managed to total 44 tackles and six sacks in his first three seasons. After picking up five tackles this season, the Crimson Tide seem to be in the process of transitioning Hand from the defensive line to linebacker.
Who was No. 2? DE Myles Garrett
Farrell's take: We had a split vote pretty much between Hand and Garrett for No. 1 overall and I'll take the blame for this one. We saw both guys as can't-miss prospects, but I felt Hand could do more as a potential linebacker, defensive end or defensive tackle. He ended up at Alabama and was stuck behind NFL guys for years and this year, his supposed breakout year, hasn't started off as well as expected. If he busts out, it will be back-to-back defensive ends with Hand in 2014 and Cowart in 2015 as wash-outs. Ouch.

5. DERRICK WILLIAMS, PENN STATE
The skinny: With upwards of 50 offers to choose from, Williams' trimmed his list to Penn State, Texas, Florida, Florida State and Oklahoma, before committing to the Nittany Lions. His best season in Happy Valley was as a true freshman at Penn State, which was cut short to seven games due to a broken arm. He became a reliable playmaker for the rest of his collegiate career, but never reached the levels of the No. 1 recruit in the country. Despite the disappointing play, he was still selected in the third round of the 2009 draft by Detroit. After two lackluster seasons in Detroit, a failed attempt with Pittsburgh in 2012 and then the Toronto Argonauts of the CFL in 2013, Williams' professional career came to an end.
Who was No. 2? WR Patrick Turner
Farrell's take: This was a tough call between Williams and Dorial Green-Beckham (No. 1 is 2012) and I still say that if Penn State had stuck with the offense they ran in Williams first season, he would have been a star. But after Michael Robinson was gone at quarterback, Joe Paterno and company went back to a very predictable offense and didn't use Williams properly. His lack of any NFL impact pushes him ahead of Green-Beckham.