Rival Views: Undefeated team most in need of win
Rivals.com National Recruiting Director Mike Farrell and National Recruiting Analyst Adam Gorney don't always see eye to eye. In this edition of Rival Views, the two debate which undefeated team needs a win more than any other this weekend.
RIVAL VIEWS: Most important five-star | Hottest seat | Biggest disappointment
FARRELL'S VIEW: TENNESSEE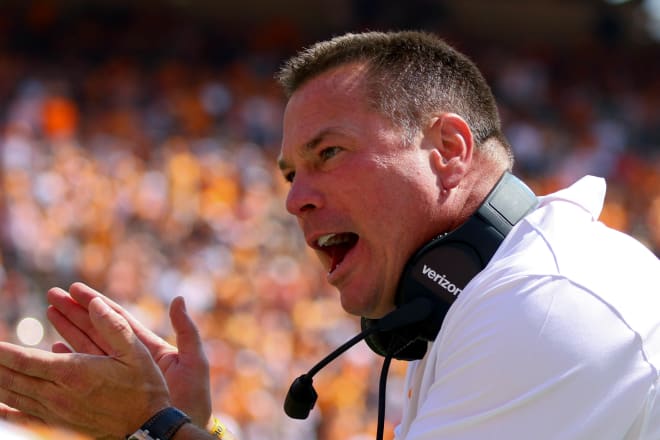 It's clearly the Tennessee Volunteers as they host the Florida Gators in a crucial SEC East showdown.
Can you imagine the Vols losing to the Gators at home with Florida playing a backup quarterback? Last year was supposed to be the year of the Vols, except Florida took the SEC East. Now, this year is supposed to be the year of the Vols. What happens if they lose? I know one thing that will happen: Tennessee fans will go crazy and Butch Jones will not be a comfortable coach.
The Vols likely should have lost to Appalachian State in the opener, surged past Virginia Tech thanks in part to the Hokies' fumbling issues and didn't look so hot last weekend against Ohio.
The Tennessee fans, who have been so hungry for an SEC title for so long, are looking for results after a few years of great recruiting. Losing this game will hurt Tennessee's chances at winning the SEC title. A 3-1 record will not make anyone happy at this stage and fans will be calling for Jones' job if they lose. The Vols need this one.

GORNEY'S VIEW: GEORGIA
Georgia has been tested in all three of its games so far – North Carolina, Nicholls State and Missouri – but the Bulldogs have answered the bell each time.
Playing at Ole Miss on Saturday could be the biggest challenge of all and also Georgia's biggest opportunity yet to prove its back in the national picture.
Let's be honest: Georgia needing a fourth-down touchdown pass from its star freshman quarterback to survive at Missouri is not exactly encouraging. Neither is beating Nicholls State by two points the previous week.
But good teams find ways to win and Georgia has done that so far, even with an offensive line that needs a lot of retooling and help. Former five-star quarterback Jacob Eason will have a lot of challenges this weekend facing the Ole Miss defense, even if the Rebels might be a little deflated after losing to Alabama last weekend.
Of course, the Florida-Tennessee matchup is huge and important and should be interesting since the Gators have had the Vols' number for so long.
But the Georgia-Ole Miss game should be a real treat. If Georgia can find a way to win and continue to build that confidence it needs, the Bulldogs could be the team we're talking about in the SEC East that heads to Atlanta to play for the conference championship.