Rival Views: Who is the best team in college football?
Rivals.com National Recruiting Director Mike Farrell and National Recruiting Analyst Adam Gorney don't always see eye to eye. In this edition of Rival Views, the two debate which team is the best in the country and you might be surprised as to who is missing.
RELATED: Biggest early-season disappointment
FARRELL'S VIEW: CLEMSON
You'd think I'd pick Alabama right? But you're wrong. I'm going with Clemson, my preseason pick to win it all. You might be asking yourself, after weak efforts against Auburn and Troy, how can I pick the Tigers? It's simple: they have the best quarterback in the country and too much talent surrounding him to struggle continually.
Yes, I'll admit that Clemson is not playing like the best team in the country. That distinction would go to teams like Alabama, Ohio State, Louisville or Stanford, but I still think the Tigers are the best team pound-for-pound in college football.
Alabama has a freshman quarterback, so I expect some growing pains there that will result in at least one loss (Alabama has gone 7-1 in the SEC five years in a row). Ohio State is loaded, but the Buckeyes play a tough schedule with games at Wisconsin, at Michigan State and at home against Nebraska and Michigan. And Stanford? While I love the team's offensive line and defense, the Cardinal offense relies too much on Christian McCaffrey. That leaves Louisville, the team that just demolished Florida State and one of the major obstacles on Clemson's schedule. Can anyone stop Lamar Jackson? That's the big question, but if he has an off week, I don't think there's enough of a supporting cast around him to pick things up for the Cardinals like Watson has at Clemson.
So far Clemson has played worse than any of the teams I've mentioned. The Tigers could be like Ohio State last year, a super talented-team that just struggles to put it all together, loses one game in a tough division and is left on the outside looking in. But I'm betting on the best quarterback in college football winning it all.

GORNEY'S VIEW: OHIO STATE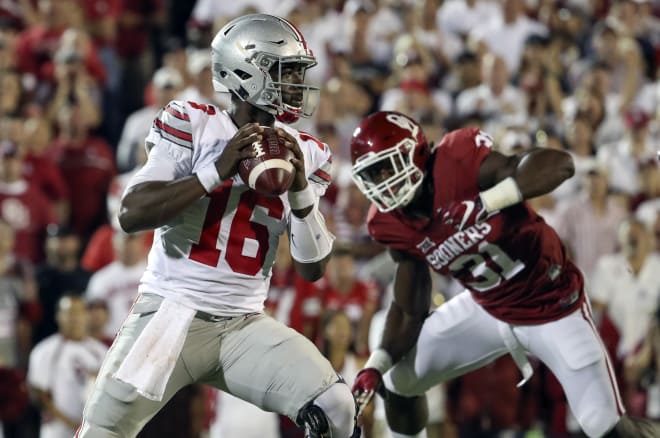 I reserved a lot of judgment on Ohio State after its first two blowout victories because neither Bowling Green nor Tulsa put up much of a fight. I wanted to see the Buckeyes at Oklahoma and then that outcome would form my opinion on this team.
Did they ever impress in that win. Not only did the Buckeyes easily handle Oklahoma but it was on the road, at night and they absolutely dominated in every single way.
Ohio State showed itself to be one of the nation's top programs without question.
The Buckeyes cruised to a 35-17 halftime lead, held Oklahoma's potent offense to only 226 passing yards and I loved what I saw from quarterback J.T. Barrett (four passing touchdowns), running back Mike Weber (123 rushing yards) and especially wide receiver Noah Brown, who finished with 72 receiving yards and all four scores.
I also really liked seeing coach Urban Meyer on the sidelines. He knew this one was big, he knew this was a major roadblock on the way to the College Football Playoff and he acted like it. His team followed.
Ohio State was more intense, more prepared and went to Norman on Saturday night and opened up a can.
The schedule still has difficulties especially its final two games against Michigan State and Michigan but Ohio State has clearly shown it's the cream of the Big Ten and possibly the country as well.