Rival Views: Most impressive player on opening day
Rivals.com National Recruiting Director Mike Farrell and National Recruiting Analyst Adam Gorney don't always see eye to eye. In this edition of Rival Views, the two debate which player impressed the most at day one of practice at Under Armour.
FARRELL'S VIEW: Josh Kaindoh
Josh Kaindoh had a great day one for a couple of reasons. Kaindoh has always relied upon his quickness off the snap and elite shoulder dip to make plays but he has also avoided using an inside rush at times and tends to forget to use his hands effectively. He also tries these crazy spin moves where he shows his back to his opponent and is immediately nullified.
On day one, many of his bad habits disappeared. He did try one spin move and lost but learned quickly after that he could win outside or inside and with good use of his hands in one-on-ones. And in team settings, he was disruptive in pass rush and by narrowing passing lanes with his length and timing his jumps.
Kaindoh still needs to fill out his frame and get stronger, and he needs to cross over even more to be effective inside against the run and in pass rushing situations. But he reminds me of a skinny Myles Garrett at the same stage and that's a good thing obviously. Florida State is getting a special prospect based on his day one showing.
GORNEY'S VIEW: Marvin Wilson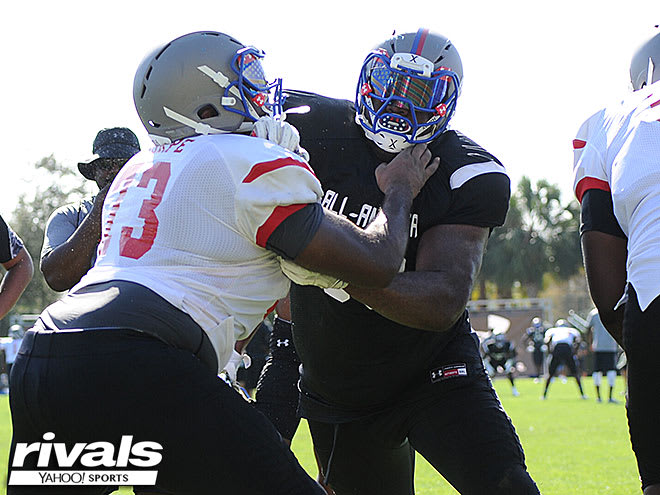 The former No. 1 prospect in the 2017 class, Marvin Wilson is out to prove he's tops again after absolutely dominating on the first day of practice at the Under Armour All-America Game.
Not only is the five-star defensive tackle massive, he's also fast, a gap shooter who has a non-stop motor and is incredibly aggressive snap after snap. He wants to dominate, take control of the line of scrimmage and then deliver big-time hits time and time again.
Currently the second-best player in the class behind five-star Alabama running back commit Najee Harris, Wilson never seems to back down. Over four quarters, he's going to grind interior offensive linemen down because he never seems to get winded, either.
Wilson just keeps on the attack, he's excellent stuffing the run, getting in the backfield and causing problems for quarterbacks and he knocked down at least two passes that I saw during team drills.
If he's not No. 1 overall, Wilson proved once again – like he has at every stop because he shows up to everything and usually dominates – that he's a hardworking, hustling machine who is nearly impossible to stop at defensive tackle.