Take Two: Can Ole Miss sustain its recruiting momentum?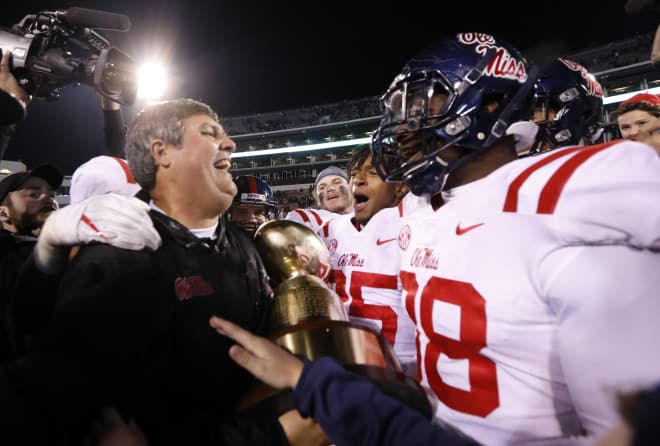 THE STORYLINE
Under the dark cloud of a two-year bowl ban, scholarship restrictions and uncertainty about the stability of the program, Ole Miss has thrived since being whacked by the NCAA for multiple rules violations.
Matt Luke is to thank in a big way. Luke took over in late July as interim coach after former Ole Miss coach Hugh Freeze resigned in disgrace and after a 6-6 season, Luke landed the Rebels' job on a full-time basis.
Recruiting can be a nearly impossible task when faced with bad press all the time in the wake of an NCAA scandal but Ole Miss survived - and thrived - and the Rebels are quietly putting together a fantastic 2019 class so far.
Ole Miss finished No. 10 in the SEC last recruiting cycle, far from excellent, but things could have gone really haywire down the stretch. The Rebels landed four-star receiver Miles Battle out of Houston close to signing day, got four-star speedster Elijah Moore in December and essentially flipped four-star quarterback Matt Corral as well.
In 2019, Ole Miss currently holds the sixth-best class in the country with 10 commitments, nine of them being in-state pledges led by four-star athlete Jerrion Ealy. Only Miami with 11 commitments has more pledges nationally than Ole Miss.
The Rebels' average star ranking for their 2019 class is only 3.0 at this point, which would move them down considerably on a national level, but there's no question Ole Miss is off to an excellent start and could be shedding a lot of the concern surrounding the program recently.
Can Luke and his staff continue to recruit so well, especially in Mississippi, where there is plenty of opportunity since the top five players remain uncommitted?
FIRST TAKE: RUSSELL JOHNSON, REBELGROVE.COM
"Something that Matt Luke has done since taking over as the full-time head coach at Ole Miss is infuse the program with new energy. Under Hugh Freeze, things started to get stagnant as time went on and what was once a game-changing recruiting tactic had lost its effectiveness. Recruits will describe him as one of the more fired up coaches in the country, and he looked for that when hiring new staff members Jon Sumrall and Charles Clark this past offseason.
"The biggest fear, regardless of the quality of the recruit, is the fear of the unknown. For several years, Ole Miss was forced to deal with that, and schools took full advantage of that on the recruiting trail. With negative recruiting at an all-time high, and the program in a state of turnover from an attrition standpoint, Ole Miss was only able to sign one of the top 10 players in the state of Mississippi last cycle. With the cloud around the program being a thing of the past, Ole Miss seems to have rebounded rather quickly. The sanctions will not have an impact on the 2019 class from a bowl eligibility standpoint, and scholarships are getting back to a normal number, so recruits see an opportunity to make an impact at Ole Miss earlier than they might be able to at the traditional SEC powers.
"As 'hot' of a start that both Luke and Ole Miss appear to be on currently, both he and his team are going to have to back it up on the field. Similar to the situation in Coral Gables, Ole Miss appears to currently have a higher number of commitments than most of the country. With top targets still on the board such as Nakobe Dean, Jaren Handy and Brandon Turnage, it is imperative for the program to show progress on the field if they are to sustain their early success on the recruiting trail. Ole Miss will be able to sign a full class of around 25 signees in December/February, and with the amount of talent in the state of Mississippi, that couldn't come at a better time."
SECOND TAKE: MIKE FARRELL, RIVALS.COM
"They did well last year overcoming all that stuff. They did a good job closing strong. The average star ranking of this year's class doesn't lead to a top five or top 10 ranking, so they're going to slide but Luke has done a great job.
"I don't think kids are really paying attention too much to the sanctions and all that stuff. He's doing one of the better recruiting jobs out there."