Rival Views: Biggest 2017 decommitment?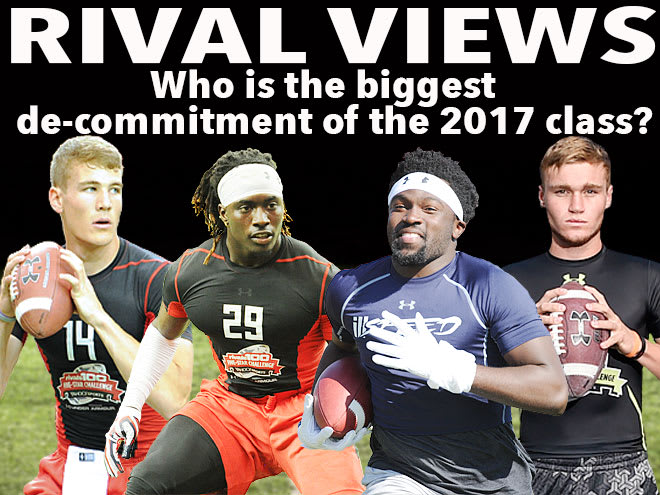 FARRELL'S VIEW: ENO BENJAMIN
While I could go with some of the decommitments that occurred early in the cycle like Dylan Moses from LSU, Hunter Johnson from Tennessee or Tate Martell from Texas A&M, I'm going to with a recent one because it's that big of a deal.
Texas running back Eno Benjamin was, to me, such a great fit for the Iowa Hawkeyes and what they like to do on offense that his decommitment this weekend was a tough one.
Benjamin, who had been committed for a long time and was recruiting other players to Iowa, decided to open things up after an apparent disagreement with the Iowa staff over taking other visits. Now, I'm all for loyalty and think prospects should stick to their word, but I'm also a realist. I know how recruiting works. Kids want to take visits, they want to be recruited and they want the attention. They also want to make sure they are making the right decision.
As a coach you can draw a line in the sand, have a no-visit policy and lose a player. You could also accept it for what it is and see if you can fight and win the battle anyhow. It's unclear whether or not the Hawkeyes coaches told Benjamin to decommit after he took visits, whether they just gave him too much grief about the visits or if the whole situation was merely an excuse for Benjamin to decommit from a program struggling this season. With Iowa coaches not allowed to comment, everything is speculation.
But watch out because this likely won't be the last decommitment Iowa suffers this cycle from a Texas prospect. Benjamin was not only the perfect fit but he was the leader of the pack in Texas for the Hawkeyes and others could follow him out the door. That alone could make this worse than any of the others, especially for a program that doesn't draw four-stars like LSU, Tennessee and Texas A&M on a regular basis.
GORNEY'S VIEW: HUNTER JOHNSON
There have already been some important decommitments in this recruiting class but I think the biggest one so far is five-star quarterback Hunter Johnson going from Tennessee to Clemson.
The Tigers have all the skill players and, after this season, they'll be looking for a new quarterback to continue their run to the top of college football since Deshaun Watson is heading to the NFL.
Johnson could definitely be that guy.
The five-star quarterback is more of a pocket passer, which is a little different than Clemson's offense now, but I'm sure the Tigers will be just fine with Johnson slinging it all over the field to a bevy of outstanding receivers.
To win the College Football Playoff – and Clemson is that elite of a program now – a quality quarterback is needed to beat Alabama, the highest standard in the sport.
Watson came close last year because of his great ability and the talent around him. Johnson could continue to carry on that tradition at Clemson.
It was a big loss for Tennessee because the five-star quarterback could have had a special career in Knoxville. But it's a tremendous gain for Clemson especially with so many talented players around him.
I do worry about his completion percentage and the number of interceptions he throws but in the right offense, with talented skill players around him, Johnson could be extraordinary.
Four-star linebacker Dylan Moses going from LSU and now to Alabama hurts the SEC West terribly because the Crimson Tide seem to be just pulling away from every other team and that's another big-time flip, but I'm choosing Johnson here.