Rising 3-Star QB Jacob Clark talks spring, Vandy & Wazzu offers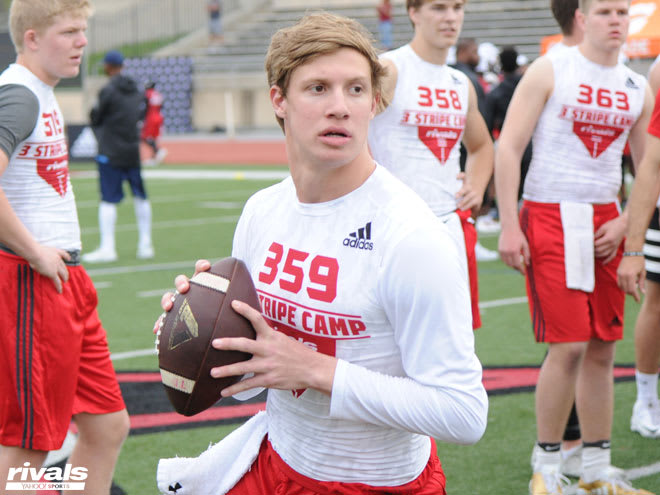 CEDAR HILL, Tex. -- As far as quarterback prospects are concerned, few pass the eye test like Rockwall, Texas, pro-style prospect Jacob Clark.
A big-bodied, strong-armed passer, Clark looks the part, and college programs have started to take notice. This spring, even he hasn't been able to predict where his offers were going to come from next and this week he picked up his latest from Colorado State.
"With my past offers here, it's been schools that I haven't really been talking to that just hit me up that day," he said. "So I am expecting some more of that with some of the other schools that have been telling me that they're going to come out."
As far as the teams that he knows are interested in coming to see him throw during spring football practices, Clark said that coaches from Cal, Baylor, and Georgia have told him that they are planning on stopping by - just to name a few.
"It's been good, getting several offers in the past month or two," he said. "I'm hoping now once spring football starts there will be some more coaches showing up and I can get some more interest."
Meanwhile, several programs that have already offered have been gearing up to stay competitive in the race for him. Clark's offers have come from all over the map and he doesn't seem to mind the possibility of committing to an out-of-state option.
IN HIS WORDS
On Vanderbilt
"I'm excited to get that first SEC offer," he said. "I went up there during the season last year and met the coaches, it's a really good staff. They're only moving up - they're getting better each year - and one of my teammates, Alston (Orji) will be going there and he just says great things about Coach (Derek) Mason and everyone there.
Recapping his visit there last fall
"Just the whole academic side of Vanderbilt is impressive - it's just great," he said. "Also, they care about football, but they care about you as a person and really want to develop you."
On Washington State
"They offered me and I talk with Coach (Dave) Nichol every now-and-again, and they send me mail every week," he said. "Them being on the west coast is fine with me. I'm not stuck staying in Texas or being anywhere, and the fact that they throw the ball all the time is great."
RIVALS REACTION
Clark said at the recent Under Armour All-American Camp at Cedar Hill High School that he would like to commit before the start of his senior season. Should a Cal or Georgia like what they see, they'll likely want to get him on campus quick for an official visit. Clark had opened his recruitment with an offer from TCU, but after the Horned Frogs picked up a commitment recently from four-star QB Max Duggan, things could be more wide-open in terms of where he could choose to take his recruitment.