Updated 2017 Rivals250: Players on the rise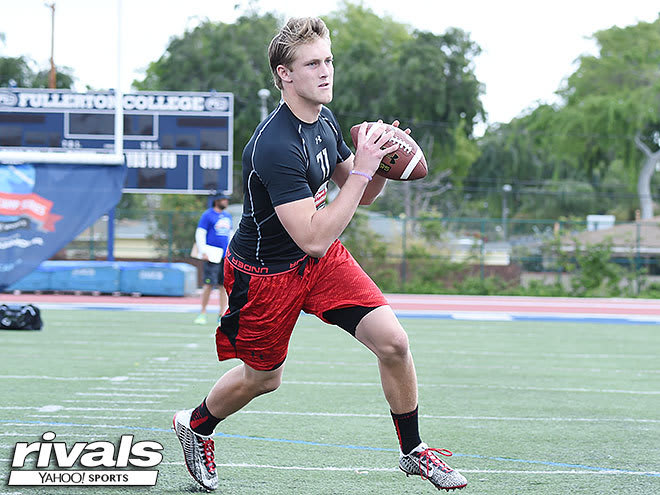 The high school football season is wrapping up and there are always significant changes after evaluating numerous prospects around the country through the late summer and fall.
There was no change at the top of the Rivals100 Presented by Under Armour that was released on Monday. There were plenty of changes throughout that list that carried over to this Rivals250 release.
Here is a look at the significant risers in the Rivals250.
MORE: Updated Rivals250 | Ten who slipped in R250 | Five new five-stars in latest Rivals100 | Updated Rivals100

Movement: +87
Analyst's take: "Sears had an outstanding senior season, he's a great decision-maker and a very reliable quarterback who can smoothly move the offense down the field with ease. The USC commit can make all the throws, he puts the ball where only his receivers can get it and everybody trusts him. USC has done great with former San Clemente QB Sam Darnold and Sears could be next in line." – Rivals.com National Recruiting Analyst Adam Gorney
Movement: +107
Analyst's take: "Telfort is committed to Florida but taking visits to other schools. Telfort has cut down on bad weight and seems to have become more limber as a senior. He extends his arms well and packs a devastating initial punch." – Rivals.com Southeast Recruiting Analyst Rob Cassidy
Movement: +51
Analyst's take: "Chandler has a massive season and continues to show a good combination of speed and power and more importantly he had his best showings against opponents with several FBS prospects. The Tennessee commit is quiet off the field, but he let his play do the talking this fall and continues to look like one of the nation's best backs." – Rivals.com Southeast Recruiting Analyst Woody Wommack
Movement: N/A
Analyst's take: "A pretty high return to the Rivals250 for Matos can be attributed to the major strides he has made with his hand placement, use of an expanded arsenal of pass rushing moves, and the fact that he has been playing with improved leverage. The Penn State commit has also added some good weight and seems much stronger. The Nittany Lions are getting a defensive end with sky-high potential and he took a big step toward reaching that potential this season." – Rivals.com Mid-Atlantic Recruiting Analyst Adam Friedman
Movement: N/A
Analyst's take: "The Washington coaching staff has proven this season that if you're a playmaker they will maximize your abilities and put you in the right positions and Wedington will have those opportunities, maybe immediately. He excels on offense, defense and special teams and is really a game-changer at numerous positions. He had a great senior season and deserved a major bump in the rankings." - Gorney
Movement: N/A
Analyst's take: "Hodgins is a big outside receiver who can stretch the field with good speed and he has the length to dominate smaller cornerbacks. The Oregon State commit had more than 1,500 receiving yards and 21 touchdowns in his senior season. He could not be stopped and every defense knew the ball was going to come his way." - Gorney
Movement: N/A
Analyst's take: "Murphy is committed to Tennessee. Murphy had a knack for circus catches this season. He also put up impressive numbers while showing off a sharp routes and a good burst." - Cassidy
Movement: +33
Analyst's take: "Rutgers is getting a potential franchise left tackle in Clark. He is extremely athletic, uses his hands well, and does a great job getting to the second level. Clark will need to add strength and improve his pass blocking when he gets to the next level but he has a ton of natural ability." - Friedman
Movement: N/A
Analyst's take: "Brooks has been committed to Oklahoma since early October. He's not the fastest running back in this class, but his effectiveness is hard to argue. In an offense where he frequently runs the ball on first, second and third down, he likely would have had his second consecutive 3,000-yard season had he not been held out of his high school team's final regular season game." – Rivals.com Texas Recruiting Analyst Nick Krueger
Movement: +55
Analyst's take: "Hines committed to Texas A&M last Friday. It's been tough to negotiate Hines' talent with the number of offers he's received, and his ranking has fluctuated because of it. A few things about him are not in doubt; he's an eager tackler and a hard hitter. Over the course of this season, he's shown he's more reliable in pass coverage as well." - Krueger
Movement: N/A
Analyst's take: "A Miami commit, Perry broke a school touchdown pass record previously held by Daunte Culpepper. He showed himself to be a true dual-threat while improving his accuracy and cutting down on interceptions." - Cassidy
Movement: +56
Analyst's take: "Calvin might be small in stature but he's a big-time playmaker. Get him the ball on the outside or in the slot and he can make people miss, dodge defenders and then use his speed to make big plays down the field. Nebraska, Washington State, Oregon State and many others remain heavily involved." - Gorney
Movement: N/A
Analyst's take: "A former two-sport athlete who impressed on the hardwood as well as the gridiron, the South Carolina commit flourished this fall, putting up some of the best receiving numbers in the state of Georgia. His ability to highpoint the ball is among the best in the class and he should have a chance to make an early impact in Columbia." - Wommack
Movement: +49
Analyst's take: "A strong case could be made that Bowden was the best pure football player in the state of Ohio this past season. The four-star athlete was a dominant offensive weapon, though in college he could also project to defense. A one-time Indiana commit, Bowden is now looking at the Hoosiers along with Kentucky, Maryland, Nebraska and others." – Rivals.com Midwest Recruiting Analyst Josh Helmholdt
Movement: +37
Analyst's take: "Holmes had a prolific season and really showed off his speed this year. The Notre Dame commit is a major threat in the passing game and is just as good as a receiver as he is a running back. Don't be surprised if you see Holmes getting some playing time as a freshman in South Bend." - Friedman
Movement: N/A
Analyst's take: "Taylor put up massive numbers this season, setting the New Jersey state record for rushing yards. The Wisconsin commit is a big back with speed that you'd normally associate with smaller players. Taylor is a great fit in Wisconsin's heavy downhill running scheme." - Friedman
Movement: N/A
Analyst's take: "Brennan recently broke his commitment to LSU. Brennan is making better quicker decisions than he did a year ago. And while his arm strength isn't elite, his passes had zip this season." - Cassidy
Movement: +34
Analyst's take: "A long-time Oklahoma commit, Draper has stayed consistently in the Rivals250 throughout the process, but senior film showed improvement in areas we had some lingering questions, particularly open-field agility and lateral quickness. He continues to battle fellow Sooner commit Isaiah Thomas for top billing in the state of Oklahoma for 2017." - Helmholdt
Movement: +34
Analyst's take: "Senior film showed continued development from Jarvis while being particularly impressive in the areas of technique and strength. The Michigan State commit is ideally suited for the interior offensive line in the Big Ten, and we expect him to have a long career as a starter for the Spartans." - Helmholdt
Movement: N/A
Analyst's take: "Cunningham is committed to Louisville. Cunningham led his team deep into the state playoffs while putting up incredible numbers running and passing. He's possibly at his most creative and best when the pocket collapses." - Cassidy
Movement: N/A
Analyst's take: "Blackman is committed to Florida State. Blackman became more dynamic as a senior. His passes had zip and his patience in the picked has improved vastly. He stole the show during a handful of games and showed an ability to make plays when all seemed lost." - Cassidy
Movement: N/A
Analyst's take: "Hicks is another special two-way prospect who could be a big contributor at wide receiver or defensive back. The La Mirada prospect can line up in the slot or outside and he can use his athleticism to beat talented defensive backs. At cornerback, Hicks comes up to make big tackles, knock down passes or pick it off. He's committed to Notre Dame but Michigan and others are pressing." - Gorney
Movement: N/A
Analyst's take: "Vincent has been committed to LSU since July. He's not the usual suspect at defensive back for the Tigers, as he's a smaller and speedier cornerback prospect, but he's every bit the playmaker on defense. Vincent has electric speed and will find ways to get the ball in his hands and towards opponents' end zones." - Krueger
Movement: N/A
Analyst's take: "Green is an aggressive, fearless linebacker who is a tackle machine. He had more than 150 stops this season and many looked painful for the player on offense. The former USC commit quickly diagnoses plays, trusts his eyes and then goes in, lowers his shoulder and delivers a big hit. He is looking at several Pac-12 schools." - Gorney
Movement: N/A
Analyst's take: "Tuipulotu sometimes lines up at defensive end and has impressive speed for his size to get to the outside but he's more valuable at defensive tackle. The Washington commit has power to bull rush over interior linemen and the speed to track down quarterbacks when they're flushed out of the pocket." - Gorney
Movement: N/A
Analyst's take: "White is committed to FSU and rattled off more than 1,500 yards this season. He seems to have become a more sudden runner while maintaining his size." - Cassidy
Movement: N/A
Analyst's take: "Texas appears to be the leader for Chaisson as his commitment could come anytime. He has a long frame shredded with lean muscle but is still raw with his technique and instincts. Still, he could end up being one of the most dynamic defensive playmakers in college football because he's as athletic a prospect as you'll find in the 250." - Krueger
Movement: N/A
Analyst's take: "Moore, a former South Carolina commit, has a ton of athleticism. He could play tackle, guard, or be a defensive linemen in college. As an offensive lineman, Moore does a great job driving defenders off the ball and his lateral quickness as a pass blocker is outstanding. The Gamecocks are still in the picture but Tennessee is a major contender as well as Virginia Tech, North Carolina, and a few others." - Friedman
Movement: N/A
Analyst's take: "Reagor recently flipped from Oklahoma to TCU in late-October. His move to the more local option is unsurprising with former Waxahachie teammate Jordan Kitna on the roster and current teammate, wide receiver Kennedy Snell, also committed to the Frogs. Reagor has the speed to take the top off the defense, but should be an explosive catch-and-run receiver in TCU's offense." - Krueger