Replacing the stars: Where will Big 12 teams turn in 2020?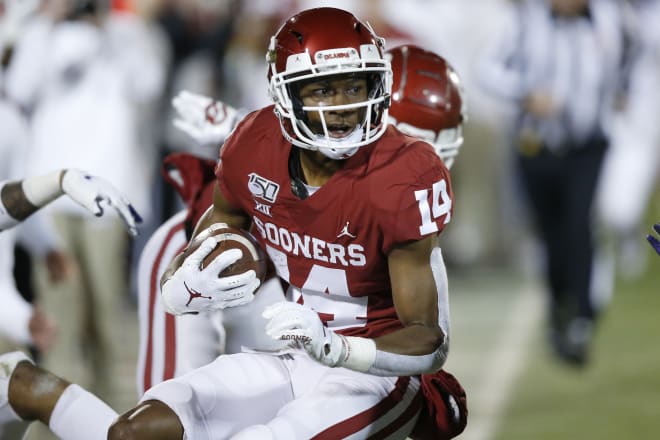 With spring football underway and the NFL Draft season in full swing, we will take a look at which players leave big shoes to fill and who might step in. We conclude the weeklong series today with the Big 12.
REPLACING THE STARS: ACC | SEC | Big Ten | Pac-12
CLASS OF 2020 RANKINGS: Rivals250 | Position | Team | State
CLASS OF 2021 RANKINGS: Rivals250 | Position | Team | State
Mark Pszonak contributed to this report.
*****
OKLAHOMA - CeeDee Lamb 
The skinny: While the Sooners have the five-star trio of Jadon Haselwood, Theo Wease and Trejan Bridges ready to pounce at the opportunity of more playing time, the talent and experience of Charleston Rambo will likely make him the top receiver this fall for QB Spencer Rattler. Despite playing second fiddle to Lamb last fall, Rambo still totaled 43 receptions for 743 yards and five touchdowns. With the Sooners looking to go to more of a vertical passing game in 2020, Rambo has the potential to easily surpass each of those numbers this season.
Farrell's take: Talk about an embarrassment of riches, huh? Lamb will be missed, but Rambo and the trio of five-stars will make things OK in Norman. Rattler has to be excited about the number of weapons he has at his disposal.
*****
TCU - Jalen Reagor 
The skinny: After losing TCU's top receiver over the last two seasons, the chase to become quarterback Max Duggan's top target is wide open in Fort Worth. Not that there isn't a sufficient amount of talent on the roster, but nobody has yet to grab the opportunity. The most likely to have a breakout season for the Horned Frogs is Taye Barber, who has totaled 61 receptions for 675 yards and two touchdowns since 2018. He proved to be Duggan's security blanket last season and should enhance his role this fall. It is hard to figure out why he has not found the end zone more, but look for that to change in 2020.
Farrell's take: Barber was a big get for TCU out of high school, a four-star who could play offense or defense. He had a thick build, was hard to bring down and he had good ball skills, so I'm expecting a big season this year as he steps up.
*****
BAYLOR - James Lynch 
The skinny: Since Lynch was the Defensive Player of the Year in the Big 12, finding an immediate replacement may prove to be quite difficult for Baylor. On top of this, the Bears also lost James Lockhart and Bravvion Roy, so their defensive line will be undergoing an overhaul. When it comes to replacing Lynch, the Bears need Chidi Ogbonnaya to take his game to the next level. Possessing a ton of potential at 6-foot-5 and 290-pounds, he has yet to fully put it all together on the field. He returns with plenty of game experience, but will he be able to flourish now that more is expected of him?
Farrell's take: Ogbonnaya was a really raw but good-looking prospect coming out of high school, but he was a project. He's still developing and needs to take a big step forward as Lynch is arguably the hardest player to replace in the Big 12.
*****
TEXAS TECH - Jordyn Brooks 
The skinny: Replacing someone who totaled 360 tackles over his four seasons in Lubbock obviously won't be an easy task for the Red Raiders. While there are depth concerns at the position, there are a couple of candidates who should make the transition a little less painful. Senior Riko Jeffers is coming off his best collegiate season, with 76 tackles, 9.5 tackles for loss and three sacks. The coaching staff seems optimistic that he will seize this opportunity and have an even bigger season this fall. If Jeffers falters, sophomore Xavier Benson showed a great deal of promise in 2019 with 57 tackles, four tackles for loss and a sack. Both will see plenty of the field and together they should form a formidable linebacking duo for the Red Raiders.
Farrell's take: Jeffers was a big and physical linebacker coming out of high school who was a high three-star. He just needed to add some closing speed, and he's done that. He won't be Brooks, but he will have a good season.
*****
TEXAS - Devin Duvernay 
The skinny: Duvernay leaves quite a void at wide receiver after he totaled 106 receptions for 1,386 yards and nine touchdowns in 2019. There are plenty of talented options, but who will actually rise to the occasion? Jake Smith had a promising true freshman season with six touchdowns and 274 yards on only 25 receptions. While Brennan Eagles and Malcolm Epps will get more playing time on the outside, Smith is most likely to take over Duvernay's slot position. One wild card in this discussion is Jordan Whittington, who will likely play multiple positions but may find more time at receiver since there are ample contributors at running back.
Farrell's take: Smith was an elite athlete out of high school that some compared to Christian McCaffrey, and he's the perfect speed replacement for Duvernay. Texas won't miss a beat.