Reid down to four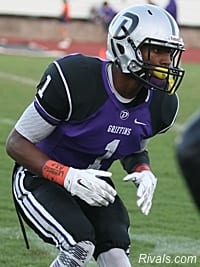 Geismar (La.) Dutchtown safety
Justin Reid
has taken a measured approach to his recruiting process. He has carefully thought over all of his college options and as the month of January begins he has his top few programs.
He holds offers from all four programs and none of his four have separated at this point.
"Not really," Reid said when questioned about favorites among his top four. "I've visited Oklahoma so I've seen everything they have to offer and of course I live in Louisiana so I know about LSU. I didn't get to see Stanford and Notre Dame yet and get to know their stories, so I'm trying to still give them a fair shot and see what they have to offer too because that's the way you do this."
He has three official visits scheduled for January. He will visit Stanford January 16, Notre Dame January 23, and LSU January 30. He has already taken a visit to Oklahoma.
Reid is also watching the coaching situations at each of his choices. Oklahoma and LSU have seen some shake up on their staffs recently and both programs have made sure he has stayed informed of the situations.
"I talked to coach Mike (Stoops) at Oklahoma and coach Cam (Cameron) at LSU about what's going on," Reid said. "They're my recruiting coaches so I speak to them the most."
Both staffs are also planning in-home visits, but he has yet to schedule a date at this time. His schedule is a bit hectic between family, track, and rehab for his turf toe injury.
The recruiting process has been fun and intense a lot of things for Reid. He continues to take in information on each of his choices and see where it goes.
"It's been like a rollercoaster," Reid said. "At some points you're like at the top of the world. You're just sitting high and riding on your high horse. At some points you're just really stressed out because you want to make the right choice and you don't want to make a wrong decision.
"Whenever you get to whatever college you choose you don't want to be like dang I should have went to this other college. The future is a little bit scary and it's just trying to figure everything out."
He is not sure when he will figure it all out yet. Will it be before he signing day? He is not sure yet, but he does know once he reaches his choice he plans to let everyone know.
"If I make up my mind then I'm going to make a decision that same day," Reid said. "I don't want to wait until February 4, but right now that's what it looks like is happening."
As a senior, Reid recorded 88 tackles, 12 tackles for loss, four interceptions and forced a fumble. He is currently ranked No. 45 among the nation's 2015 safeties and No. 39 in the Rivals.com Louisiana Postseason Top 50.