Ten redshirt freshmen primed for success in 2017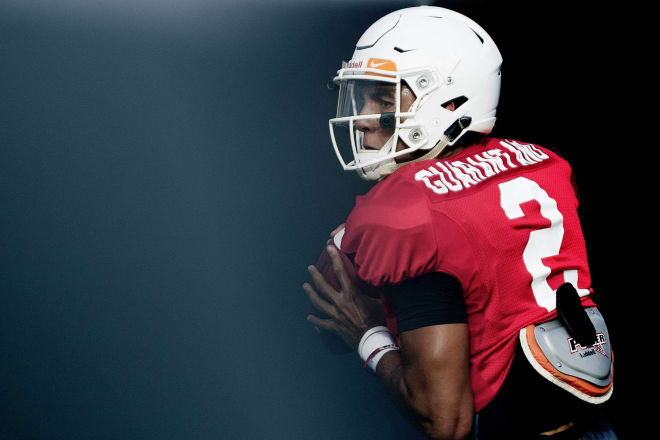 Mark Pszonak contributed to this report….
Highly ranked players redshirting these days seems quite rare, but it happens, and often times it's the right thing to do. At the end of last season, we named our top 10 redshirt freshmen, and many of them benefited from a year of development.
Here are 10 standouts who could play key roles in their redshirt freshmen years.
The skinny: Vaughns committed to USC over Alabama, Texas A&M, Georgia, Washington and many others in August. He did end up taking an official visit to College Station in January, but never truly wavered on his commitment. Vaughns' performance during the spring immediately made him a top candidate for a big 2017 season. Teaming up with stud quarterback Sam Darnold, anything but a big season would be a disappointment.
Farrell's take: Sam Darnold needs new targets at wide receiver, and Vaughns could be that tall, lanky, sneaky quick downfield threat he loves. This kid was a five-star for a reason and just needed to fill out and get stronger. He was always excellent off the line of scrimmage and showed excellent hands and body control. Now that he's a year more mature and has added some muscle, watch out.
The skinny: Guarantano trimmed his extensive offer list down to Tennessee, Ohio State and Rutgers before committing to the Vols in April. Guarantano seemed poised to take over control of the Tennessee offense in 2017 after the departure of Joshua Dobbs to the NFL, but the impressive spring performance by Quinten Dormady has made that less certain. Look for a fierce battle between the two in August to see who will lead the Vols this fall.
Farrell's take: It could be a two-quarterback system at Tennessee, and we all know that rarely works. So why do we think Guarantano could be a breakout guy? He can move and he's elusive. In high school, he showed me toughness I wasn't sure he had and the ability to extend the play against top competition, and those traits will help him eventually win the job over Quinten Dormandy and have a solid season.
The skinny: There was no drama in Kraemer's recruiting process, as he committed to Notre Dame during his junior season. This spring saw a fierce battle between Kraemer and fellow class of 2016 lineman Liam Eichenberg for the vacant right tackle spot, which Kraemer won. This battle will continue in August, but look for Kraemer to claim the starting spot when the Irish begin the season at home against Temple on Sept. 2.
Farrell's take: Kraemer was a massive lineman out of high school with excellent upside, he just lacked great footwork. But that has improved in college. Now he's expected to be plugged in at right tackle and join a terrific offensive line group led by Mike McGlinchey and Quenton Nelson. There could be some growing pains, but if Notre Dame has a big bounceback year, Kraemer will be a big part of it. He certainly liked to hit out of high school.

The skinny: Smith committed to Clemson early but then re-opened his process to take a closer look at a few other schools. Eventually, after also taking official visits to Oregon, LSU, Maryland and Auburn, he re-committed to Clemson at the Under Armour All-American Game. With Clemson possessing a loaded linebacking corps in 2016, Smith's redshirt will prove beneficial to him this season as he looks primed to make an impact on the field.
Farrell's take: Smith was a five-star out of high school who had to wait his turn last year because of the excellent depth on the Clemson defense. There is still depth, but his size, range and hitting ability could be too much to keep him on the second team for long. He could play outside or inside in high school and has that same versatility in college. Keep an eye out for him at outside linebacker this year.

The skinny: After a hectic winter and spring with recruiting, Monroe trimmed his list down to LSU, Texas A&M, Baylor and Texas. While the draw of playing in state was big for Monroe, he ultimately committed to the Tigers. Monroe underwent left knee surgery for a torn meniscus and left shoulder surgery for a torn labrum during the spring, but currently looks healthy. With Jamal Adams and Rickey Jefferson now gone, there is immediate potential for Monroe to make a statement at safety this season.
Farrell's take: John Battle and Ed Paris are the projected starters, but Monroe could be a redshirt freshman who makes a major impact. The depth at safety is good enough that Jacoby Stevens, a five-star in the 2017 class, was able to make the move to wide receiver, and big things are expected from Monroe. His drawback out of high school was a lack of size, but he's added weight and is ready to impact now that he's healthy. There are some that think he could be starting alongside Battle before too long.

The skinny: Menet trimmed his list of top schools down to Penn State and Duke before committing to the Nittany Lions in late May. While the Nittany Lions bring back some depth on the offensive line, look for Menet to be in the mix for some serious playing time. Menet has the potential to play tackle, guard or center, so look for him to push several of the veterans throughout the summer and 2017 season.
Farrell's Take: Menet is versatile enough to play multiple positions and showed that to us out of high school even though most of what we saw was at tackle. Even though he might not be locked in as a starter, you could argue that he's one of the most important players on the roster because he can fill in at tackle, guard or center. He won't get the attention of others on this list, but he could be key for Penn State's attempt to repeat as Big Ten champs.

The skinny: Starkel was originally committed to Oklahoma State, but re-opened his process in December and then committed to Texas A&M in January. Currently there is a three-man race between Starkel, Jake Hubenak and promising true freshman Kellen Mond for the starting job. With Kevin Sumlin possibly coaching for his job this season, it will be interesting to see which route he decides to take. Hubenak make be the most stable, but Starkel has a year of learning the system and more big play potential.
Farrell's take: Everyone knows what a big fan of Kellen Mond I am when it comes to his potential, and he's clearly the long-term solution here, but Sumlin is coaching for his job and might want a guy like Starkel who knows the offense and may be prone to fewer mistakes. Starkel wasn't spectacular out of high school, but he could sling the pill and move around a bit. So if Sumlin decides not to risk it with Mond and wants someone more mobile than Hubernak, Starkel could be the guy and surprise many.

The skinny: With offers from many of the top programs in the country in hand, Smith committed to Stanford while on campus for the annual spring game. The Cardinal has produced several NFL-caliber tight ends, and Smith has the ability to be added to that list. However, he will have to get past veteran Dalton Schultz and fellow redshirt freshman Scooter Harrington. Look for Schultz to be the starter in September but for Smith to gain more and more playing time as the season progresses.
Farrell's take: Smith isn't projected as a starter, but he will have a big-time breakout year because he's a better downfield threat than his competition and he can be used outside if needed as well. A lot will depend on how the quarterbacks play and how much they throw the ball downfield without Christian McCaffrey, but Smith had elite pass-catching skills coming out of high school, and I expect those to be showcased this season.

The skinny: Hutcherson, who never saw his recruiting process blow up to the level of other recruits on this list, committed to South Carolina over offers from Louisville, Memphis and Middle Tennessee. Since his arrival at South Carolina, Hutcherson has been one of the more impressive young players on campus. Given a year to learn the offense, get stronger and adjust to the college game, he will now battle Malik Young for the starting left tackle spot in 2017.
Farrell's take: Hutcherson is slated as a backup at left tackle, but he will battle Malik Young for the starting job as he's added a lot of power and good weight. Another offensive lineman on the list, he might not be a big name nationally, but if he is the guy slated to protect the blindside of Jake Bentley, his role would be huge. If he doesn't win the job, watch for him to still have a key role some place along the line before too long. Keep in mind this was a kid who was under 250 pounds coming out of high school.
The skinny: Growing up minutes from Tuscaloosa and with his father having played for Alabama, most assumed that the Crimson Tide were the clear favorite. And while he did commit to Alabama on Signing Day, Auburn made a significant push, Georgia became a real threat, and he also took official visits to LSU and Notre Dame. Five-stars redshirting at Alabama is nothing new, but now it will be Davis' time to show everyone the skill set and athleticism that he showcased at the high school level.
Farrell's take: Alabama is so deep at linebacker that Davis might not even crack the two deep and might have to earn his way on special teams and slide into playing time due to injury or others underperforming. But he has the size, range and talent to make a big impact regardless, especially if Alabama has some injury issues. He's not at the top of the list for impact redshirt freshmen in the country because of the depth, but he was one of the most talented defenders to sit out last season.