Red Raiders add 3-Star RB Ta'Zhawn Henry just before NSD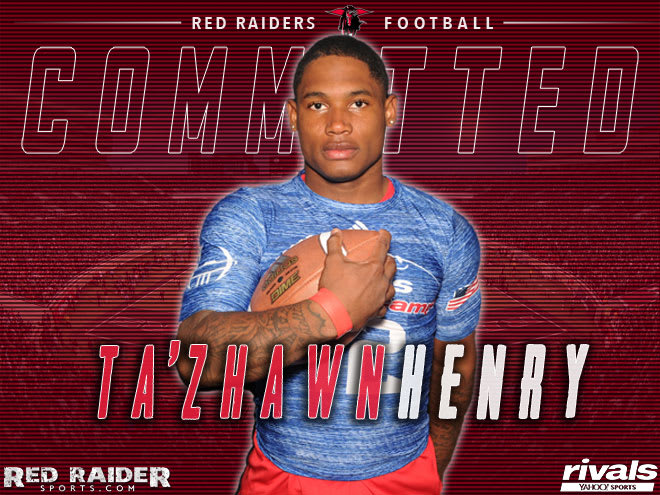 On the weekend before National Signing Day, one of Texas' most electric playmakers, Ta'Zhawn Henry made the decision to stay in state and commit to Texas Tech.
The high three-star running back chose the Red Raiders over Oregon State, and added another big-time offensive weapon to a class already chock full of them. Henry thinks that he and fellow recent running back commit SaRodorick Thompson can make for a solid one-two punch in the Red Raiders backfield.
"I'm choosing (Tech) because this season they're coming in with three senior running backs," he said. "Me and (Thompson) are two different backs, so I think that I can come in and play early. Plus, I'm not too far away from my family."
While Lubbock isn't exactly right down the road from Houston, it's still considerably closer than Corvallis, and Tech opens its 2018 season in Houston against Ole Miss. Henry already has designs of being one of the new players the offense needs to replace the production of Keke Coutee, after hearing what new offensive coordinator Kevin Johns envisions for him.
"They see the similarities between me and him - we're both short and fast," he said. "I'm going to be getting the ball on jet sweeps, running routes out the slot, catching screen passes, so I'll be right in it."
Johns and defensive backs coach Clay Jennings were instrumental in sealing the deal with Henry as he made his final decision. Jennings joined the Red Raiders after serving as co-defensive coordinator and secondary coach in Henry's hometown last season at the University of Houston.
"I've been talking with (Jennings) since forever," he said. "He stayed on me and I stayed on him. He's just an honest guy - the whole staff is. They keep it real and told me I just need to worry about coming in and working hard. It was a business decision all the way, but it was a family decision too."
Henry had been committed to TCU throughout the fall, but found himself back on the market by season's end. He said even though he had a great time on his official visit to Oregon State, and was hosted by a good friend in 2017 Texas product Calvin Tyler, staying in-state made too much sense.
Now, Henry gets the chance to take on the team that he had been committed to, as well as a number of his high school teammates all committed to other schools within the Big 12. Texas signed the Rivals250 trio of Al'Vonte Woodard, Anthony Cook, and D'Shawn Jamison and four-star defensive end Joshua Landry is a Baylor signee.
"Honestly, this has been a dream of ours since we've been freshmen," Henry said. "We're all close to each other and we'll be brothers forever, but when we play each other, we're gonna have to put it on.
"I respect all the guys over at TCU; they're great coaches over there and kept it real too. I have nothing but good things to say about them."
Henry will be on campus this summer and will have the first five weeks of his freshman season under his belt before the Red Raiders square off against the Horned Frogs, and his former teammates in the following weeks. Before then, he's hoping to size up a little bit more and make an impact right from season-opener.
"I need to bulk up, but I'll be doing some push-ups and hitting the weights," he said. "Coach Johns said that I'm the guy they need and I'm going to be part of the gameplan Week 1 against Ole Miss."