Recruits: Results, not race, are biggest factor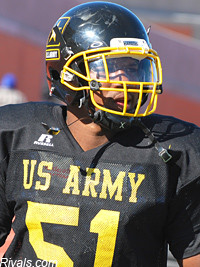 In the previous 10 years, Vanderbilt had signed just three four-star prospects, so getting two in one day was a stunning accomplishment.
Kimbrow, ranked the No. 1 player in Tennessee and the No. 3 all-purpose running back in the country by Rivals.com, said he chose Vanderbilt because he was impressed by Franklin's positive attitude and energetic personality.
Kimbrow was unfazed by the fact that Franklin, like himself, is African-American.
"That was no factor," Kimbrow said last week while participating in the U.S. Army All-American Bowl in San Antonio. "Coach Franklin is just a great guy. You'd want to play for him if he was black or white or whatever. He's different. He's never negative."
Although every college coaching staff is diverse, there is a school of thought that programs with African-American head coaches could have an edge in recruiting African-American prospects.
Numbers indicate that school is closed.
Several African-American prospects said the coach's skin color was not a factor in their choice.

Carter makes a good point. Twenty-six FBS programs have new head coaches this off-season, so making a choice based on a head coach or an assistant is a gamble.
Schools with legitimate chances to win championships and prepare their players for the NFL still win out.
None have had African-American head coaches.
"I want to play for the best coach I can that will develop me well and give me the best education."
"It played a big role for me," he said while in San Antonio. "They have a majority black coaching staff. That's a turn on for me. You can feel comfortable around them. I feel we can bond better."
"I was committed to Ron Zook," he said. "I saw coach Zook as a good coach and I liked what he did."
"I really liked coach Sherman," Magee said. "The fact he left was a big reason that I backed off them a little bit. Race doesn't matter to me as long as the coach is cool."
[rl]