Recruiting Trends: Who is up, down and holding steady in SEC?
RELATED: Recruiting trends in the Big Ten
Mark Pszonak contributed to this report
Recruiting trends are always interesting to follow especially for programs that don't end up getting as much attention as the blue bloods. This week we will look at each Power Five conference and discover some teams trending up, down and remaining remarkably consistent. We continue today with the SEC.
POSITIVES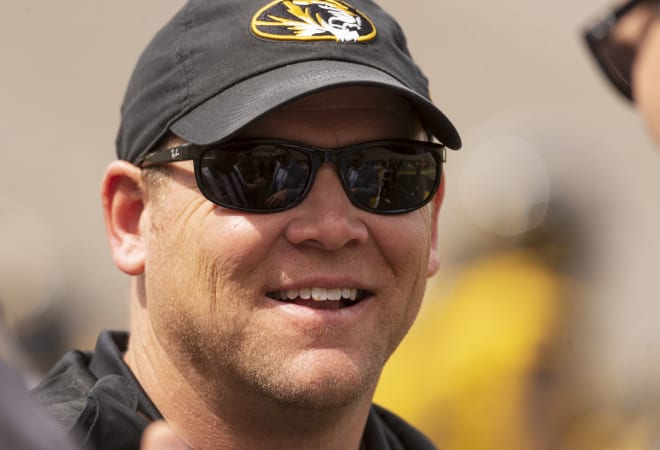 Missouri
Recent Class Rankings: No. 49, No. 39, No. 35

Overview: Hired in December 2015, Barry Odom has experienced his ups and downs in Columbia. While the fanbase still seems uncertain of his potential and future, and he has totaled a 19-19 record during his tenure, his recruiting classes have progressively improved. After a No. 49 class in 2017, the Tigers put together the No. 39 and No. 35 classes in 2018 and 2019. Pressure will continue to increase on Odom and the Tigers this fall, so how will the coach and team respond, and how will the recruiting class be affected?
Farrell's take: Odom has done a good job recruiting for Missouri and the Tigers seem to be in play for more four-star prospects each year. DaRon Davis was the lone four-star in 2017 and that number was doubled in 2018 with Daniel Parker Jr. and Chad Bailey. Jalani Williams was the lone four-star signee in the 2019 cycle, but Missouri had many commitments knocking on the door as high three-stars. Missouri is off to a very strong start in 2020, especially in-state.
Ole Miss
Recent Class Rankings: No. 39, No. 27, No. 22
Overview: The Rebels were putting together consistently solid classes under Hugh Freeze, but have been trending in an even better direction since his termination and the hiring of Matt Luke during the summer of 2017. While he has only been in Oxford for two classes, the Rebels have finished at No. 27 and No. 22 during this time, up from No. 39 during Freeze's last year. Ole Miss has proven in the past that it has the potential to recruit with the big boys, so can Luke bring them to these levels again?
Farrell's take: Ole Miss has done a very good job recruiting, especially over the last few years with NCAA sanctions to deal with. Quarterback Matt Corral highlighted a strong 2018 class which boasted four-stars from California, Texas and Florida among other places. Jerrion Ealy was the headliner last cycle and Ole Miss did a good job keeping a lot of talent in-state. The Rebels continue to have success in-state in 2020, led by Josaih Hayes.
Mississippi State
Recent Class Rankings: No. 27, No. 25, No. 24
Overview: While the Bulldogs' classes have been steadily improving during the last three years, finishing at No. 27, No. 25 and most recently No. 24, they have also been extremely consistent. This improvement and consistency continued despite the coaching change from Dan Mullen to Joe Moorhead, which occurred in late 2017. Moorhead is proving himself to be equally capable in the recruiting world as he is on the field, which should keep the Bulldogs in contention for plenty of top-level players in the future.
Farrell's take: Moorhead wasn't a huge name hire but he has proven to be the right fit so far to replace Mullen, who did a great job recruiting and evaluating talent in his years at Mississippi State. The Bulldogs have been involved with their share of four-stars and have done a nice job recruiting in-state and hitting Louisiana. Offensive tackle Charles Cross was the gem of a very strong recruiting class last cycle and the Bulldogs have already landed four-stars from Tennessee and Georgia in 2020.
NEGATIVE
Vanderbilt
Recent Class Rankings: No. 58, No. 42, No. 50
Overview: With all of the recruiting success the SEC has had in recent years, there were no obvious candidates for this category. However, compared to its competition, Vanderbilt continues to be a middling recruiting team nationally. The Commodores made a nice jump from No. 58 to No. 42 from 2017 to 2018, but then slipped back to No. 50 in 2019. Because of their strict academic standards, the Commodores will never challenge Alabama and Georgia in recruiting, but becoming a middle of the pack recruiting program in the SEC should be their realistic goal.
Farrell's take: Vanderbilt didn't land a four-star in 2017 but rebounded in 2018 with four different four-stars including two in-state. However, the Commodores were back to one four-star last year, so they've slipped back a bit. Quarterback Ken Seals is a nice get for 2020, but Vanderbilt is off to a slow start overall with six commitments.
STEADY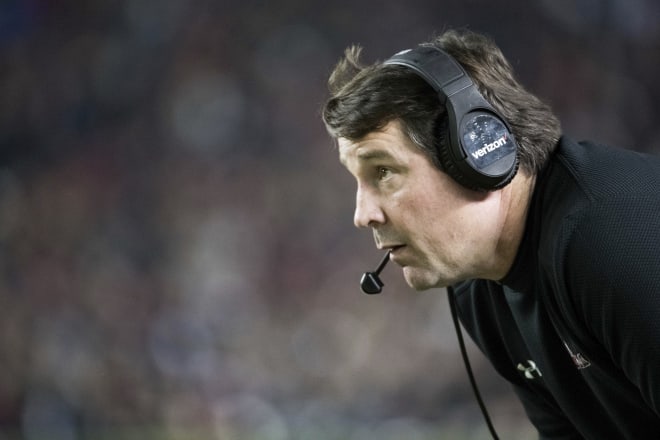 Georgia
Recent Class Rankings: No. 3, No. 1, No. 1
Overview: It is safe to say that Georgia has the recruiting locomotive moving at high speed. After finishing at No. 3 in 2017, the Bulldogs have won back-to-back recruiting national titles. Kirby Smart has already proven himself to be an elite recruiter, while the on-field success has made grabbing elite national talent more and more common. With all of these positives, don't expect a recruiting drop-off from the Bulldogs anytime soon.
Farrell's take: Under Smart, things have reached a new level of recruiting in Athens and it's showing on the field already. The Bulldogs dominate the SEC East when it comes to five-star commitments and they can go head-to-head with anyone in the country for any recruit. This is the best recruiting I've ever covered at Georgia and it will lead to a national title if it continues.
South Carolina
Recent Class Rankings: No. 16, No. 18, No. 17
Overview: While Will Muschamp hasn't experienced an overabundance of success on the field during his three seasons, going 22-17 and 1-2 in bowls, his recruiting work continues to be impressive and consistent. The Gamecocks have finished No. 16, No. 18 and No. 17 in the country during this time, as they continue to draw in top-level talent from the Carolinas, Georgia and Florida.
Farrell's take: Clemson is getting all the headlines in the Palmetto State for national titles and recruiting, but South Carolina has done a solid job as well under Will Muschamp. The Gamecocks continue to recruit the state well and rely on bordering states to fill out talented classes. Zacch Pickens was a huge get last year. While South Carolina has lost its share of battles to Clemson, it has won a few as well.