Recruiting notes: Virginia Beach 7-on-7
VIRGINIA BEACH, Va. -- A total of 24 teams competed at the inaugural Next Level Greats 7v7 held at the Princess Anne Athletic Complex. Rivals.com was on hand to check out a bevy of prospects that competed through the two-day event this past weekend.
Here's a snapshot of the storylines and players that stood out...
NC ELITE DOMINATES ON WAY TO CHAMPIONSHIP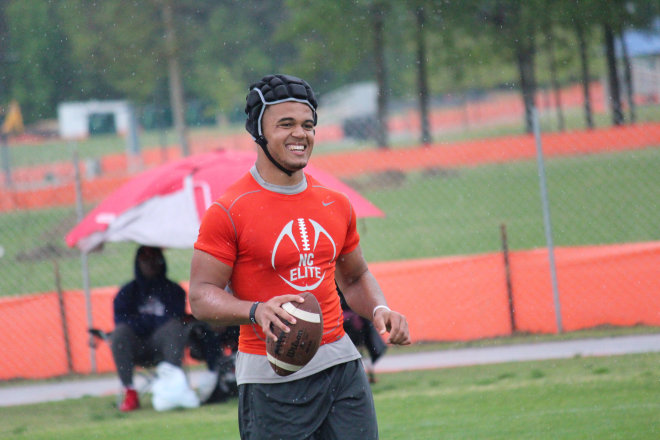 Going wire to wire undefeated with the championship of the inaugural event in Virginia Beach was North Carolina Elite Orange, which put up some crooked scores throughout the weekend and had a host of next-level prospects contribute in a big way.
Among their standouts were three-star Charlotte tight end Jeremiah Hall from Vance High School, fast-rising Class of 2018 wide receiver Dyami Brown out of Charlotte's West Mecklenburg, three-star corner Aapri Washington of Huntersville's Mountain Island and Greensboro four-star linebacker Brelin Faison-Walden of Grimsley High School.
Hall displayed the best hands of anyone at the event, seemingly catching everything that came his way. Every time his team needed a key catch to extend a drive, he usually was the guy rising to the occasion. There were a couple of one-handed snags by Hall that he made look routine, too.
North Carolina and Virginia Tech were the first to offer Brown. Since, the likes of Duke, Louisville, Tennessee and Wake Forest have followed in the past couple weeks. Brown was able to take the top off of the defense and catch a deep touchdown late in Sunday's playoffs. He also showed the kind of all-around athlete he is, coming up with an interception while playing safety to seal a victory during tourney play.
Sneaky at the corner position, Washington was an anchor for the NC Elite defense. At 5-foot-9, he is able to make up for what he lacks in size with better than average timing and ball skills, which included him tight-roping the sideline and showing great balance to come up with an interception.
In that hybrid safety/outside linebacker mold, Faison-Walden played on the back end, but displayed excellent awareness and closing ability.
There were a number of underclassmen – such as 2020 WR/DB Porter Rooks, 2019 LB Kevon Hilliard and 2019 CB Jalen Frazier – who had their fair share of impressive moments for NC Elite as well.
FAMILY AFFAIR
One of the best and most anticipated games of the weekend came when NC Elite went head-to-head with Evolve Green. NC Elite showed their mettle in what was pretty much the only time they were threatened in Sunday's playoffs, coming from behind to post a 25-23 win.
But Evolve Green managed to push them, led by 2017 three-star ATH Rick Squires and corner Bryce Gibson as well as the Class of 2016 twin combo of Tim Jackson and James Jackson.
Gibson was one of the better two-way performers on Saturday, while Squires took center stage in Sunday's showdown. The 6-2 202-pound talent from Pittsburgh's Penn Hills (Pa.) made a fantastic catch in traffic, plus at linebacker controlled his area.
Both Jackson siblings were playmakers all weekend with Tim making a couple of circus catches. The twins plan to play their college football at Pittsburgh after going to prep school in the coming season.
Evolve was on its way to victory when Dirk Cureton made a clutch interception to pull them within 23-19 with 27 seconds left. Cureton recently snagged nagged his first offer from Army. Two catches later – by his cousin Kusegi Cureton – NC Elite pushed in front and held on or the win. Kusegi caught 61 passes for 932 yards and six touchdowns for Charlotte's Phillip O. Berry Academy last year.
ALL EYES ON SLADE
To say that Ricky Slade was a marked man would be an understatement.
The all-purpose back from Woodbridge's C.D. Hylton (Va.) High School made a number of highlight-reel plays for Playmakers Elite and showed why he's rated a four-star prospect by Rivals.com.
In Sunday morning's first matchup, Slade put his sensational talents on full display with three touchdowns, two of which were of the long variety, in a resounding 43-8 rout of Second Gear Future Elite. Though his team fell 34-18 in the next round to NC Elite Orange, they responded in the double-elimination format with wins over Epic 7 MidAtlantic (26-24), Piedmont Select 2 (17-8) and NLG 1 (22-4).
The battle with Epic was one of great interest as it was a very competitive, back-and-forth, seesaw affair with emotions running high on both sides.
Epic's high-energy safety Vashon McCants out of Sterling's Dominion High School (Va.) was one of the few players on the day to have success in covering Slade, playing real physical at the line.
But Slade didn't back down. He went right back at McCants and his team ended up winning with the defense's focus obviously being to fore someone else to beat them.
Slade is high on Ohio State, but also mentioned to us that there are a bunch of schools – such as Clemson, North Carolina and Virginia Tech, among others – still in the running for his services. He is not shutting anyone out at this point.
DELCO DUO DAZZLES
Winning their first seven games at the Next Level 7v7 before losing to NC Elite Orange, Delco Elite-Blue clearly proved to be one of the premier teams in attendance. They featured a couple of names on the rise.
One of them is Shymere Stroud, a 6-2 180-pound wide receiver from Academy Park in Sharon Hill (Pa.). Stroud only caught six passes a season ago, but was used primarily as a blocker at his school because he's so strong. In this 7v7, he demonstrated he can also get open and catch the football, doing both consistently.
A Class of 2017 prospect, Stroud routinely found the end zone and proved to be one of the more polished route runners at the event. Perhaps he fits in that late bloomer category.
Out of the Class of 2018, Mahmud Dioubate has a chance to blow up as a prospect over the next year, operating as a versatile two-way performer.
Dioubate would pass as the best-looking prospect there without an offer to date. Expect that to soon change as he and his name get around more in the coming months. Dioubate was a matchup problem more times than not when lined up at wide receiver, but did fine work when used in the boundary corner role.
The bloodlines are also there with Mahmud, a supremely gifted athlete in his own right. His brother, a defensive tackle named Karamo, recently signed with Temple coming out of Philadelphia's Prep Charter. Mahmud's upside is terrific.
Class of 2017 FS/RB Teddy Wright, who made 87 tackles and six interceptions a season ago at Sharon Hill's Academy Park (Pa.), was another Delco player that caught our eye. Wright has the physicality to play somewhere on the collegiate level.
FUEL FULL OF NAMES TO KNOW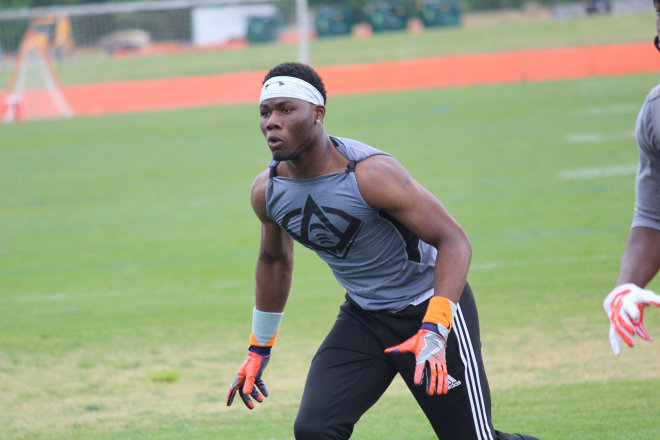 Team Fuel went 3-1 on Saturday and then lost their first game in Sunday's action, 19-16 to Air Sports Group, before getting hot amidst the pouring rain. They navigated their way to the final game to quality for the IMG 7v7 National Championship in Florida. Their marquee performer was four-star free safety Devon Hunter, rated the No. 42 player nationally out of Chesapeake's Indian River (Va.).
Extremely rangy and instinctive, Hunter was smooth all weekend and physically remains a cut above the rest when it comes to prospects at that safety position. Time after time, he located the ball in traffic defensively. Opposing quarterbacks seldom threw in his direction or challenged him, but when they did it didn't yield positive results.
Another encouraging thing to see out of Hunter was him take on a leadership role, both vocally and with his play, showing some of his younger teammates the ropes.
With Hunter patrolling the back line of the defense, it opened the door for Hampton (Va.) 2017 CB/WR Dazz Newsome to make quite a few plays. A threat on both side of the ball with offers from Hampton University, Iowa State, Marshall and Old Dominion to date, Newsome came up with a couple of pivotal picks during Sunday's playoffs.
To many, Newsome is intriguing because he is not only drawing looks on offense (Marshall offered on that side of the ball) and defense, but he's viewed as a serious weapon on special teams, which might be his quickest way on to the field in college with what he brings to the table in the return game.
Virginia powerhouse Oscar Smith out of Chesapeake was well-represented with quarterback Shon Mitchell, developing 2018 LB stud Keshon Artis, wideout Larry Chapel, safety Khalik Perry and running back DeAngelo White.
Mitchell developed better timing with his receivers as the weekend went along and got in a rhythm during the tourney, proving effective on roll-outs and generally finding Chapel along the sideline. In-state FCS program William & Mary is one of the main contenders for his services.
Artis, who has drawn offers from Maryland, UVA and Virginia Tech, was solid in his coverage drops and ability to flip his hips. His list of suitors figures to be double-figures by this time next year.
OTHER NOTES...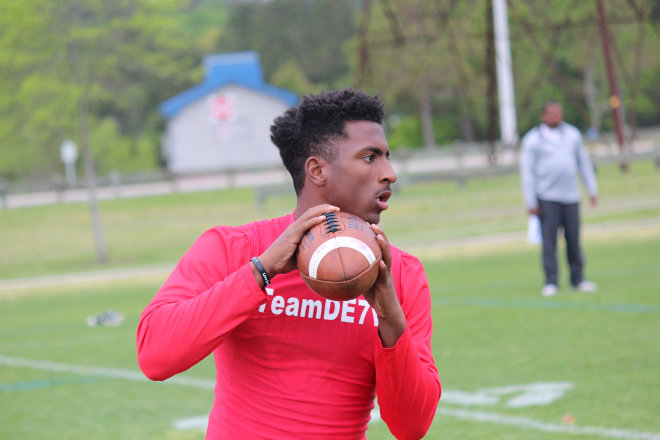 One day after being named a Fab 15 offensive standouts at the Rivals Camp Series in New Jersey, Maryland commit Kasim Hill, a four-star quarterback out of St. John's (Washington, D.C.), put on an aerial display with Team Delaware for a couple of games in Sunday's playoffs. Hill threw a few pinpoint long balls in victories over Skills Unlimited and NC Elite Gray, 31-6 and 41-14, respectively.
One of the more picturesque connections of the day was Hill hitting B.J. Watson, a 2017 wideout out of Towson's Calvert Hall (Md.) that's being recruited by Ivy League programs such as Harvard and Yale, in the corner of the end zone for a score.
His younger brother, 2018 corner Isaiah Watson, made his quite a few plays on the defensive side of the ball and stayed hip-to-hip with most of the receivers he was assigned to cover.
Playing for one of the Evolve teams, 2017 wide receiver Avram Abramovitz from Pittsburgh's Woodland Hills (Pa.) was one of the under-the-radar performers that grabbed our attention. Abramovitz didn't wow with lightning speed, but he found holes in the defenses and had a couple of superb catches on Sunday.
Abramovitz showed no ill effects from an ankle sprain that cost him some playing time as a junior. Besides going over the middle for the catch, this 6-foot-4 two-sport standout also will use his size to go get a jump-ball as well.
A youngster from Team Fuel that turned some heads throughout the weekend was Devon Hunter's Indian River teammate, 2019 linebacker Ah'Shawn Moore. Coach Glenwood Ferebee calls him a mini Jaquan Yulee, comparing him to the four-star linebacker out of the Class of 2016 headed to Marshall.
At 6-3 and 208 pounds, Moore looks to be similar in regards to his explosiveness as a hitter and athletically is farther along than most at his age. Virginia Tech already reportedly is involved with him and it won't be surprising to see the Hokies pull the trigger if he puts together the type of sophomore season his coaches are anticipating.
Wins were hard to come by for Second Gear Future Elite against a strong field, but Virginia Beach 2017 DB/RB Ty'Quez Scott of Bayside excelled in press coverage and also used his aggressiveness to jump routes and make a play, whether it was tipping a pass or intercepting one. Scott's size (5-8, 143 pounds) may limit his recruitment to a degree, though he could be a diamond in the rough at the FCS level.
Matthew Hatfield serves as State Basketball Analyst for VirginiaPreps.com, part of the Rivals.com Network, and is a staff writer for Tar Heel Illustrated. Check out Hatfield's Twitter page for more sports related updates, and you can also read his work in the Suffolk News Herald. To contact Matthew, please e-mail hatfieldsports2k4@yahoo.com, and don't forget to listen to him every Saturday at 10AM on ESPN Radio 94.1, plus watch him on the Cox 11 Sports Report.