Recruiting news and notes from Florida Fire's annual showcase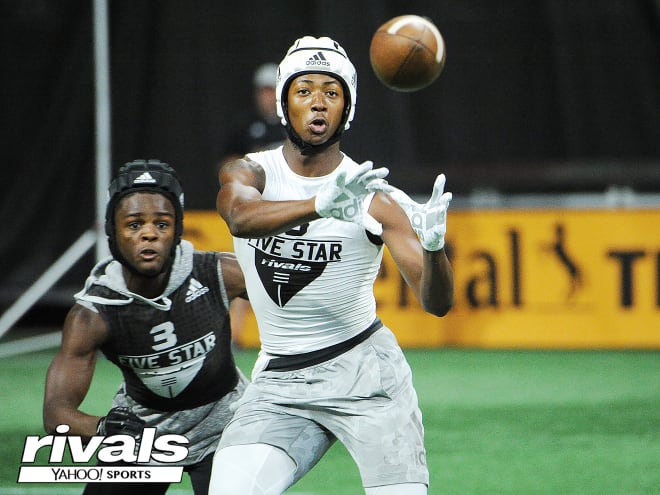 HILAEAH, Fla. -- One of America's top 7v7 teams, the Florida Fire routinely sends nearly its entire roster to FBS schools. This year promises to be no exception, so there was plenty of recruiting news to be had at the organization's annual showcase and tryout. Below are notes on some of the top prospects that attended the event.
A one-time Miami, wide receiver Mark Britt intends to visit LSU over spring break and intends to bring his friend and high school teammate Jovens Janvier along for the ride once a date is set. A four-star wide receiver, Britt also has serious interest in Penn State, Oklahoma. and Miami.
"At Miami, the new coaches tell me I'm still family and that I know I belong there," Britt said. "With Oklahoma, I really like the offense and they always have a good quarterback. You know they're going to throw the ball."
- Former Louisville commit Jovens Janvier is officially back on the market and seeing the demand for his services increase by the week. The four-star offensive lineman has been in constant contact with LSU as of late and is currently setting up an official visit at a yet-to-be-determined date. It seems Nebraska is a player here as well, as Janvier has long held an offer from the Huskers and now names UNL as one of the schools that has recently captured his full attention. No visit to Lincoln has been set, but Janvier intends to tour the campus eventually. Penn State has also recently joined the massive tackle's recruitment but is yet to make things official with a scholarship offer.
"They are telling me they are going to offer me soon," Janvier said of James Franklin and company. "I'm just waiting on that right now. Then, we'll see what happens."
According to Janvier, Louisville remains in the running to land his letter of intent, as the new coaching staff is in the process of re-building the relationship that led to his previous commitment. Cardinals assistant Frank Ponce is leading the charge on that front as things stand.
-- Wide receiver Xavier Restrepo says his recruitment is wide open at the time being, but notes that Kentucky is making a hard push when it comes to pursuing his commitment. It also seems that the Wildcats' coaching staff is getting help on that front, as 2019 quarterback signee Nik Scalzo stays in his friend's ear when it comes to the allure of Lexington.
"He's just telling me that it's a good vibe over there," Restrepo said. "He says it's hard to say no them. He says when you visit, it gets really hard to say no."
-- Arkansas' pitch to wide receiver Bryce Gowdy is an aggressive one. So while it seems to focus on flattery, the Razorbacks have used it to make serious headway with the Deerfield Beach (Fla.) High School star.
"At Arkansas, they just keep telling me that they want to sign the best wide receiver in 2020 class, and they think that's me," Gowdy said.
Gowdy, who plays both receiver and defensive back at the high school level, will likely focus on offense in college. Expect the Razorbacks to be a player in the wideout's recruitment until the end. Notre Dame recently offered Gowdy, who says he will also seriously consider the Irish. For now, however, his list of frontrunners stands as such:
"It's Florida State, Penn State, Arkansas, Notre Dame and Florida," Gowdy said when asked to name his runners. "That's the list for now."