Ready or not: Rose, Love blooming early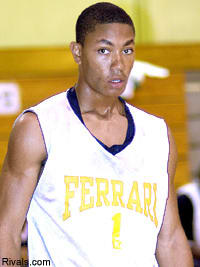 In case you missed it, the revolution was televised.
After the mid-'90s hype about an underground infusion of youth into the NBA, the past two years have shown the NBA is happy to parade the best high schoolers across its annual Madison Square Garden draft day stage. Team general managers extol the virtue of upside and room for growth.
Seventeen-year-old point guard Sebastian Telfair from Brooklyn was taken with the 13th overall pick in the 2004 draft, seven picks before the reigning collegiate player of the year who shares his position, Jameer Nelson of St. Joseph's. Fellow high schooler Dwight Howard, a power forward, was the top pick over Emeka Okafor, who many think was the most polished collegiate big man since Tim Duncan.
The day after the draft, many analysts were scratching their heads wondering how basketball reached its current state of delusional youthful exuberance.
Perhaps the better question is whether the exuberance was delusional at all. Lost underneath the glare of uncertainty following the high school-heavy draft was the fact that a number of former high school draft entrants have developed into the brightest NBA stars.
Kevin Garnett, who started the infusion in 1995, was the 2003-04 MVP. Kobe Bryant, a 1996 entrant along with fellow all-star Jermaine O'Neal, recently signed one of the most lucrative contracts in league history. Tracy McGrady, who has won consecutive league scoring titles, was a high school entrant in 1997.
The past two NBA Rookies-of-the-Year were entries directly from high school. Amare Stoudamire of the Phoenix Suns even outduelled Houston's Yao Ming en route to winning the award and the Western Conference's eighth playoff spot in 2003. The following season, LeBron James was part of the NBA's best dynamic rookie duo since Larry Bird and Magic Johnson, tag-teaming with Carmelo Anthony to dominate ESPN highlight reels.
Clearly, along with the inherent risk of picking a young buck comes the potential for the rich reward of a James, a McGrady, or a Stoudamire.
While 2005's rising seniors will dominate headlines as the next crop of college recruits and NBA draft picks, two upcoming high school sophomores may already be the top players in the land.
Already becoming the lions of the prep basketball wilderness, the pair appears ready to take over the next level. They're only 15, yet they may be the best that the prep ranks has had to offer since LeBron.
"ONE OF THE BEST PROSPECTS TO COME OUT OF CHICAGO. EVER."
Though smaller in stature, Rose is the larger enigma.
A 6-foot-2, 180-pound point guard, Rose already has the chiseled physique of the best of 2005's seniors. Rivals.com national basketball recruiting expert Jerry Meyer, himself college basketball's all-time assist leader, has watched Rose play at a handful of AAU and all-star events, and he was immediately impressed with his play and physical build.
"He's more physically mature than any of the top ranked 2005 guards," Meyer said. "He's built better than [Kansas commit] Mario Chalmers, [Georgia commit] Louis Williams or [Syracuse commit] Eric Devendorf."
Rose's relatively short frame belies his impressive strength, which he often uses to body up against big men in the post when his 15-and-under AAU squad Chicago Ferrari needs him to work in the lane.
"In St. Louis (at the Nike Hoop Jamboree), he defended players on the perimeter," Meyer said. "But he's strong and can play inside, too."
Rose's physicality isn't the only part of his game impressing analysts and his coaches. "He's a smart, skilled player," Meyer said. "His shot from the outside and his ball handling are impressive."
His skill is matched by a knowledge for the game that far exceeds his years.
"He understands the game so well," one of Rose's Chicago Ferrari coaches, Luther Topps said. "When he makes plays and reads the floor, it's almost like he's been there before. He brings attention to the other guys on our team, and he makes them look better with the plays he makes."
Meyer echoed Topps' confidence in the budding star.
"He's a great playmaker, and he makes all the guys around him better," Meyer said. "He was the talk of the camp at the Nike Hoops Jamboree because of the plays he makes for others. He's a complete, unselfish player."
Still, despite the early accolades, there are some asterisks attached to Rose's early high school performances.
In his freshman season at Chicago Simeon High School, the phenom wasn't allowed to play with the varsity team because of a longstanding freshman ban by Coach Bob Hambric. While Hambric was lobbied to change his rule to let Rose in, the veteran coach refused to budge.
Rose spent the season starting on Simeon's sophomore and JV squads, dominating his opponents in the process. After the season, many expected Rose to jump to the top flight 17-and-under AAU circuit, but the young guard surprised by remaining with his original 15-and-under Ferrari squad.
While avoiding the 17-year-old circuit could have been seen as an attempt to dodge pressure, most recruiting experts didn't read Rose's decision as shirking competition.
Tim Watts, who spearheads Rivals.com's basketball recruiting network, was quick to dismiss any chance that Rose was ducking pressure.
"A lot of times kids will hide from upper-level competition, but not this kid," Watts said. "He's too good a player for that."
Topps also seemed to feel like Rose's talent and drive to improve were proof enough of his dedication to the game.
"His game gets better every year," Topps said. "I really think he just always wants to get better."
Meyer echoed the confidence in Rose's abilities.
"He's not just 'Chicago hype,' the kid's legit," Meyer said. "He's the top player in his class in every single category, and he really might be one of the best prospects to come out of Chicago. Ever."
Those are high accolades, considering Kevin Garnett and Mark Aguirre came out of the Chicago high school scene — especially when spoken about a 15-year-old.
Any concerns that playing among other 15-year-olds would slow Rose's growth should also be mitigated by results from recent competition.
In the AAU 15-and-under national championships, Rose averaged well over 30 points per game, highlighted by a 46-point performance in Ferrari's semifinal victory over Maryland-Mt. Royal Baltimore Select.
Indeed, Rose's commitment to his original team seems to match his general character. A devoted teammate, Topps claims Rose is also a terrific young man.
"He's a great kid and doesn't cause any of the problems that you have with some great players," Topps said. "I've been coaching him since he was in fifth grade, and he's always been a very respectful, coachable kid. He's a good student and just a really special kid."
Simeon High has been known for producing top talent, most recently 2004 Chicago Sun-Times Player of the Year and 2004 Illinois recruit Calvin Brock, but they've never hosted a player of Rose's stature before.
The pressure and attention given to him are certain to test his modesty and good nature. Still, if his personality is anywhere near as promising as his skills on the court, Rose should be able to take his future as a top-flight prep star, and likely NBA star, in stride.