RCS Pittsburgh: Five things we learned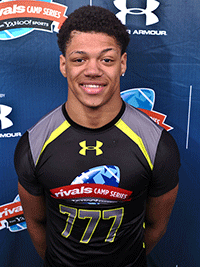 Click
Here
to view this video.
McKEES ROCKS, Pa. -- Fourteen events deep in the Rivals Camp Series presented by Under Armour, we have seen time and again that the storylines that are expected to emerge going into a camp do not always come to fruition.
1. Massive offensive line group
There have been few collections of offensive linemen the size of what we saw at the Pittsburgh stop of the Rivals Camp Series. Consider 6-foot-9, 307-pound
Josh Krok
, 6-foot-8, 305-pound
Sterling Jenkins
, 6-foot-7, 315-pound
Mike Grimm
and 6-foot-7, 285-pound
Joe Lowery
, just to kick things off.
Offensive tackles of that size and height who are legitimate Division I prospects do not come around often, and to have that many in one spot was exceptional. Maybe just as impressive is that all moved their feet well and were passable benders. Krok, from Niles (Ohio) McKinley, ended up as the second-ranked offensive performer of the day, while Jenkins, a sophomore from Pittsburgh (Pa.) Baldwin, earned a high spot on the top underclassman list.
While the towering offensive tackles attracted attention, offensive guard
Marcelys Jones
(6-foot-4, 325 pounds) took home the offensive line MVP award and Massillon (Ohio) Washington interior lineman
Nathaniel Devers
(6-3, 265) ended up as the No. 4 offensive performer at the event, showing the depth at the position. Elyria (Ohio) Catholic's
Dakota Tallman
(6-5, 290) and Hubbard, Ohio, 2015 guard
Matthew Jones
also had breakout performances.
2. Cleveland takes turnpike rivalry
One of the most storied football rivalries is that between the cities of Cleveland and Pittsburgh. When we previewed this battle heading into the camp, it appeared Cleveland may have had a slight edge in talent over its neighbors to the southeast, but the difference proved to be much more substantial.
Three of the four MVP awards went to prospects from Cleveland. Jones, from Cleveland (Ohio) Glenville, took home the offensive line MVP,
Joe Henderson
of Cleveland Shaker Heights won the defensive line MVP, and Cleveland St. Ignatius linebacker
Dameon Willis
won the skills MVP award.
Behind those three, Cleveland prospects littered the top performer and top underclassman lists. Glenville defensive back teammates
Erick Smith
and
Erik Simpson
were among the best at their positions. Shaker Heights'
Odell Spencer
and St. Ignatius'
Michael Siragusa
were among the top handful of wide receiver performers, while sophomores
Andrew Dowell
of St. Edward, and
Jerome Baker
of Cleveland Benedictine were in the discussion late for MVP consideration.
Pittsburgh made a solid showing with prospects such as Rivals100 athlete
Montae Nicholson
, linebacker
Nate Stone
, quarterback
J.J. Cosentino
and underclassman Diondre Faulk having strong showings, but it could not compete with Cleveland's depth and dominance at the event.
3. Quarterback commits compete to near draw
Quarterback prospects Cosentino (
Florida State
) and
Chris Durkin
(
Michigan State
) have made their college commitments, but the two BCS-bound passers were looking to challenge themselves and compete when the Rivals Camp Series stopped in Pittsburgh. By day's end, the pair were neck-and-neck for top honors at their position.
With rain soaking the first two hours of Sunday's camp, quarterbacks were battling to keep wet footballs under control. Cosentino and Durkin showed they could handle the conditions, and although a few passes were no doubt rain-affected, for the most part the duo hit their targets accurately and with velocity.
Cosentino finished No. 7 on our list of top offensive performers, with Durkin just behind him in the eighth spot. Cosentino spun the football the best of all quarterbacks in attendance, while Durkin was smooth in his drops and delivered a good fastball despite the wet conditions.
4. Surprises at linebacker
The biggest names at the linebacker position coming into the Pittsburgh Rivals Camp were four-star
Michael Ferns
and three-star
Chase Winovich
. While both prospects had solid performances, they were outdone by lesser-known linebackers during Sunday's competition.
For the second straight event a linebacker took home the defensive skills MVP award, and this time it was Cleveland (Ohio) St. Ignatius' Willis, who is a converted safety but has bulked up into a linebacker frame. The most physically impressive linebacker in attendance, however, was Canton (Ohio) McKinley's
Jamal Davis
-- a 6-foot-2, 215-pounder with a great frame and long arms.
Another impressive performance was put in by Greensburg (Pa.) Central Catholic's Stone. The 6-foot, 235-pound Stone was especially impressive when he moved over the slot and covered ultra-quick sophomore athlete
Eric Glover-Williams
all the way down the field to come away with an interception.
The underclassmen made their mark as well. Baker made the play of the day with a one-handed interception and all around backed up his six early scholarship offers. Manilus (N.Y.) Fayetteville-Manilus 2016 linebacker
Zaire Ashley
looks nothing like a freshman and physically plays well beyond his years.
5. Adonis travels for MVP
We were hoping to get a good look at Sicklerville (N.J.) Timber Creek wide receiver
Adonis Jennings
when the Rivals Camp was in Newark, but he took part in the Penn Relays and was unable to make Saturday's camp.
The competitor in Jennings was proved, however, when he and sophomore defensive back teammate
Kareem Ali
made the five-plus-hour drive to participate in Sunday's event near Pittsburgh after both competed in the 4x100 relay for their school the day before.
The drive paid off for the 6-foot-3, 187-pound Jennings when he walked away with the offensive skills MVP award. Considering he competed in a major track event on Saturday and drove across Pennsylvania before stepping on the field Sunday, it was an impressive showing for the three-star receiver.
32012200

Click
Here
to view this Link.
[rl]