RCS Pittsburgh: Five things to look for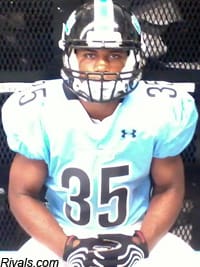 PITTSBURGH -- The Rivals Camp Series presented by Under Armour will head to Montour High School near Pittsburgh on Sunday and many top story lines are expected to emerge. Here are five things to watch for on Sunday.
1. Turnpike rivalry
There are few rivalries in sports that boast the intensity of Pittsburgh and Cleveland. The two proud cities are separated by just 130 miles, but a lot of animosity gets built up traversing the Ohio and Pennsylvania turnpikes.
Sunday's Rivals Camp Series presented by Under Armour will bring together the best high school football prospects from both cities competing on the same field. It might not be the Steelers and the Browns, but you can bet there will be an atmosphere of one-upmanship displayed at Montour High School.
On paper, Cleveland might have a slight edge in talent with big-time offensive linemen
Jimmy Byrne
and
Marcelys Jones
, along with a host of top underclassmen, leading the way. Pittsburgh, however, counters with the likes of Rivals100 athlete
Montae Nicholson
and Rivals250 offensive tackle
Mike Grimm
.
Representing the hardscrabble Midwest towns they grew up in, with a dash of the Turnpike Rivalry thrown in, Sunday's participants should provide some of the best competition on the Rivals Camp Series circuit.
2. Ohio's best in 2015 competing
The class of 2014 is generally regarded as being a down year talent-wise in the state of Ohio, but the crop of rising juniors is expected to contribute to another strong class in 2015. Much of that talent is situated in the Northeast corner of the state, and many of those top 2015 prospects will compete in Pittsburgh on Sunday.
The class of 2015 running back from Ohio who is getting the most early attention is Austintown Fitch's
Darrin Hall
. The 6-foot, 185-pound back already holds offers from
Illinois
,
Indiana
,
Kentucky
and
Nebraska
and will get his first taste of the big stage at Sunday's camp.
Perhaps the hottest rising junior in Ohio the past few weeks has been Cleveland Benedictine linebacker
Jerome Baker
, who has landed offers from
Florida
,
Louisville
,
Ohio State
and Penn State since the start of the spring evaluation period. These underclassmen add to what will be an outstanding group of 2014 prospects headed to Pittsburgh.
3. QB competition
Quality of the quarterback play can make or break a camp when it comes to showing how good the players at the skill positions are. The group of stellar signal-callers who will be at the Pittsburgh camp will be poised to really make their mark on the national scene.
Florida State commit
J.J. Cosentino
from Central Catholic,
Michigan State
commit
Chris Durkin
from Ursuline,
Joey Duckworth
and recent
Pittsburgh
de-commit
Chandler Kincade
will be out to prove they are the best quarterback on the field. Seminoles and Spartans fans will keep their eyes trained on Cosentino and Durkin as they try to show their future teammates and coaches that they have the tools to be successful.
This will be one of the first camps of the year for Kincade and Duckworth, so it will be interesting to see how they have developed.
Rutgers
,
Temple
and Bowling Green have offered Kincade but there are a lot of schools that are interested now that he is again on the market.
Duckworth has a few more offers than Kincade but Kincade is the higher-rated quarterback. This will be one of the top competitions to watch come Sunday.
4. Which RB will leave the others in the dust?
If people aren't watching the quarterbacks, they should be watching the running backs. Rivals250 four-star
Shai McKenzie
will headline the very solid group. The nation's No. 16 running back recently listed his top 15 and said that Pittsburgh, Florida State,
South Carolina
, Tennessee and
Georgia
will likely make his next cut.
Three-stars
Ron Brown
and
Devine Redding
will provide McKenzie with some competition.
Terry Swanson
,
Qadree Ollison
and sophomore Darrin Hall are also hoping to use this camp as a springboard for their recruitment. Ollison's recruitment has been picking up steam lately with offers from
Wisconsin
, Buffalo and
Boston College
. Hall already has four offers as a sophomore and should be one of the top running backs in the 2015 class.
5. LB controversy?
Two of the best linebackers in the country will be on the field on Sunday, and the jury is split on which is better.
Dante Booker
and
Michael Ferns
are both in the Rivals100. Ferns is committed to
Michigan
and Booker has offers from Michigan, Ohio State,
Notre Dame
, Tennessee and other BCS schools. Only 15 spots separate the two in the Rivals100 rankings. The battle should be interesting.
The group of three-star linebackers is led by
Chase Winovich
and is followed up by
Dameon Willis
and
Justice Rawlins
. Winovich has an impressive offer sheet that includes Florida State, Michigan, Ohio State, Penn State,
Virginia Tech
and many others. It will be interesting to see if he can elevate his play and compete with Booker and Ferns.
Sophomores Jerome Baker and
Matthew Draper
should provide a good preview for what is to come with next year's class of linebackers. Both have some early offers and will be looking to make an impression.

Click
Here
to view this Link.
[rl]