RCS Orlando: Top offensive performers
WINTER PARK, Fla. – The first 2016 stop of the Rivals Camp Series Presented by Under Armour took place in the Orlando area and, as always, attracted some of the state's top players. Below are the top 15 offensive performances from Saturday's event.
Note: The players are listed in order of performance
Related: Rivals Camp Series home | Rivals Recap | Team notes | Live from RCS: Orlando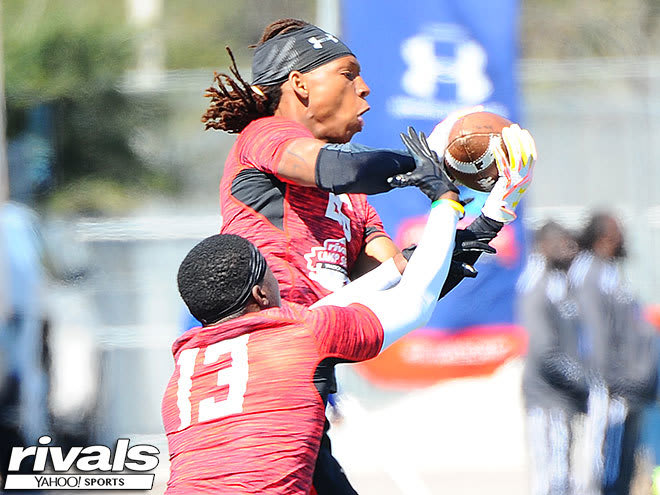 Recruiting wrap: Thompson has just five offers for the time being, the most notable being Wisconsin and Mississippi State. UCF, Bowling Green and FIU round out his list of options.
Performance: Thompson took as many reps as any player at the event and won nearly all of them. He played wide receiver but also flashed some incredible coverage skills playing cornerback. What was striking about Thompson was his versatility. He showed speed to create separation but also managed to showcase his strength and his vertical while making plays on contested passes. Thompson did it all on Saturday and was rewarded with an MVP trophy.
Recruiting wrap: Just a sophomore, Barnes is awaiting his first scholarship offer.
Performance: Barnes arrived at camp without an offer and as a relative unknown. He departed with the offensive line MVP award. Barnes has an incredible base and extremely violent initial punch. He moves his feet incredibly well for a large underclassman and probably has plenty of offers in his future.
Recruiting wrap: Lingard took home the camp's running back MVP honors for the second straight year. It's no wonder his list of offers is incredibly long. Florida State currently leads his recruitment, but Florida has moved up his list as of late.
Performance: Lingard is somewhere in the sweet spot between power back and speedy ball carrier. His versatility makes him a handful in every setting but especially catching the ball out of the backfield. He created match-up issues for all sorts of defenders on Saturday and rarely lost a rep
Recruiting wrap: White has grabbed a number of offers as of late. He names no favorites in the process, but should he receive an offer from Stanford or Notre Dame, his recruitment could quickly change.
Performance: White was in the running for wide receiver MVP for the entirety of the camp and may have won the award on most other days. He ran by defenders during one-on-ones and was rarely stopped on go routes. White plays both wide receiver and defensive back. He's more polished as a receiver, but his upside on defense is massive.
Recruiting wrap: Harris has offers from USF, FIU and FAU. Cal is also said to be mulling an offer.
Performance: Harris took and possibly won more one-on-one reps than any other prospect. He projects as a guard and has great footwork for a player of his build. He surprised with his raw power and was remarkably consistent.
Recruiting wrap: Jones, a Kentucky commit, has picked up a number of offers in recent weeks. The feeling is that his recruitment is on the verge of taking off. He remains committed to the Wildcats, but will visit Arizona State and others this offseason.
Performance: Jones seems to get better with each passing week. He has good height and an impressive arm. On Saturday, he showcased some impressive touch on deep balls despite throwing into the wind. Jones is prone to lapses like any quarterback of his age but seems to becoming a better decision maker all the time.
Recruiting wrap: Green is committed to Florida.
Performance: The muscular Green is having a great offseason and shined again on Saturday. He creates separation with a nice burst. And while he doesn't have great top-end speed, his acceleration makes him lethal. The fact that he already boasts a college-ready body doesn't hurt his worth as a prospect, either.
Recruiting wrap: Lemons has a long list of offers and a top five of North Carolina, Ohio State, Auburn, South Carolina and Tennessee
Performance: A massive running back, Lemons impressed with both his size and agility. He's lauded for his size and power, but he showed some serious quickness Saturday and he befuddled any linebacker that attempted to cover him in on-on-one drills.
Recruiting wrap: Dunlap has a decently long list of offers for an underclassman. Florida, Miami, South Carolina, Mississippi State and others have already made things official.
Performance: Dunlap didn't look like an underclassman on Saturday. He hung with some of the top defensive lineman in the region and won most of the reps he took. He has light feet. And while he needs to polish his footwork, all the told are present and working well.
Recruiting wrap: Originally from the West Coast, Hightower does not lack for national exposure. His offer list is long and impressive. He has not publicly named a leader.
Performance: Hightower was not just the best underclassman receiver at the event, he was one of the best overall prospects. He boasts a rare combination of size and quickness that makes him impossible to handle. As he gets stronger and perfects his cuts, there's no telling what kind of player he could become. It's obvious that he will debut as one of the top prospects in the 2018 class.
Recruiting wrap: Green recently picked up an offer from Florida but says Oregon State continues to lead his recruitment.
Performance: Green has great size and long arms that make him seem even taller than his impressive frame. He won a lot more reps than he lost on Saturday and created miles of separation on most occasions. Green is smooth and fast enough to make a defender pay for biting on any sort of misdirection.
Recruiting wrap: Ruiz is thought to favor Michigan but says he is considering a wide rage of programs including Alabama, Ole Miss, North Carolina and Auburn.
Performance: Ruiz was his usual steady self. The four-star prospect is a well-rounded lineman that can play center or guard. He moves well for a player of his size and has been well-coached throughout his career. He will continue to improve rapidly as he gets stronger.
Recruiting wrap: Weldon has been offered by USF, South Carolina and Wake Forest among others.
Performance: Coaches working the camp liked Weldon's arm and he remained in the thick of the MVP race for much of the day. And while he doesn't blow people away with his deep ball, it's hard to find a real flaw in his game. He has a compact throwing motion and spins the ball nicely. His footwork is solid, which is a testament to the coaching he's received.
Recruiting wrap: McNeal holds offers from UCF, Boston College, Louisville, Iowa State and many others.
Performance: McNeal is a bit under-valued, but he looked like a high-level athlete. The Tampa-area standout breaks incredibly quickly and can change directions on a dime. His athleticism is his strength and it showed through often.
Recruiting wrap: Hainsey has a number of offers from programs that span the country. Michigan, Michigan State, Pitt and Penn State and Ohio State are all seen as players in his recruitment.
Performance: Hainsey, who is battling a minor groin injury, took limited one-on-one reps on Saturday but won all but one of the ones in which he participated. He looked like his normal, aggressive self, setting a wide base and moving his feet well. Hainsey is one of the top offensive linemen in the country and managed to look impressive despite playing through pain.