RCS Northern California: What to watch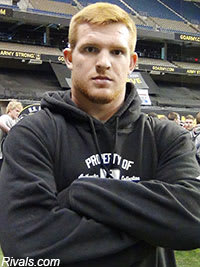 The Rivals Camp Series presented by Under Armour will head to Chabot College in
Northern California on Sunday and many top storylines are expected to emerge.
Here are five things to watch for on Sunday.
1.
How good is Cameron Smith?
tremendous sophomore and junior seasons. The Granite Bay, Calif. standout is
Rivals.com's fifth-best inside linebacker in the 2015 class and this weekend
he'll have the chance to prove he should move up even more in the rankings. The
6-foot-3, 240-pound four-star prospect already has a college-ready body. How
does he move at linebacker or will he have to move down to defensive end? Smith
will be able to answer a lot of questions this weekend and it's expected he'll
be one of the top prospects at the camp.
2. Fresno ready to
represent
Fresno is usually filled with outstanding prospects and they always love to
compete -- this year being no different as many top recruits from the Central
California town will make their way north for Sunday's camp. Four-star defensive
camps -- Southern California on Saturday and then Sunday's workout as well.
also be competing. There are always a few surprises out of Fresno and hopefully
some of them show out on Sunday.
3. Tight ends should
stand out
The wide receivers are strong and that group will be bolstered by some
outstanding tight ends who could cause a lot of problems during one-on-ones.
attendance but the ones who will be there are outstanding.

4. Offensive linemen
will compete
Northern California has some solid offensive linemen in the 2015 class and many
most interesting prospects at the camp will be Sacramento (Calif.) Grant's
Paulo is massive and should be able to dominate some talented defensive linemen.
This will be the first time we've seen him in person and he could be someone who
quickly moves up the rankings with a strong performance.
5. Young QBs could
lead the way
and then to the Rivals Camp Series event is 2016 QB
Rancho Santa Margarita (Calif.) Santa Margarita Catholic. He won't be the only
young quarterback really looking to establish himself. Danville (Calif.) San
quarterback group is not as elite as it will be Saturday in Southern California
but there are a bunch of 2016 recruits who could be big-time names by this time
next recruiting cycle.

[rl]