RCS New Jersey: What we learned
PISCATAWAY, N.J. - The Mid-Atlantic's top prospects were on hand for Sunday's Rivals Camp Series Presented by Under Armour, with everyone from five-stars to two-stars grabbing the headlines. Here are five things we learned from Sunday's camp in New Jersey.
Deep wide receiver group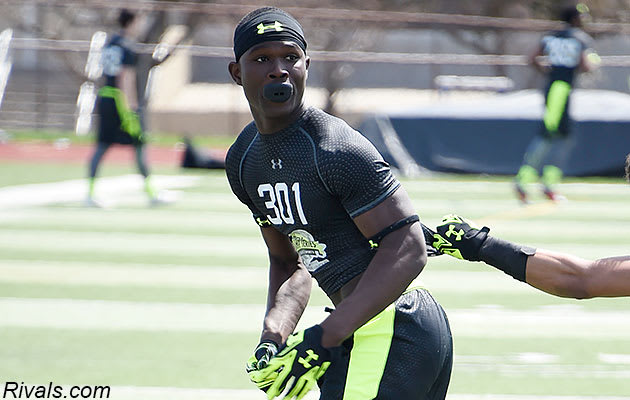 Kelvin Harmon
The unquestionable top position group in terms of performance was at wide receiver, where a half dozen or more prospects were in consideration for the MVP award. Palmyra, N.J., three-star
Kelvin Harmon
edged out the competition to take top honors at the position after consistently separating from defensive backs and making the difficult look very easy. Some of his top challengers on the day included four-stars
Ahmir Mitchell
,
Hasise Dubois
,
Brad Hawkins Jr.
and
Tarik Black
-- each of whom measures over 6-foot-2 and can go up and get the football. There were other three-stars who also were among the day's top performers, including Jersey City (N.J.) St. Peter's Prep's
K.J. Gray
and Brooklyn (N.Y.) Grand Street Campus'
Taysir Mack
. Although currently unrated,
Kolton Huber
, also from St. Peter's Prep, stood out in the deep group and was another under consideration for the position's top award.
Five-Stars live up to their reputations
The top five players in the state of New Jersey's 2016 class were all in Piscataway on Sunday, including five-stars
Rashan Gary
of Paramus Catholic and
Kareem Walker
of DePaul Catholic. Although neither five-star ended up taking home position MVP honors, both lived up to their billings and were beat out by exceptional performances by other prospects. The 6-foot-4, 290-pound Gary is one of the most physically imposing defensive linemen in the 2016 class, but what especially stood out on this day was his work ethic and hustle. He won the vast majority of his one-on-one reps, using a combination of bull-rushes and pass rush moves, but every time his rep was finished he sprinted back to the defensive line. Walker, an
Ohio State
commit, is a big back at 6-foot-1 and 210 pounds, but he glides across the field with a light-footedness that belies his size. It was easy to see the five-star potential in both, and their efforts earned Gary and Walker invitations to compete in the
Rivals100 Five-Star Challenge
this summer.
Upshur leads tight ends
Philadelphia (Pa.) Imhotep four-star tight end
Naseir Upshur
and his 30-plus offer list was the big name at the tight end position coming in, but he was joined by several more tight ends who have impressive recruitments of their own going on. Upshur lived up to his Rivals100 billing and was in consideration for the receiver/tight end MVP award. The 6-foot-2, 223-pounder has an atypical frame for the position, but he is a tough cover for linebackers. Andover, Mass., three-star
Alex Marshall
and Salisbury (Conn.) School two-star
Jake Hescock
are more traditionally-sized tight ends who measure 6-foot-7, and both showed natural receiving skills for the position. Four-star athlete prospect
Jovani Haskins
worked out at tight end on this day and at 6-foot-5, 220 pounds with outstanding athleticism, projects very well at the position.
Boston College
commit
Scooter Harrington
also merits mention. The 6-foot-5, 238-pound three-star is a bigger-bodied tight end who showed he was able to go up and get the football.
Small but talented RB group
D'Andre Swift
Despite New Jersey being one of the larger camps thus far in the
Rivals Camp Series
, the running backs group was oddly small in number -- just 10 in total. What they lacked in numbers, however, they made up for in top-end talent. The headliner of the group was Walker, the nation's No. 1 ranked running back, but others included 2017 four-star
D'Andre Swift
, 2016 three-star
Yeedee Thaenrat
as well as
AJ Dillon
,
C.J. Holmes
and
Elijah Barnwell
, each of whom are class of 2017 prospects with offers. The 5-foot-10, 204-pound Swift finished with position MVP honors, but Walker definitely made a strong case for the award with his play, as did Holmes. At 6-foot-1 and 195-pounds, Holmes is a tall and fluid running back who has plenty of bulk to run between the tackles, but also showed the athleticism that stands out in a camp setting. Swift's explosiveness was unmatched on this day, though, and he took home a well-earned MVP award.
Simon pulls the upset to win DL MVP
Brandon Simon
The defensive line group was loaded with highly-rated prospects, but the day's most impressive performance went to a two-star prospect whose only offer coming into the camp was from
Army
. Ramsey (N.J.) Don Bosco Prep's
Brandon Simon
only measures 6-foot-2 and 230 pounds, but on this day he bested a group that included five-star Gary, Rivals100 defensive end
Ron Johnson
and class of 2017 four-stars
Josh Kaindoh
and
Fred Hansard
. Simon not only came away a victor in every rep he took during the one-on-one session, but was hardly challenged and barely touched throughout the day. His size will limit him to being an edge rusher, but he is explosively quick in that role and took advantage of his opportunity to impress on the big stage.