RCS Miami: Ten prospects that played their way onto the radar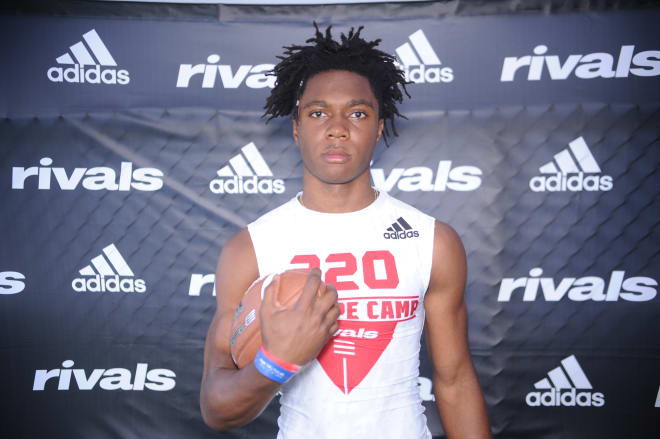 MIAMI -- Plenty of players have gone from off the radar to recruiting superstar after a strong showing at Rivals Camp over the years and at Sunday's stop of the Rivals 3 Stripe Camp Series presented by adidas we had a chance to see plenty of future stars. Today we introduce you to 10 players who are now firmly on our radar and will surely be names to know down the road.
MORE MIAMI RCS: Awards | Players predict future colleges | Stars shine in South Florida | Updates | Full 2018 schedule
The most impressive young prospect at the camp, Brooks is already making waves in the recruiting world. The class of 2021 prospect isn't exactly an unknown, as he already holds scholarship offers from Florida, Georgia, Miami and Baylor, but the fact that he's just a freshman makes him worth introducing. Brooks has true five-star potential and was one of the most impressive wideouts, regardless of class, at Sunday's event.
Seymore attends powerhouse Miami Central High School, but the fact that he's just a freshman explains why he's yet to blow up in the recruiting scene. He holds early offers from Miami, South Carolina and FAU, sure, but Seymore has the ceiling of a 25-offer prospect. On Sunday, he showed flashes of greatness against older and more celebrated competition, making it obvious that it's only a matter of time until his recruitment explodes.
A class of 2020 prospect, Javier has the kind of size that gets him noticed during warmups. His frame, combined with a hot start to the offseason, has him in line to see his list of scholarship offers grow. Bowling Green has already made things official, but Janvier is clearly the type of prospect that will have Power Five opportunities before all is said and done. On Sunday, he held his own against older players with long lists of offers.
Melvin is currently ranked as a three-star prospect but that will likely change in the near future. The 6-foot, 155-pound standout impressed against elite level wide receivers during Sunday's event and showed that he has coverage skills to go along with his impressive length. Melvin holds a handful of major offers as things stand now, but his list has only begun to grow. He has the chance to be a truly elite defensive back in the 2019 class.
Lewis sometimes get overshadowed by his high school teammate Marc Britt, a Miami commit, but 6-foot wide receiver has his own impressive set of skills. He won most of the one-on-one reps he took on Sunday and looked impressive doing it. Lewis will tell anyone within an earshot that he's criminally underrated and disrespected, but the class of 2020 wideout is definitely on the radar. He currently holds offers from UCF, Syracuse, NC State and others.
Walker is a long and lean 2020 offense tackle that needs to fill out and add weight to his frame, but he has long arms, moves well and has some upside. Once his frame fills out, he will get stronger and his offer list should grow this spring and into the fall. Walker has five early offers, including Florida and South Carolina
Norris made one of the plays of the day when he laid out parallel to the ground to bring a pass in about 40 yards down the field. He was able to separate from coverage and he is a receiver to watch in South Florida. Norris has offers from Georgia, Kentucky and a few other programs.
Hall worked at center Sunday and he showed very good strength and he was tough to move. He is a very physical lineman that could probably play anywhere across the offensive line. He plays tackle for his high school team. Hall has offers from USF and Kentucky and a few other programs.
Simpson caught our eye for his coverage skills and his physicality and he did a good job of showing toughness throughout the day. He was also praised by the event's coaches for his competitive spirit, which says a lot considering the amount of confidence every prospect has at a South Florida event. Pittsburgh, NC State and Syracuse are among his early offers.
Passmore is a little undersized for a defensive tackle, but he has the type of skillset that could easily translate to defensive end in the right scheme. He was lauded by the event's coaches for his drive and effort and also showed good technique during one-on-ones. Passmore has early offers from Baylor, Syracuse, Indiana and others.