Rashad Cheney's Dream Comes True, He's a Georgia Bulldog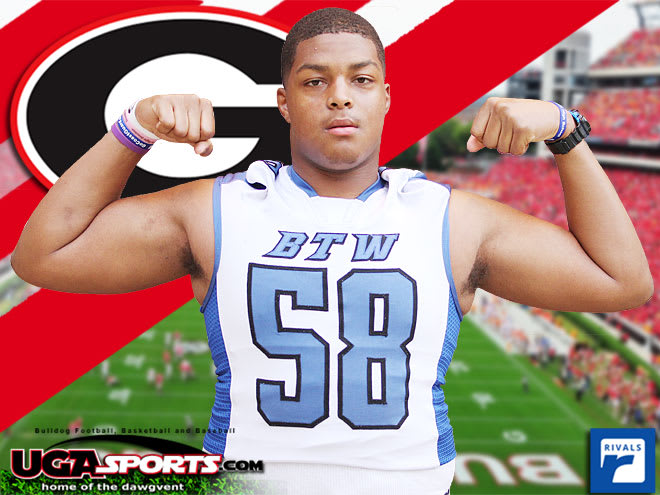 His dream is coming true. Rashad Cheney has made it known that he would love to be a Georgia Bulldog — well now he is. Kirby Smart and UGA offered the 2019 defensive lineman out of Atlanta (Ga.) Washington Wednesday and it only took him a few days to add his name to the Bulldog commitment list. He joins offensive tackle Luke Griffin and linebacker Nolan Smith.
IN HIS WORDS: "Since Georgia offered me, coach [Dell] McGee (area recruiter) has been calling my coach about me non-stop," said Cheney. "I got to school Thursday morning and I talked to coach McGee immediately. He was telling me to come do big things at Georgia.
"I decided Thursday that I would commit to Georgia. At first, my dad and I thought it would be good to wait, but then we decided to go ahead with it. I know Georgia is where I want to go and it feels great.
"Georgia has great coaches, they are a top school and it has been my dream to do this. It is kind of crazy because I have been dreaming of this time for years.
"To call myself a Georgia commit is something I am very proud of. So many kids at my school last year were telling me to transfer because you cannot get to college from here, that you cannot go anywhere, and now I am proving them wrong.
"I am so happy right now."
RIVALS REACTION: Cheney is a versatile defensive lineman who has the ability to play outside or inside on the next level. He likely a strongside end in college with a great frame, good length and his ability to set the edge. He is also athletic with the ability to get up the field. A player he reminds me of at this time is Michael Bennett of the Seattle Seahawks. Cheney is commitment No. 3 for Georgia in 2019 and this class has a chance to be special with all the in-state talent for Smart to recruit.