Rankings Roundtable: Which late-rising prospect is the most exciting?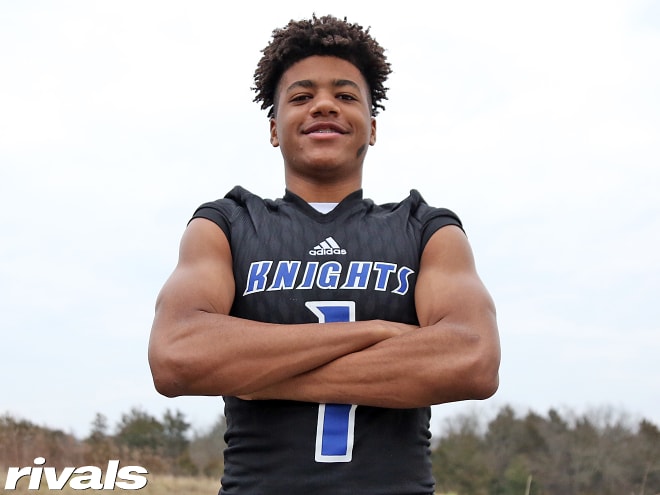 There are a number of 2023 prospects who have seen their recruitments take off in recent weeks and their ranking could be trending up. Today the national recruiting analysts - Clint Cosgrove, Adam Friedman, Adam Gorney, Nick Harris and Ryan Wright - give their takes on which one they are most excited about.
Cosgrove's take: Chance Fitzgerald
Arion Carter may be the obvious choice, but I am going with fellow Tennessee native Chance Fitzgerald as the late riser I'm most excited about. Fitzgerald is long, athletic, can stretch the field and take the short ball the difference. He put up huge numbers this season and is a highlight waiting to happen. Fitzgerald went from a recruit with one Power Five offer to being one of the most sought after uncommitted 2023's in a matter of weeks.
He recently released a top 12 of Auburn, Georgia Tech, Oklahoma State, Michigan, Pittsburgh, Wisconsin, Minnesota, Virginia Tech, Iowa, Louisville, Houston and Kansas State and the program that lands him in the end could be getting a star in the making.
*****  
Friedman's take: Aziah Johnson
There are some guys that will be ranked higher than Johnson but he really only started coming on the scene about midway through the season and his recruitment has really picked up. He now has offers from teams like South Carolina, Virginia Tech, North Carolina, Michigan State, Virginia and Duke. About 6-foot-1 with really great length in his arms, Johnson has excellent ball skills and has enough speed and agility to play on either side of the ball. He'll likely find himself lining up as a receiver because his ball skills will really help offenses keep the chains moving.
*****  
Gorney's take: Taylor Wein
In October, it was MAC programs that got involved. Then Wein's recruitment completely exploded with Oklahoma, USC, Virginia Tech, Ole Miss, Missouri, Kentucky, Cincinnati and Oklahoma State offering. Before things could get too crazy the high three-star defensive end from Nolensville, Tenn., committed to the Sooners shortly after his visit to Norman.
Oklahoma could be getting one of the biggest steals in the class as Wein has great size, tremendous length, he's an outstanding playmaker and he has a variety of moves both inside, outside, a spin move and so much more. His senior season film could be put up against any other defensive end in this class, he's that good.
*****  
Harris' take: Ka'Morreun Pimpton
Pimpton has quickly become one of the hotter skill names in the state of Texas in basically overnight fashion. The Vanderbilt commit is leading his undefeated North Crowley team in all receiving categories and has shown a variety of skills on film that have programs such as LSU, Auburn, Iowa and more vying for a flip down the stretch. Vanderbilt will work to try and keep its talented playmaker in the fold, but other SEC contenders, most notably LSU, may be too tough to overcome.
*****
Wright's take: Keyone Jenkins
During the 2021 season, Keyone Jenkins took over the reigns of the offense for Miami Central and found nothing but success since. Jenkins guided the Rockets to a 5A Florida state championship last fall and has his team as one of the most feared in the state yet again carrying a perfect 11-0 record as Central marches through the playoffs.
On the recruiting front, Jenkins verbally committed to FIU on July 30 but a Nov. 12 offer from Auburn during a visit turned into a commitment for the War Eagles a week later. With the experience Jenkins has gathered in the pocket, his skills as a quarterback have grown. When needed, he is a capable runner moving the chains 176 yards down field with four rushing scores on the season.