Rankings rewind: Robinson, Bosa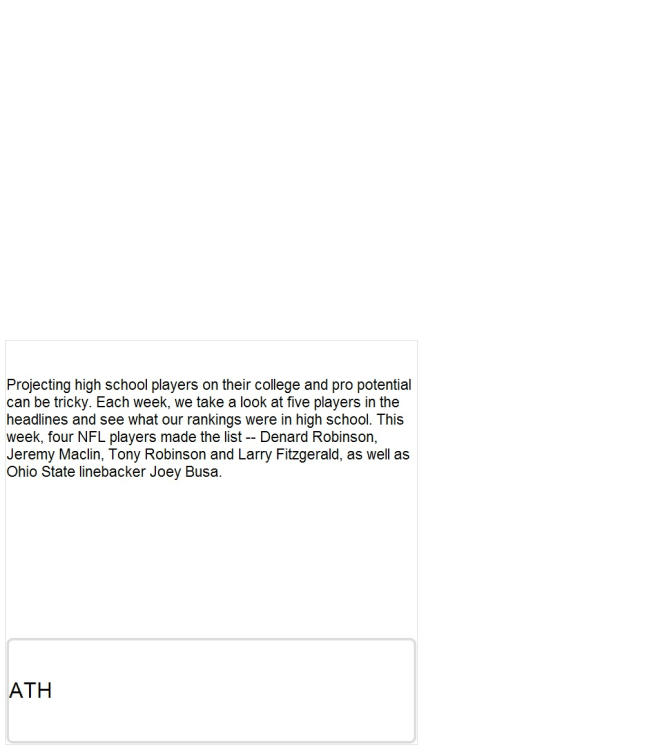 Ohio State's Joey Bosa leads the Big Ten in sacks with eight.
As a freshman, Bosa started 10 games and finished with 44 tackles, 13.5 tackles for a loss and 7.5 sacks. He has already raised his game to another level this season, as he currently leads the Big Ten in sacks (8) and tackles for a loss (11.5), plus he has forced three fumbles. These numbers also put him fifth nationally in sacks, 10th in tackles for a loss and sixth in forced fumbles.
S
Four-star, class of 2010, signed with Oklahoma
Tony Jefferson has gone from undrafted free agent to starting safety.
Jefferson actually went undrafted in the 2013 NFL Draft, but signed with Arizona as a free agent. During the 2013 season, he ended up playing all 16 games at safety and on special teams. He finished his rookie season with 24 tackles. This season, Jefferson has taken on a bigger role with the Cardinals, already starting five of the seven games. Through the seven games he has 50 tackles and one sack.
Playing his high school ball at Eastlake High School in Chula Vista, California, Jefferson excelled as a sophomore, junior and senior. After being named first-team All-State after his sophomore season, Jefferson had 77 tackles and three interceptions during his junior season. His senior season saw him finish with 88 tackles, 12 tackles for a loss, four sacks and two forced fumbles, plus offensively he added 1,328 yards rushing and 28 touchdowns. He finished off his high school career by playing in the U.S Army All-American Bowl.
I think we got this one right. I remember watching Jefferson's film and see how violent a hitter he was and immediately recommending him to the Army Bowl. Jefferson was a great kid to follow and talk to and one of the more interesting recruiting stories that year. His hitter mentality was never questioned and it was simply a matter of flat out speed that kept him outside the top 50.
WR
Four-star, class of 2006, signed with Missouri

Jeremy Maclin's two touchdowns against the Cardinals were not enough.
Maclin was drafted with the 19th overall pick in the first round of the 2009 NFL Draft by the Eagles. In 2009, he finished third among rookies in receptions with 56 and receiving yards with 773. In his second year, Maclin led the Eagles with 10 touchdown catches, and finished second on the team in both receptions and yards with 70 and 964. He again excelled in 2011 by leading the Eagles with 63 receptions for 859 yards and five touchdowns, and came back stronger in 2012 by leading the team in receptions, yards and receiving touchdowns. However, Maclin tore his ACL in training camp leading up to the 2013 season which led him to miss the entire campaign. This season, through seven games, Maclin already has 39 receptions for 632 yards and six touchdowns.
WR
Larry Fitzgerald
Four-star, class of 2002, signed with Pittsburgh
Larry Fitzgerald took this pass 80 yards to the end zone on Sunday.
Over the course of the last decade, Larry Fitzgerald has established himself as one of the top wide receivers in the NFL. On Sunday, he showed everyone that he can still play at that level after snatching seven receptions for 160 yards and a touchdown during a big victory over the Eagles.
Arizona chose Fitzgerald with the third overall pick of the first round of the 2004 NFL Draft. Fitzgerald's career in Arizona has been a star-studded one that has led him to seven Pro Bowls and numerous franchise and NFL records. For Arizona, he already has the record for most career receiving yards (11,810), receiving touchdowns (89) and receptions (876). In 2013, he became the youngest player in NFL history to reach 11,000 career receiving yards. To continue his stay in Arizona, in 2011 he signed an eight-year $120 million dollar deal, becoming one of the highest paid players in the league.
Fitzgerald was a four-star recruit in the Class of 2002 and the No. 51 ranked prep school/junior college recruit nationally. Amazingly, a huge majority of the recruits ranked ahead of Fitzgerald nationally at that time did not pan out. Fitzgerald has shown himself to be a fantastic talent, both at Pittsburgh and in the NFL. While rankings were still pretty new back in 2002, especially for non-high school recruits, and our four-star ranking still is evidence that we saw his potential, Fitzgerald has proven to be an elite talent who deserved an even higher ranking. Back in the day, we used to get VHS tapes for film and didn't get to do as many in-person evals, but I remember hearing about Fitzgerald in Minnesota as he was putting up huge numbers but his short season at prep school didn't give us much to go on. We lowballed him a bit.
Mike Farrell
National Recruiting Director