Ranking the top NFL Rookies at midseason: Nos.13-15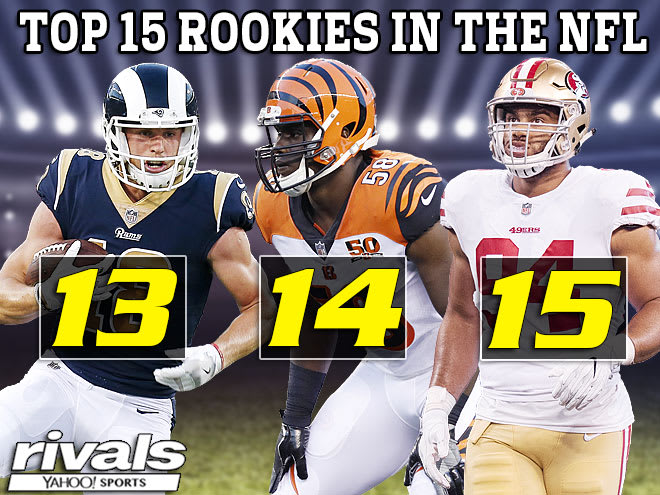 Mark Pszonak contributed to this report.
At the halfway point of the NFL season, it's time to take a look at the top 15 NFL rookies and how we scouted and rated them out of high school. Today we look at Nos. 13-15 including a former five-star, a high four-star and a virtual unknown.

RELATED: Farrell's Three-Point Stance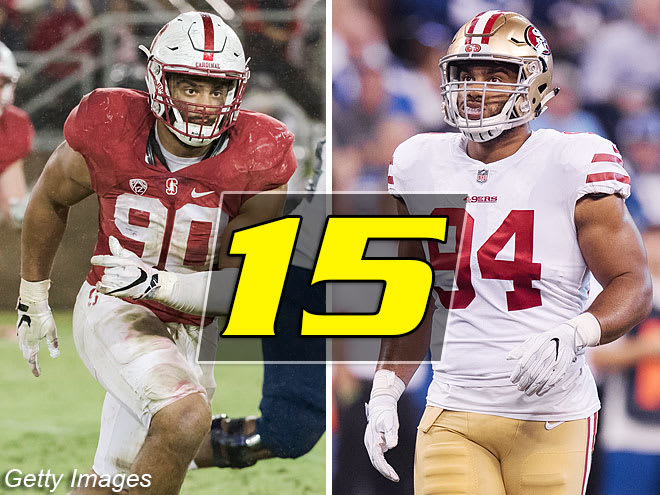 The skinny: Thomas remained rather quiet throughout his recruitment, but after taking official visits to Stanford, UCLA and Arkansas, he committed to the Cardinal on National Signing Day. Thomas dominated the interior defensive line during his two years on the field in Palo Alto, totaling 98 tackles, 24.5 tackles for a loss and 12 sacks. One of the hottest names coming into the 2017 NFL Draft, Thomas was selected with the third overall selection by San Francisco, where he has totaled 26 tackles and two sacks to this point.
Farrell's take: Known as much for the way he committed, by donning nerd glasses and a potted tree with the Stanford logo, as his play, Thomas was what I call a quiet high four-star. In the 2014 recruiting class, we had him behind Da'Shawn Hand and Malik McDowell at strongside defensive end. I loved his technique and his endless motor, but he just fell short of a five-star ranking. He's showing us that was a mistake. A big end, Thomas played the run well and could get after the passer and his versatility at Stanford and ability to play inside or outside at the next level made scouts fall in love. His rookie results have been impressive.
The skinny: Lawson committed to Auburn during the spring but began to look at other schools after a coaching change. Despite taking official visits to both Clemson and Tennessee in the weeks leading up to National Signing Day, Gus Malzahn was able to hold onto Lawson's pledge. Injuries plagued Lawson at Auburn, but he was fully healthy as a senior and totaled 28 tackles, 13 tackles for a loss and 9.5 sacks. Selected in the fourth round by Cincinnati, Lawson has impacted the Bengals' defense with 4.5 sacks to this point.
Farrell's take: Lawson destroyed people at our first Rivals100 Five-Star Challenge
in Atlanta and became a five-star as a result of that dominant performance. He had some injuries in college, but had a terrific senior season, which raised his NFL Draft stock. He was a guy we liked so much out of high school that we had discussions about whether he was No. 1 overall at one point over Robert Nkemdiche. Lawson just wasn't as tall and long. He's off to a great start in the NFL because of that pass rushing ability we saw so long ago.

The skinny: Despite being a very successful multi-sport athlete in Washington, the offers for football never rolled in for Kupp. He ended up at FCS power Eastern Washington, which was his only offer, and dominated throughout his four collegiate seasons, finishing with an FCS record 73 receiving touchdowns and 6,464 yards. Selected in the third round by the Los Angeles Rams, Kupp has contributed immediately with 26 receptions for 368 yards and three touchdowns.
Farrell's take: Kupp was a virtual unknown out of high school. Even Portland State passed on him as a Pacific Northwest prospect. I don't remember him, we never ranked him, and he's a great example of a player who slipped through the cracks, found the right school and blossomed. Now he has become a reliable target for Jared Goff and the exciting Rams offense.