Ranking the all-time five-stars: Louisiana
The battle for its space among the talent-producing states may be more
interesting than where its talent is ranked. Louisiana -- with Hurricane Katrina
well in its rearview mirror -- is back to being among the most densely packed
areas for major college prospects, jumping into the conversation with Georgia
for a spot just outside the Big Three states. Both have elbowed past Ohio in
national recognition.
No. 2 player in the class of 2007 and has gone on to moderate success at USC and
in the NFL with the New York Jets. He leads the pack of high school prospects to
come from the state over the last dozen recruiting classes.
HOW FARRELL RE-RANKS THEM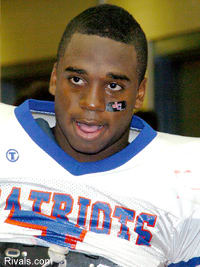 From the class of 2002 -- when Rivals.com established the Rivals100 -- to the
class of 2013, there have been 11 states to have double-digit players earn
five-star rankings. This week, it is time to turn back the
clock and put those players in order based on what they did in high school.
None of the players identified as midseason five-stars for the class of 2014 is
considered for this ranking. Each is subject to change through the regular
season and all-star game evaluations.
Louisiana has had just 13 players rated as five-stars over the last dozen
classes, but the list figures to grow this year, with sure-fire five-star player
Mike Farrell leads the Rivals.com team of analysts. He has been
a fixture in the industry for nearly two decades, and he has seen the rise and
fall of players and locations.
He believes Louisiana is back to churning out players.
"If Georgia made a push at the Big Three in 2011 and 2013, Louisiana has made
the push now as well in 2011 and in this year's class," Farrell said. "In fact,
the battle between Georgia and Louisiana for that No. 4 status is an epic one."
While the two states are on a similar plane for producing talent, they share
another trend in that the players often have not lived up to the hype.
NFL, none of the trio has developed into the major, impact player many expected
out of high school. The jury is out on several others.
"McKnight gets the nod over Randle, and while both had good careers and are in
the NFL, neither lived up to the hype," Farrell said. "The same can be said for
lived up to the hype yet."
off as a junior. He finished his college career at Jacksonville State, where he
as a freshman and then dismissed following his sophomore season for undisclosed
reasons. He finished his career at McNeese State.
Both are in the Canadian Football League. Most -- including Farrell -- expected
NFL fame.
"Perrilloux checks in at No. 6 on this list and obviously became his own worst
enemy," Farrell said. "Overall, Louisiana has had a nice share of five-stars,
and this latest group could redeem a few guys who didn't shine as brightly as we
thought they would."
One player who rose above the rest but is not included on the list is former
Now a San Francisco 49er, Dorsey was a decorated college athlete and the fifth
player taken in the 2008 NFL draft. Farrell says his 6-foot-1 frame was
worrisome in high school but in hindsight his talent should have shone through.
"Dorsey was No. 47 overall back in 2004 but clearly emerged as a much better
prospect in college," Farrell said. "Top 50 is very good, but concerns that he
was a bit sawed-off seem kind of foolish now."

[rl]