Ra'Mello Dotson breaks down Kansas visit, final decision
The Kansas staff is hoping to close out the recruiting class by adding a cornerback to the final list. This weekend they hosted Ra'Mello Dotson, a cornerback from Mainland High in Daytona Beach.
One of the positives Dotson took from the visit is weather.
"It wasn't nearly as cold as everybody said it was going to be," he said.
It was certainly warm inside Allen Fieldhouse where Dotson took in the Jayhawks game against Texas Tech. He said the relationship the coaches and players along with the fan support is something that stood out to him.
"The players and coaches bond really stood out," he said. "When I went to the basketball game, all the fans, how they came out and cheered on the team."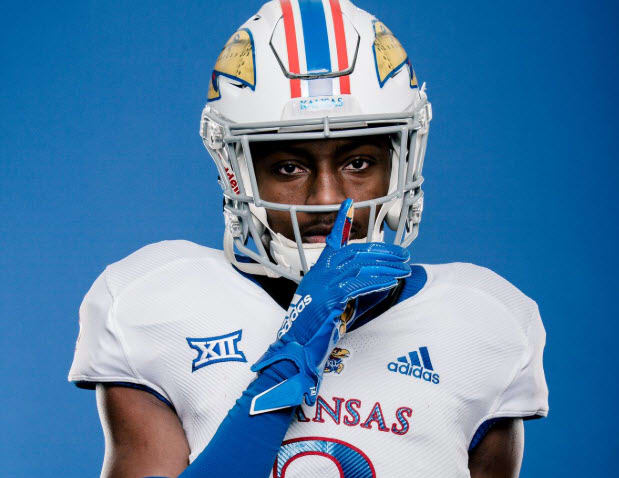 Cornerbacks coach Chevis Jackson has been recruiting Dotson. The official visit gave him a chance to learn more about Jackson and the defense.
"He was telling me stories about his past and what he did in college and the NFL," Dotson said. "And he was showing me how their defense works and things like that. He likes how long I am, and how I can go get the ball."
Dotson has a good sounding board to help when it comes to recruiting with his brother Meiko Dotson. Last season he led the nation in interceptions playing at Florida Atlantic. His brother, who is currently in the transfer portal, was on the visit.
"He liked what he saw," Dotson said about his brother.
Over the next couple days Dotson will start the process to make a final decision. He said he will announce his college choice on Wednesday.
He said he will choose between Kansas, Central Michigan, Florida Atlantic, Middle Tennessee, and Georgia State.
It will come down to more than football for Dotson who was a first-team, all-area selection in one of the state's most competitive football region.
"I am looking for a place that I can also get a good education," he said.