R250 OL Davis lays out road map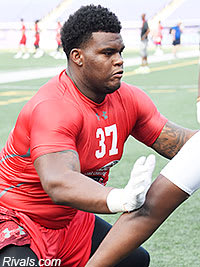 The recruitment of Rivals250 offensive lineman
Terrance Davis
has been moving steadily along. The Hyattsville (Md.) DeMatha stand out has a top ten but there is an elite group that will surely make his next round of cuts. Davis has also planned out all of his visits until the beginning of August.
"I'm going to cut it down to eight and switch some teams up and probably come out with my top five for my officials after my bye week I'll and go from there," said the 6-foot-4, 307-pound Davis. "I'll announce my top eight in the next couple weeks.
Michigan
,
Maryland
,
Alabama
,
UCLA
and
Georgia
will definitely make the cut.
"I'm definitely going to
Tennessee
on July 25 and I'll try to get to
Ohio State
on July 24 for Friday Night Lights," he said. "I'll be at Dawg Night will visit Alabama on July 17 right before then. Other than my UCLA official, I don't have any more official visits set up yet but going to the Michigan game against Ohio State is in the works right now."
The five schools that will make Davis' cut to eight schools have already left a major impression on him.
"If Michigan is saving that fifth spot on the offensive line for me that would be pretty cool," Davis said. "Everybody is working on me hard for Maryland. Coach Locksley is on me every time I see him. They won't take no for an answer. Coach Klemm is back on me ever since he's been back in the office at UCLA. Him and coach Bradley are my main recruiters.
"Coach Cristobal's track record for producing NFL draft picks is pretty amazing," he said. "If you can compete there you definitely have a shot at being drafted. Coach Cristobal is a great offensive line coach.
"I'll be at Georgia for Dawg Night," said Davis. "I'm expecting to meet the whole coaching staff because I did the camp and left. I didn't really have a chance to sit down, talk to coaches, see the campus and take in everything that Georgia has to offer."
It appears Tennessee and Ohio State are setting themselves up well to be contenders for Davis.
"Tennessee is in a pretty good spot to make my top eight," he said. "They'll probably be in there. Coach Mahoney is pretty relentless recruiting me. He stays on me everyday. He's probably the most persistent guy recruiting me. The people I talk to say their facilities are top notch and that it's a pretty special place. I think I owe them the right to visit down there.
"At Ohio State I want to see the stadium for the first them and that campus is supposed to be pretty special," Davis said. "Coach Larry Johnson has been recruiting me for a while and I just want to really meet him and coach Warinner, the offensive line coach. I really have to get up there and meet them and coach Meyer."
DeMatha starts camp on August 1 so expect Davis to stay largely focused on preparing for the upcoming season instead of taking visits.